A year has just passed since we introduced our new project – Locus Map 4. And since we are not really into those classic anniversary parties, we want to celebrate this event with you in a somewhat unconventional way – by introducing some major new features:
News on the web
Import routes and points
Finally, for many of you, there's a crucial piece of functionality. It took a long time, as it was not easy for us – you are used to importing not only routes, but also points or combinations of them from the mobile app. All this also in multiple numbers. All of this is now possible in the web planner as well.
You can start the import using the button, or by simply dragging the GPX file directly onto the map (you need to be logged in for this to work):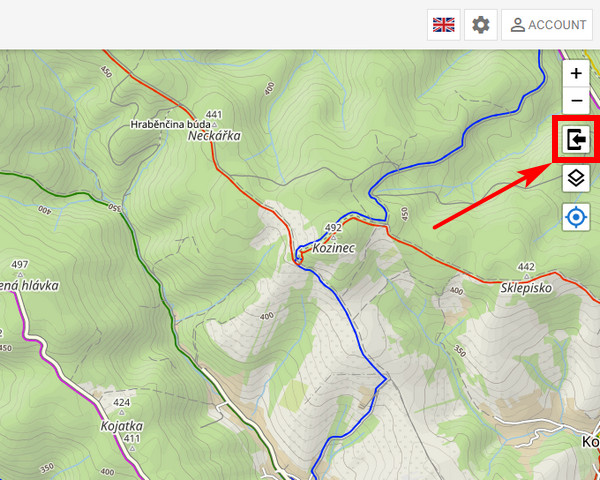 The web application then gives you a choice of what you want to save from the imported file to the library: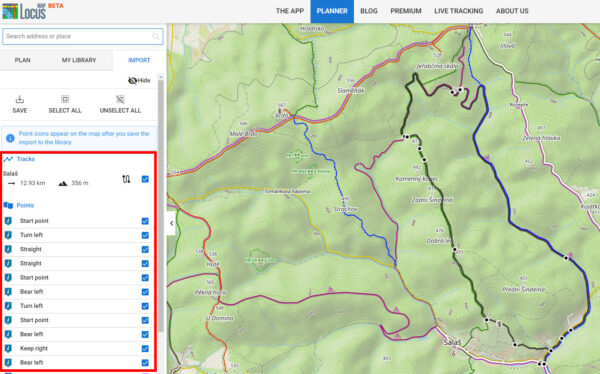 Then click "Save", select the folders for routes and points separately and you're done (but you can only save with the Premium Gold package activated).
LoMap or aerial view?
We recently introduced global satellite maps to Locus Map on mobile. Now we've done the same on the web. You can now choose between cycling/touring LoMap or aerial/satellite imagery to plan your routes or view your trips.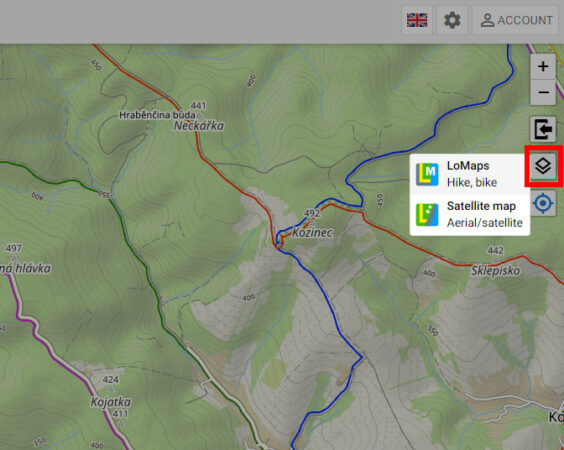 Dynamic LoPoints are of course displayed over both. This takes the comfort of trip planning one step further again.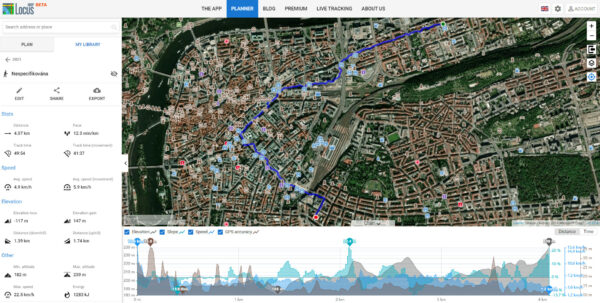 The maps show data from Here and Maxar and can be zoomed down to level 18.
In addition to subscriptions – the one-time payments
You all probably understand that all the gadgets and new services we have been throwing at you for a year now cost a lot of money.
Still, we know that paying for premium features as a subscription is not popular with some of you.
That's why we have prepared one-time payments for you. You pay for a specific period of time, the Premium Services are activated, the period expires, and the app returns to the basic state. No automatic payment renewal, you are in full control:
Premium for 3 months
If you're a fan of summer-only outdoor activities, this plan is for you. On this plan, you'll only pay for Premium features for the peak outdoor season of the year, when you're guaranteed the best weather and longest daylight hours. So ideal for hiking and biking.
Of course, you can use the same plan in winter, when the cross-country skiing and skialp season is in full swing. Anyway, it's up to you, you can start the 3-month Premium at any time.
Premium for 1 year
This is the plan of choice for die-hard outdoorsmen who want to be in full control of the payments for their hobby. Just pay once, you're set for a year and you don't have to deal with automatic renewal.
Try Premium for 14 days for free
So you don't buy into the hype, you can try the premium app for FREE. You have a full 14 days to do so, so if you time it right, you'll be able to make it through two weekends. The trial is included with annual Silver and Gold subscriptions. If you cancel your subscription before the end of the trial period, it won't cost you a cent.
Can I switch from a subscription to a one-time purchase and vice versa?
Yes, we have several transition scenarios, all of which have one thing in common – they are always fair to you.
For example, if you have an annual Silver subscription and want a three-month one-time Gold for the summer, your subscription will not be deactivated, but instead extended by the three months you use Gold. So you won't lose a day of the subscribed features.
Or, if you are switching from an unfinished three-month one-time Silver to an annual Gold subscription, the remaining unused funds will be used to extend the annual period pro-rata.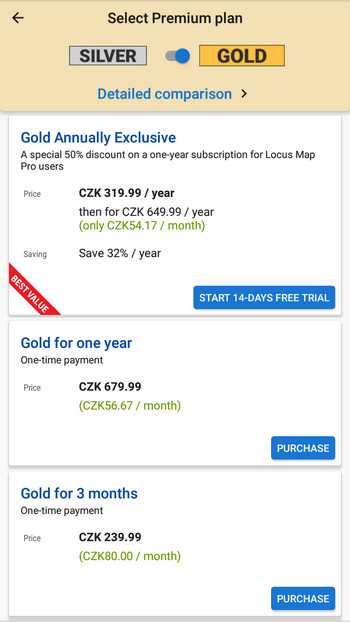 All options for one-off purchases, subscriptions, and transitions between them can be found directly in the app under the "Go Premium" menu.
Locus Map Pro changes to Locus Map 3 Classic
Throughout the year we've been explaining to our users that Locus Map 4 and Locus Map Pro are developed and maintained in two different projects. However, we are aware that the name of the older application containing the word "Pro" may evoke the opposite impression, especially for new users, that Locus Map 4 is an older or lower-end application.
That's why we decided to rename the original Locus Map Pro application to Locus Map 3 Classic.
The number 3 in the title refers to the number series of the original "Pro" application, which we are now releasing in version 3.59. The word "Classic" conveys the feeling of "good old", reliable, and time-tested software.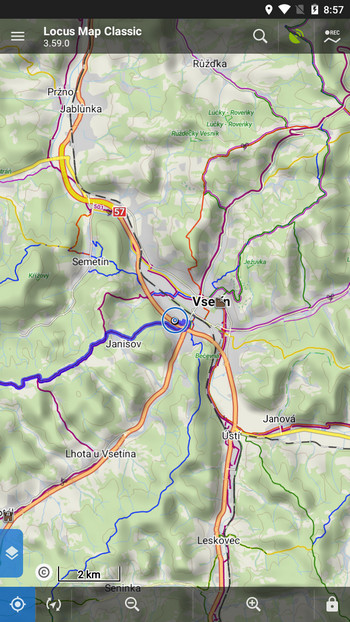 Some of our users are rejecting the novelty of the 4th series of the app. For example, they are used to the original user interface. Locus Map 3 Classic is primarily for them, and we will continue to maintain and update it so that it works seamlessly on the latest versions of the Android operating system.
For those who want to take advantage of our latest gadgets, there's Locus Map 4, which in Premium Silver includes the same features as Locus Map 3 Classic, plus a lot more.
import
Locus Map Classic
Locus Map Pro
maps
new release
news
satellite map
web planner