Právě uplynul rok ode dne, kdy jsme vám představili náš nový projekt – Locus Map 4. No a jelikož nejsme příliš na takové ty klasické výroční párty, tuto událost s vámi chceme oslavit poněkud netradičně – představením několika zásadních novinek:
Novinky na webu
Importujte trasy i body
Konečně jste se dočkali pro mnohé z vás zásadní funkcionality. Trvalo to dlouho, jelikož to pro nás nebylo nic jednoduchého – z mobilní appky jste zvyklí importovat nejen trasy, ale také body, popř. jejich kombinace. To vše také ve vícenásobném množství. To vše je nyní možné i ve webovém plánovači.
Import spustíte pomocí tlačítka, nebo také prostým přetažením souboru GPX přímo na mapu (aby to fungovalo, je potřeba být přihlášen):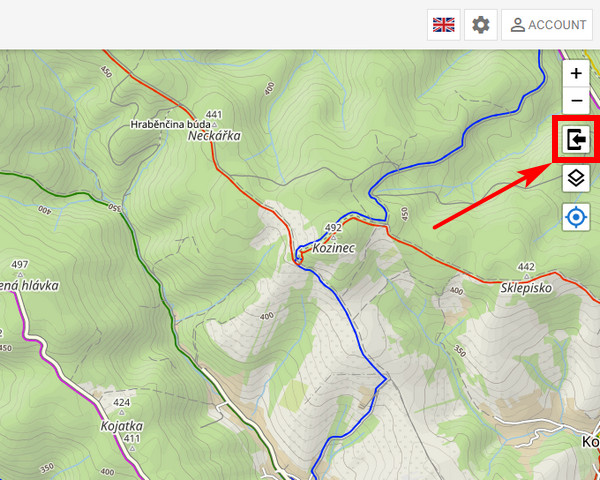 Webová aplikace vám pak dá na výběr, co z importovaného souboru chcete uložit do knihovny: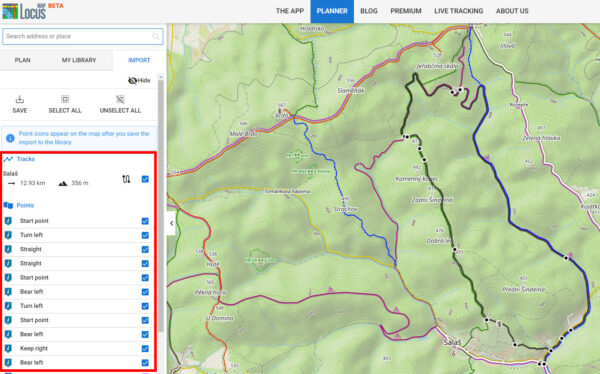 Následně zvolte "Uložit", vyberte složky zvlášť pro trasy a body a je hotovo (ukládat lze ovšem pouze s aktivovaným balíčkem Premium Gold).
LoMapa nebo pohled z letadla?
Nedávno jsme uvedli globální satelitní mapy do Locusu v mobilu. Nyní jsme udělali totéž na webu. Pro plánování tras nebo prohlížení vašich výletů si nyní můžete vybrat mezi cyklo-turistickou LoMapou nebo leteckými/satelitními snímky.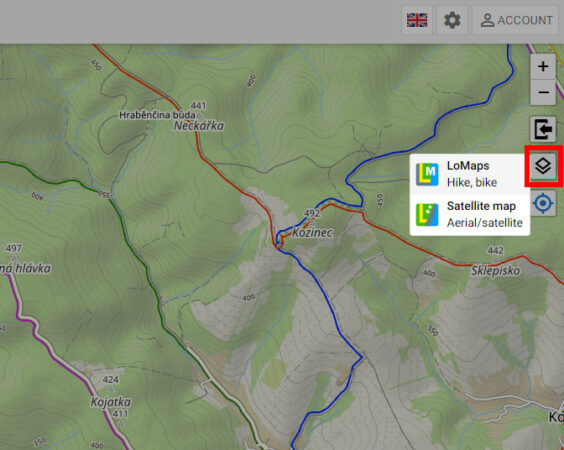 Dynamické LoPointy se samozřejmě zobrazují nad oběma. Komfort plánování výletů to posouvá opět o krůček dopředu.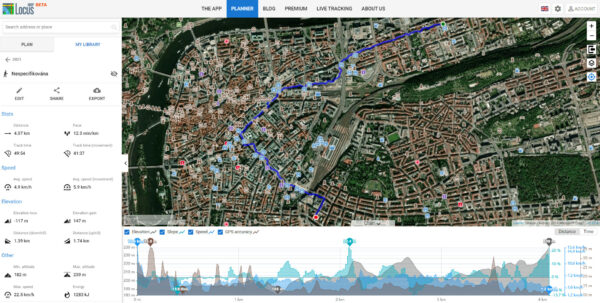 Mapy zobrazují data společností Here a Maxar a lze je zvětšit až do zoomu 18.
Vedle předplatného i jednorázové platby
Zřejmě všichni chápete, že všechny ty vychytávky a nové služby, co na vás už rok chrlíme, stojí průběžně nemalé finanční prostředky.
Přesto jsme si vědomi, že pro některé z vás není platba za Premium funkce ve formě předplatného zrovna oblíbená.
Proto jsme pro vás připravili jednorázové platby. Zaplatíte konkrétní období, aktivují se Premium služby, období vyprší, aplikace se vrátí do základního stavu. Žádné automatické obnovení platby, vše máte plně pod kontrolou:
Premium na 3 měsíce
Pokud jste fanoušek pouze letního outdoorového vyžití, je tento plán určen právě pro vás. V tomto plánu si Premium funkce zaplatíte pouze na vrcholnou outdoor sezónu roku, kdy máte zaručeno nejlepší počasí a nejdelší denní světlo. Takže ideál na pěší turistiku i kolo.
Stejný plán můžete samozřejmě využít i v zimě, kdy je v plném proudu běžkařská a skialpová sezóna. Je to každopádně na vás, 3-měsíční Premium můžete spustit kdykoliv.
Premium na 1 rok
Tenhle plán zvolí skalní outdooráci, kteří chtějí mít platby za svůj koníček plně pod kontrolou. Stačí jednou zaplatit, na rok máte vystaráno a nemusíte řešit automatické obnovení nákupu.
Vyzkoušejte Premium na 14 dní zdarma
Abyste nekupovali zajíce v pytli, můžete si appku s premium funkcemi ZDARMA vyzkoušet. Máte na to celých 14 dní, takže při správném načasování stihnete i dva víkendy. Trial je součástí ročních předplatných Silver a Gold. Když předplatné zrušíte před koncem zkušební doby, nebude vás to stát ani korunu.
Lze přecházet z předplatného na jednorázovku a naopak?
Ano, máme připraveno několik scénářů přechodů, z nichž všechny mají jedno společné – jsou pro vás vždy férové.
Například, když máte předplacený roční Silver a chcete na léto tříměsíční Gold, předplatné se vám nedeaktivuje, ale naopak prodlouží o ty tři měsíce, po které využíváte Gold. Takže nepřijdete ani o den předplacených funkcí.
Nebo pokud přecházíte z nedokončeného tříměsíčního Silvera na roční předplatné Gold, zbývající nevyužité prostředky se využijí na poměrné prodloužení roční periody.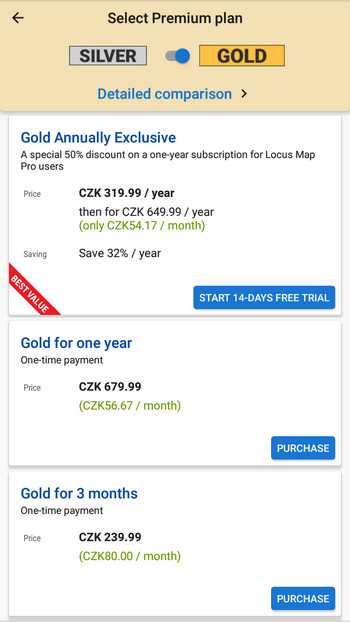 Všechny možnosti jednorázových nákupů, předplatného i přechodů mezi nimi najdete přímo v aplikaci v nabídce "Go Premium".
Locus Map Pro se mění na Locus Map 3 Classic
Po celý rok našim uživatelům vysvětlujeme, že aplikace Locus Map 4 a Locus Map Pro jsou vyvíjeny a udržovány v rámci dvou různých projektů. Uvědomujeme si však, že název starší aplikace, obsahující slůvko "Pro" může zejména pro nové uživatele evokovat opačný dojem, že Locus Map 4 je starší, popřípadě aplikace nižší řady.
Proto jsme se rozhodli původní aplikaci Locus Map Pro přejmenovat na Locus Map 3 Classic.
Číslo 3 v názvu upozorňuje na číselnou řadu původní aplikace "Pro", kterou nyní vydáváme ve verzi 3.59. Slovo "Classic" v sobě snoubí pocit "starého dobrého", spolehlivého a lety prověřeného softwaru.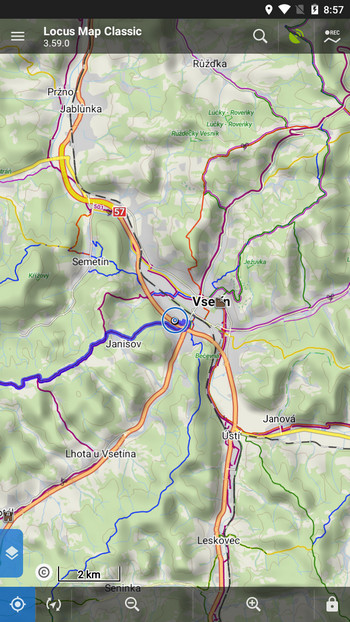 Někteří z našich uživatelů novoty 4. řady aplikace odmítají. Např. jsou zvyklí na původní uživatelské rozhraní. Těm především je Locus Map 3 Classic určen, a pro ty jej budeme nadále udržovat a aktualizovat, aby bez problému fungoval na nejnovějších verzích operačního systému Android.
Kdo chce využívat naše nejnovější vychytávky, pro toho je tu Locus Map 4, který ve variantě Premium Silver obsahuje totéž co Locus Map 3 Classic, a k tomu ještě spoustu věcí navíc.
import
Locus Map Classic
Locus Map Pro
maps
new release
news
satellite map
web planner