It's been a while since we've written about the release of a new version of your favorite app. Not because nothing has happened, on the contrary – we release new versions more or less regularly every month, as you've probably noticed. There's a lot going on, it's just that it's not so visible "on the surface" – we're just working on a lot of stuff that's going on in the background, but also on already finished stuff that we're tweaking to even greater perfection – we call it internal cultivation.
Version 4.13 is no exception, but it does bring some major new features that we would like to show off. We can summarize them in three thematic groups:
geocaching
winter
cultivation
Download caches without add-on
Locus Map offers a lot of features and gadgets for geocaching players. Until recently, except for one – the ability to search and download caches from Geocaching.com. Until now, we've left that to the Geocaching4Locus add-on, which comes from another developer. However, the add-on hasn't been updated for several years, so in order to maintain availability and get greater flexibility, we decided to add the feature directly to the app.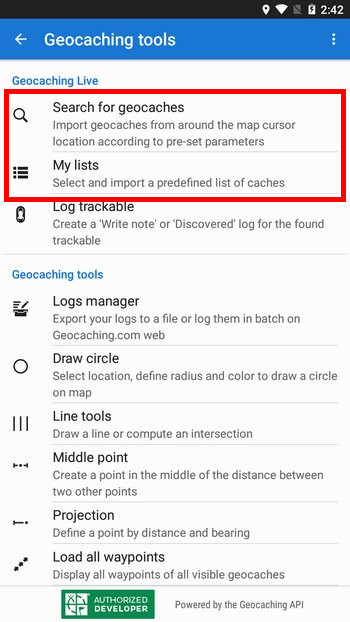 You can find it in the Geocaching Tools section in the list of all app features. It doesn't yet do everything G4L does – it lacks a live map with streaming caches displayed on the map and search by GC code. But we plan to add all of that to Locus soon. Until that happens, feel free to continue using the G4L add-on.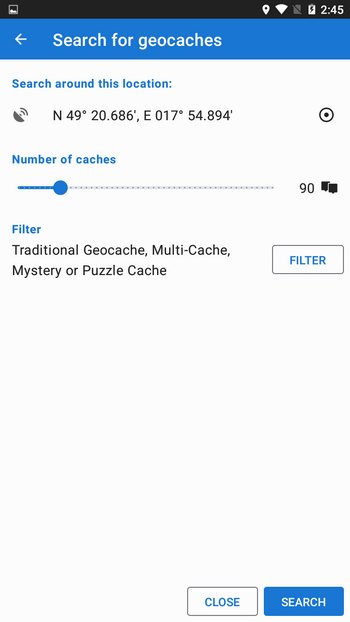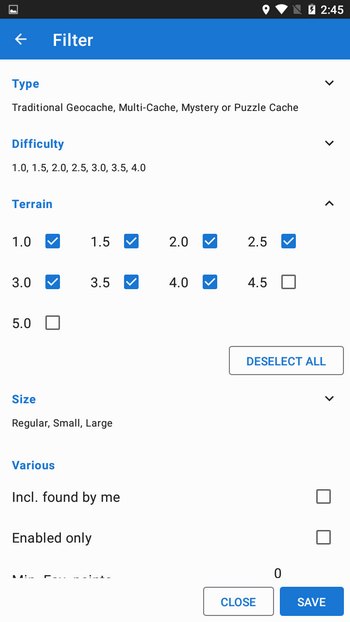 Predefined lists
Another new feature taken from the add-on is the ability to display lists of caches that you previously defined on geocaching.com. Click on My Lists to see your lists in the app. There is then a button at the end of the line to batch-download all the caches in the list directly into the app for offline use. Your Pocket Queries are also displayed in the same section.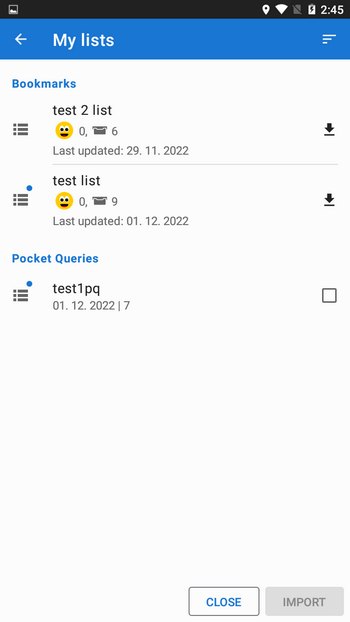 Plan cross-country ski trips
About a month ago, we put a brand new winter LoMap in the app and on the web. We've cleaned up its look, improved readability, added winter LoPoints, and it's ready for the upcoming season. It shows the slopes by difficulty, and also cross-country ski trails divided into several levels. Of course, lifts, cable cars, ski huts, aprés bars, etc., are all there.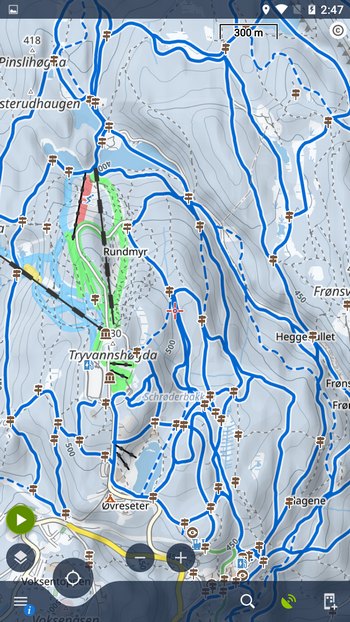 We are now adding a cross-country skiing profile to the map in the planner. You can find it both in the online LoRouter in the app and on the web, and in its offline version – here you only need to update the routing data (if it hasn't already been updated automatically). The profile plans trips on both groomed and ungroomed trails, as long as they are entered into the map. Sections of the route that do not have ski tracks plotted on them need to be plotted with another profile, such as a walking profile. These are usually roads, car parks, or other similar places that interrupt the ski route.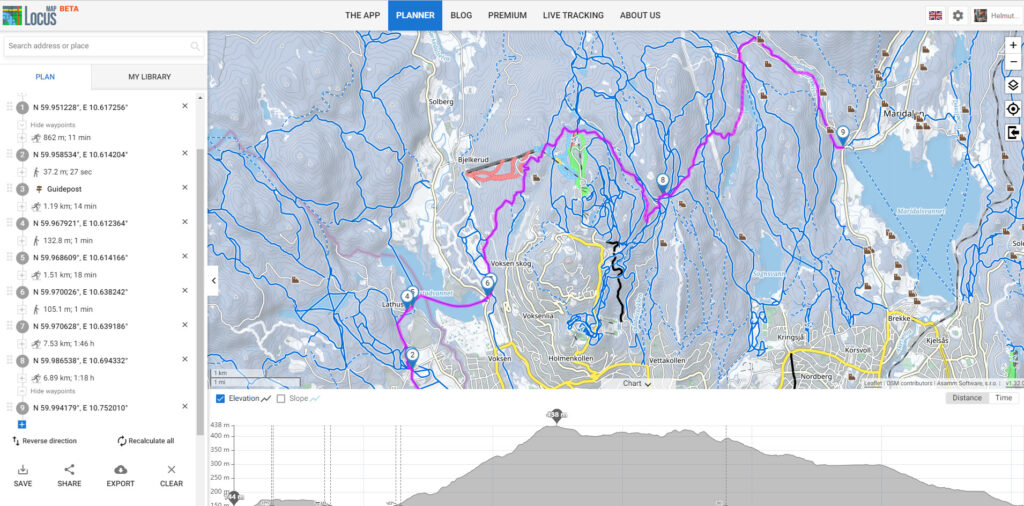 Something for more convenient control
And now a few tidbits from our favorite cultivation section. Starting in the map manager, we've consolidated the menu for adding new maps. Now when you click the + button in the online or offline tab, you'll see the same menu and can add any map you want, even a WMS source from our library.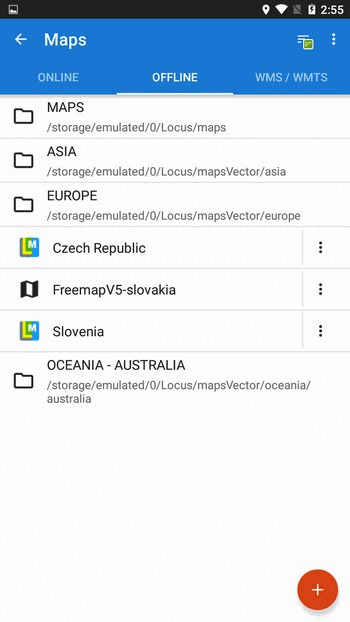 We've moved the option to recalculate a complete route for a different activity from the menu in the top bar more "in your face" – directly into the profile selection dialog. For example, you have a route for hiking and want to change it to mountain biking. You open it in the planner, select the MTB profile and click "recalculate all" – only the shaping and via points stay in place.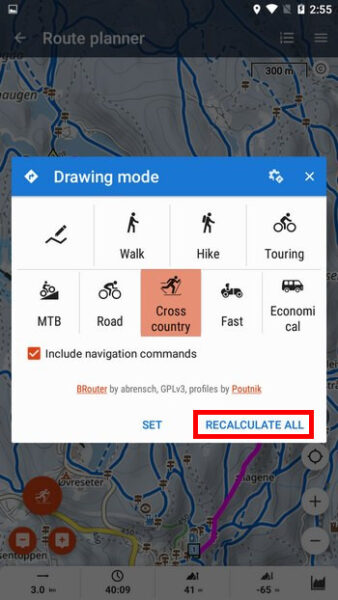 Quite often we've had to explain where the backup is now hidden, where you can find the option to unload the app data to move it to a new phone, etc. We got tired of this, so we've simplified it dramatically – all settings related to working with app data can now be found in a separate category of Backup and File System settings.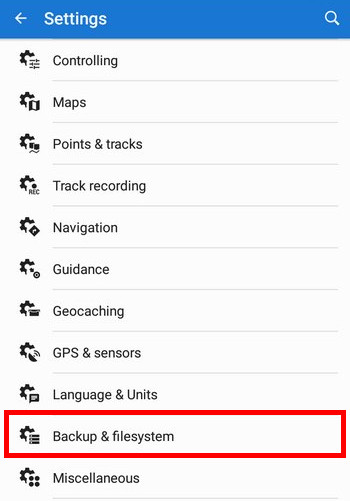 This includes the File System Manager, where you can set up the main and auxiliary directories, manage cloud sync, and the aforementioned backups, and we've also moved the deletion of temporary data here.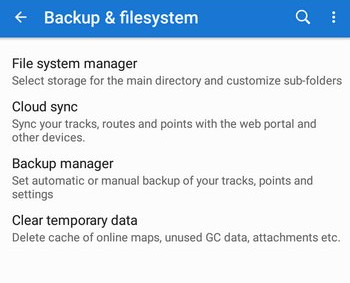 As part of the cultivation, you'll of course find plenty of other tweaks across the app, but we won't write about those. If any catch your eye, let us know in the comments.
cross-country ski
Locus Map
LoMaps
LoRouter
maps
new release
winter