What is GPX?
You must have met this GPX abbreviation many times before when working with tracks or points. GPX importing into Locus, track or points export into GPX… Anyway, what does this magic formula mean?
A file with GPX suffix, meaning GPS eXchange format, is a common GPS data format based on XML and used in various software applications. I describes georeferenced line and point objects, tracks or points in our case, e.g. geocaches. Its detailed description can be found on this Wikipedia page. As it 's been already mentioned, in general it is used for transferring information about tracks and points between applications. In case of Locus it means communication between it and e.g. websites where you can upload your tracks in GPX form or between Locus and other similar apps (e.g. OruxMaps) or between Locuses mutually. One GPS file can contain both tracks/routes (even more at once) and points – Locus can handle them all. Let's show it on a few examples.
GPX into Locus
You love riding a bike, hiking in the mountains. You always plan your routes carefully but when you are headed to some unexplored places you can find out it could be worth getting yourself inspired by someone who had visited the place before you and had planned the routes, or even better, tested the routes on his own. And so you start browsing the Internet. There are loads of options, loads of route database servers all over the World. Locus directly cooperates with one of them, GPSies.com – you can browse their database directly within the app, as we have mentioned here once. Anyway, it might happen you won't find the right route on GPSies or you just prefer some other service. For instance, Bikemap.net.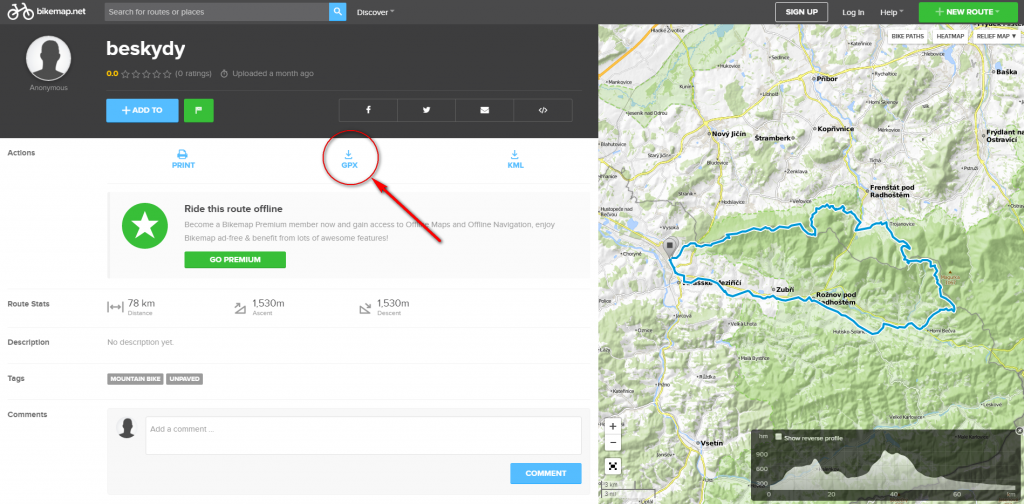 When you export the route out we recommend to store it in your Dropbox. That the shortest way to a mobile and subsequently to Locus that is able to display Dropbox folders as one of the file manager tabs. You have several options in Locus how to import a GPX route. Over the Data import button in the main menu, over the Import in a route folder action menu… all about import can be found in our User guide.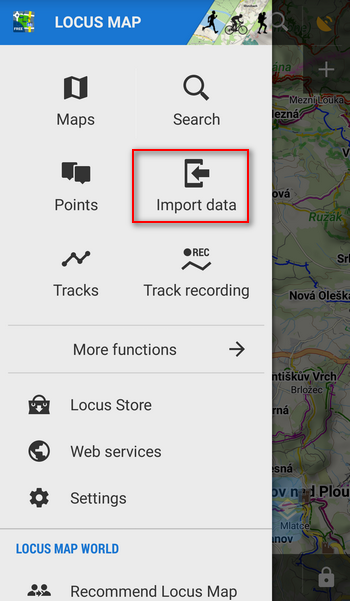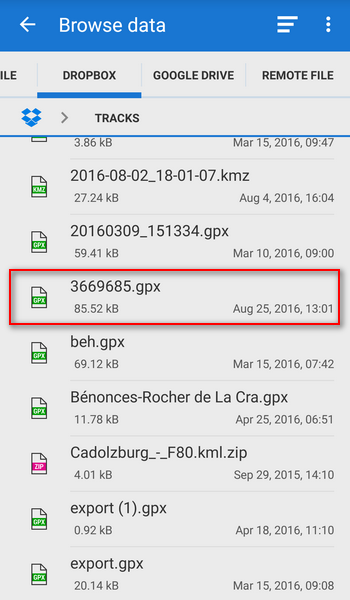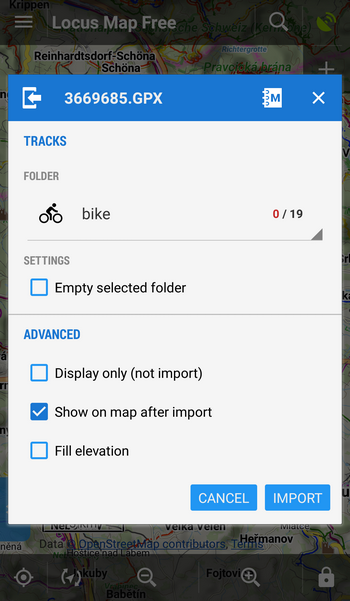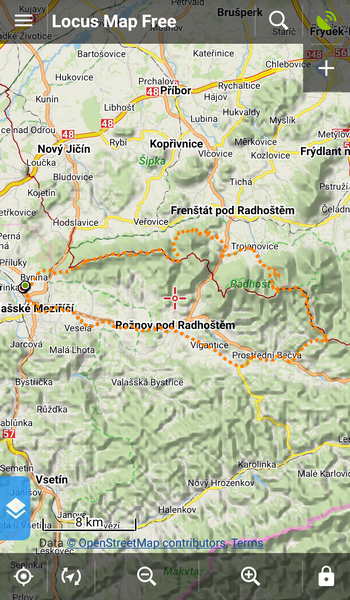 Routes and points at once
As we mentioned in the beginning, GPX can contain both routes and points. When importing such a file Locus offers storing points to an extra folder or merging them with the route and store in one folder. This way, however, you'll miss the option to manipulate with the points individually.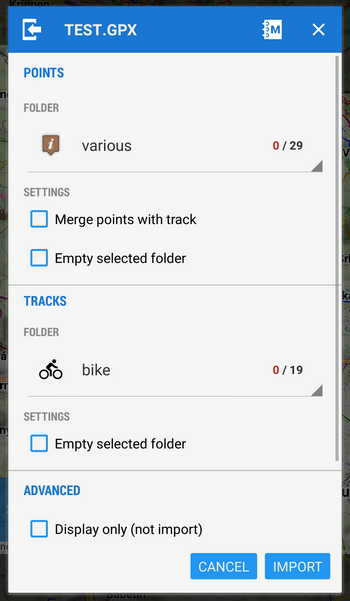 GPX from Locus
You are going on a trip, recording your track so that you can view it comfortably later at home on your PC. Displaying track on a mobile is fine but the big PC screen gives the track a completely different perspective. So now it requires a reverse procedure. Open the track detail window from the track manager and pick Export from the bottom bar: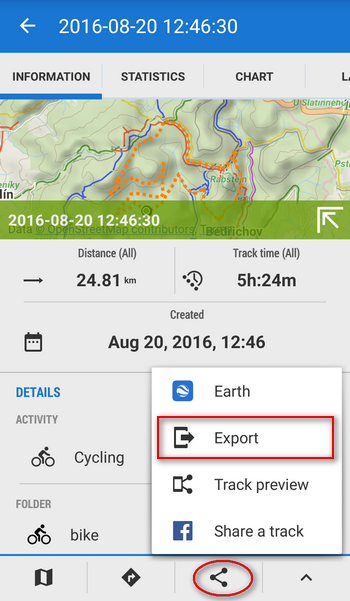 If you don't have GPX set as the default export format, tap the item under the Export type title and select GPX. Name your track, define the storage place (again we recommend Dropbox) and export.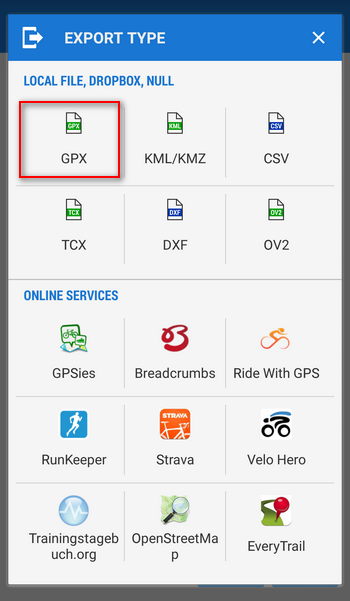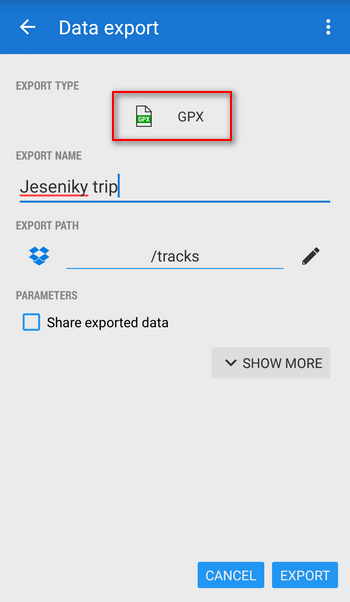 On the Bikemap.net, click the "Upload" button in the upper right "New route" menu. Find your file on Dropbox and import.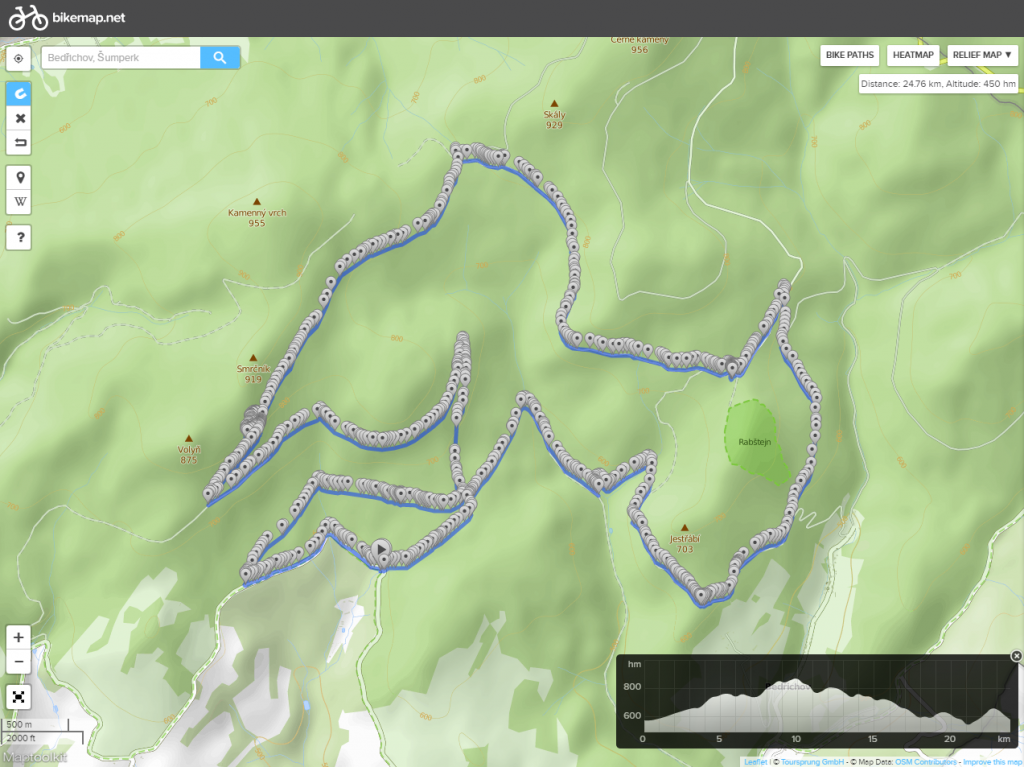 GPX with geocaches
If you'd like to sent a tip for afternoon geocaching hunt to you friend, GPX again may be the solution. Mark the caches for export in your points manager in Locus and select Export from the bottom bar. Save the file where you need and sent it via e-mail.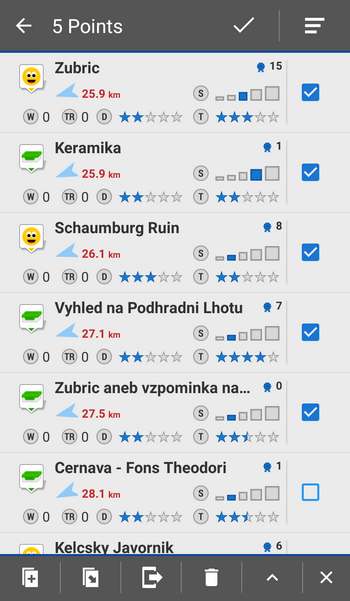 Your friend can import it to his Locus or some web based map service.
GPX format can handle a pretty huge amount of data as we have recently seen in the article about a unique database of sleeping shelters, that we transferred into Locus as one big GPX file as well.
Do you have any other tips or tricks on using GPX in Locus and would you like to share them? Write in comments.
export
geocache
GPX
import
point
route
track