On March 1, a message appeared on Twitter that Viewranger, our very strong competing app, had been shut down by its new owner, Outdooractive. VR users are now forced to use the Outdooractive application. However, not everyone is satisfied with the upgrade, so they are looking for an alternative. Many turn to us and want to know what Locus Map can do. This article is intended primarily for those.
Locus Map is what you are looking for
The Viewranger was great and inspired us in many ways. That's why you can find in Locus Map more or less everything you used in Viewranger. Whether it's basics like activity recording, route planning, navigation, use of various maps… or specialties like Live Tracking (similar to VR's "Buddy Beacon"), augmented reality (similar to popular "Skyline"), or wearables support (Wear OS, Tizen, and Garmin).
Let's look at each item in more detail:
Activity recording
All your outdoor activities can be recorded in Locus. Just select the type of activity and press the start button. This is available not only directly in the app on the main screen, but also in the widget or an add-on in the smartwatch.
When recording, the application generates a number of statistics. In addition to the parameters obtained from GPS (length, speed, time, elevation…), it also records data from connected sensors – heart rate, cadence, power, etc. This data can be displayed directly above the map on the so-called dashboard: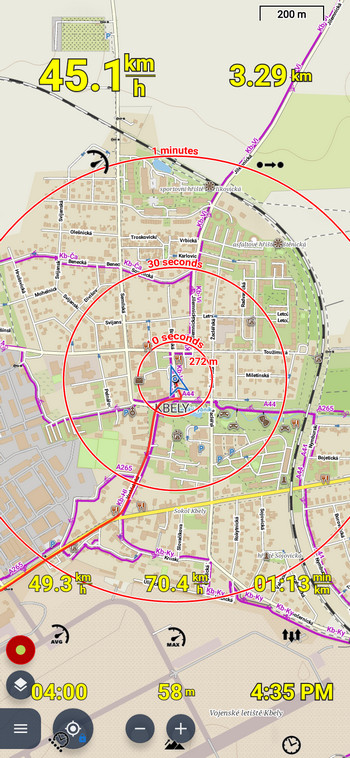 Each activity has its own record profile, which can be customized in great detail. You can have an unlimited number of profiles for different types of activities.
The records are stored in a database in an application that synchronizes with the cloud and the web library.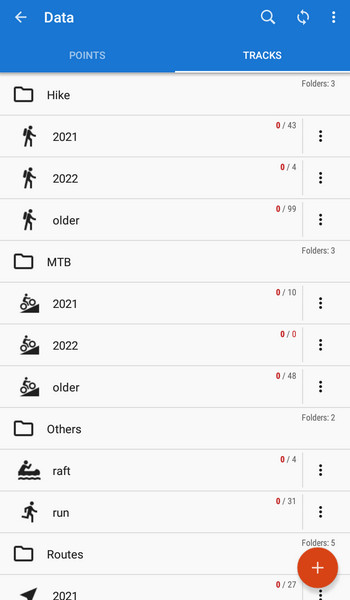 Route planning
You can plan routes directly in the application via the planner, with or without an internet connection. If you prefer a large PC monitor, you can plan routes in the web planner. The route from it is automatically synchronized with all devices in which you have Locus Map installed.
Route planning is also performed using profiles in which you select the type of activity – according to it, the router selects the appropriate types of routes, surfaces, and elevation of the route. Of course, there is a manual mode for planning routes outside the mapped routes or the option to have a complete round trip designed – just enter the direction and distance.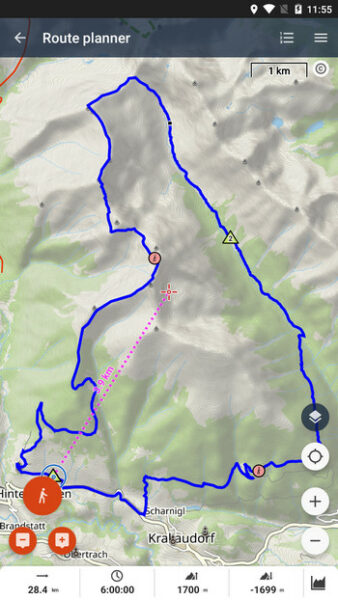 Navigation
You can navigate in Locus in several ways. The first option is along an already prepared route – planned in the planner, imported from elsewhere, or previously recorded. Furthermore, the navigation destination can be specified directly on the map and Locus plans a route to it according to the entered criteria.
Another option that you will appreciate, especially in open terrain without roads, is beeline guidance to the target. The method is especially popular among geocachers.
Choose a map according to your needs
Locus Map offers as a default a hiking/biking map of the whole world – LoMap. It is based on OSM data and can be used online and offline. In addition to map data, it also contains dynamic LoPoints, offline addresses, and elevation data.
Like the Viewranger, also Locus Map offers maps from a number of other providers – Kompass, Outdooractive (DE), Freytag-Berndt (A), IGN (FR, BE), USGS, Neotreks / Accuterra (USA), Ordnance Survey (UK), and also lots of freely accessible online maps based on OSM.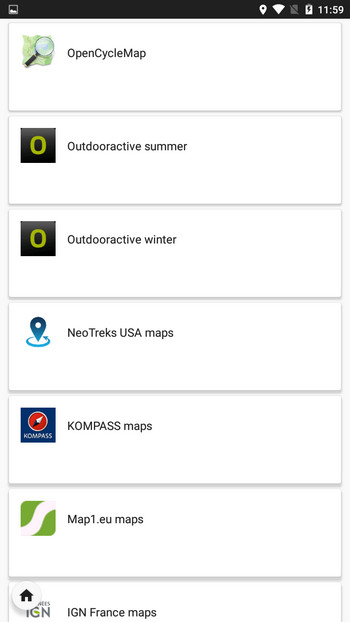 Ordnance Survey maps
Most of the Viewranger users we spoke to use OS maps. We also have them in our Locus Store, in 140 offline packages, covering the whole of the UK. Maps are not subscribed as in Viewranger but are purchased individually for one-time payments. Each package contains two map layers – Landranger and Explorer – in several zooms.
We can offer you also Ordnance Survey OpenData maps combined with OSM data, Rowmaps, and Core Path maps in JohnThornMaps covering the whole UK.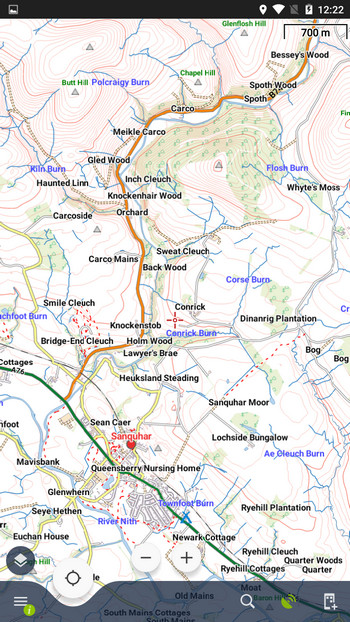 Live Tracking is the new Buddy Beacon
You can share real-time location with family and friends using Live Tracking. It works both mutually – between individual Locus users – and one-way – the location from Locus in the mobile is displayed on the website.
You can share your location publicly or in a private group. You can create groups and invite other participants, you can also chat in them and send points of interest to each other.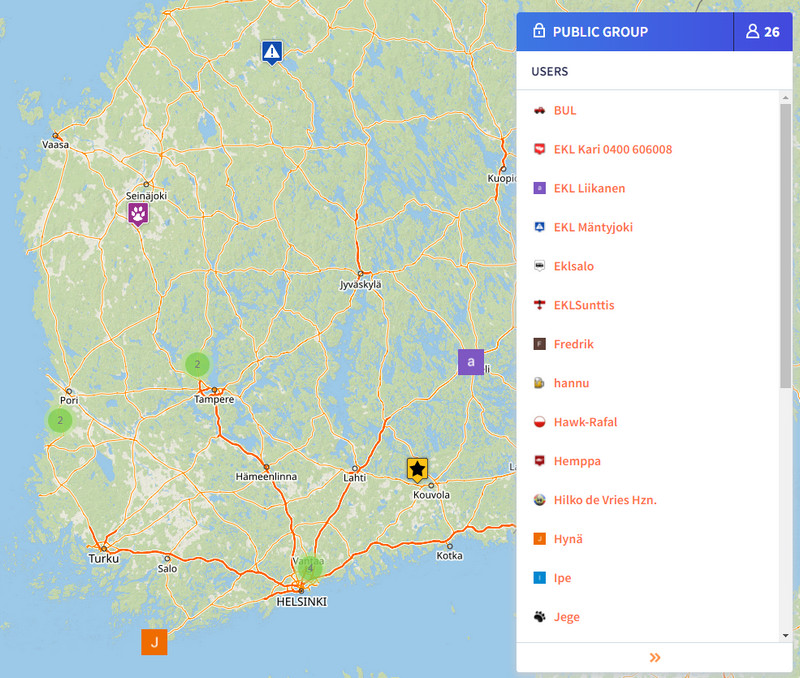 Use a smart watch
You can also use Locus Map in conjunction with a smartwatch. We support Wear OS, Tizen (older Samsung watches), and Garmin platforms.
In all cases, Locus Map is the main application on the mobile phone and the watch adds an auxiliary add-on that displays your location on the map, navigation commands and you can also use it to control the track recording.
Where is Skyline?
You can also try out the popular augmented reality feature with Locus, using the Augmented Reality for Locus Map add-on. In principle, it works similarly to Skyline, but before turning it on, you must first turn on the LoPoint view and highlight the mountain peaks in Locus.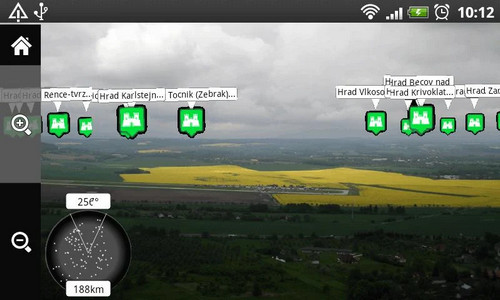 Can I customize Locus Map?
Yes, in many ways.
Starting at the main screen, which can be adapted for right-handers and left-handers, you can adjust the visibility of all the main buttons, as well as the function buttons in the sidebars.
You can set the style of routes at all the levels – for the whole application, route folders, navigation, route recording, and in the planner.
Customize the number and layout of items in the main menu, set units, coordinate systems, auxiliary graphics, coordinate grid, even the appearance and size of map and navigation cursors.
What do I need to pay extra for in Locus?
The application is in the basic version after downloading from the Google Play Store for FREE. It basically contains everything you need for everyday outdoor use – track recording, route planner, navigation, cycling/hiking map of the world online, and much more.
You can extend the functionality and remove restrictions on some features of the application by purchasing Premium Silver and Gold packages.
Premium Silver offers a larger map screen without ads and includes a suite of features for sports use as an audio coach or sensor connection manager. There is also a package of map tools for calibration, overlays, and map offsets.
Premium Gold offers maximum – all functions including data synchronization with the cloud, built-in offline router, all offline LoMaps of the world, satellite map, live tracking with private groups, etc.
Detailed comparison of premium plans can be found HERE >>
Maps of our commercial partners are not included in Premium packages. So everyone can buy just the map they really need.
Welcome to Locus Map!
augmented reality
live tracking
Ordnance Survey
route planning
track recording
Viewranger
wearables