1.března se na Twitteru objevila zpráva, že Viewranger, naše velmi silná konkurenční appka, byla vypnuta svým novým majitelem, společností Outdooractive. Její uživatelé jsou tak nyní nuceni používat již pouze stejnojmennou aplikaci Outdooractive. Ne všichni jsou však s tímto krokem spokojeni, a tak hledají alternativu. Mnozí se obracejí na nás a chtějí vědět, co Locus Map umí. Především těm je určen tento příspěvek.
Locus Map je to, co hledáte
Viewranger byl skvělý a v mnohém jsme si navzájem byli inspirací. Proto u nás najdete víceméně vše, co jste používali ve Viewrangeru. Ať už jsou to základy jako záznam aktivity, plánování tras, navigace, využití různých mapových podkladů… nebo speciality jako Live Tracking (u VR "Buddy Beacon"), augmentovaná realita (oblíbený "Skyline") nebo podpora wearables (Wear OS, Tizen a Garmin).
Podívejme se na jednotlivé položky podrobněji:
Záznam aktivity
Veškeré vaše aktivity v přírodě lze v Locusu zaznamenat. Stačí zvolit druh aktivity a zmáčknout tlačítko startu. To máte k dispozici nejen přímo v aplikaci na hlavní obrazovce, ale také ve widgetu nebo v pomocné aplikaci v chytrých hodinkách.
Při záznamu aplikace generuje množství statistik. Kromě parametrů získaných z GPS (délka, rychlost, čas, převýšení…) zaznamenává také údaje z připojených senzorů – tepovku, kadenci, výkon atd. Tyto údaje se mohou zobrazovat přímo nad mapou na tzv dashboardu: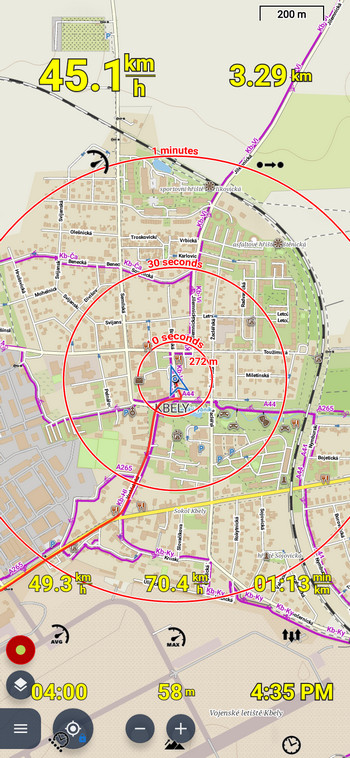 Každá aktivita má svůj profil záznamu, který lze velmi detailně upravit. Profilů pro různé druhy aktivit můžete mít neomezené množství.
Záznamy se ukládají do aplikace, která se synchronizuje s knihovnou na internetu.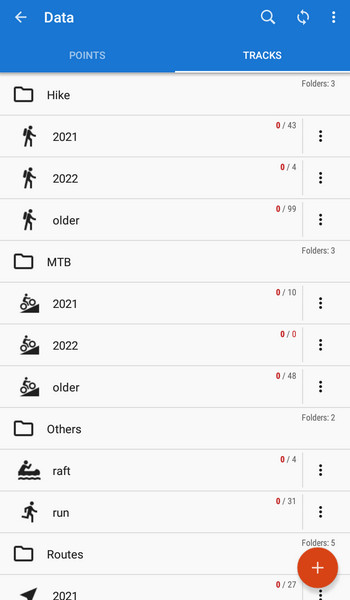 Plánování tras
Trasy můžete plánovat přímo v aplikaci prostřednictvím plánovače, a to s připojením k internetu i bez něj. Pokud dáváte přednost velkému monitoru PC, můžete trasu naplánovat ve webovém plánovači. Trasa z něj se automaticky synchronizuje se všemi zařízeními, ve kterých máte nainstalovaný Locus Map.
Také plánování trasy se provádí pomocí profilů, ve kterém zvolíte druh aktivity – podle ní router volí odpovídající typy cest, povrchy a výškový průběh trasy. Samozřejmostí je ruční režim pro plánování tras mimo zmapované cesty nebo možnost nechat si navrhnout komplet okružní trasu – stačí zadat směr a vzdálenost.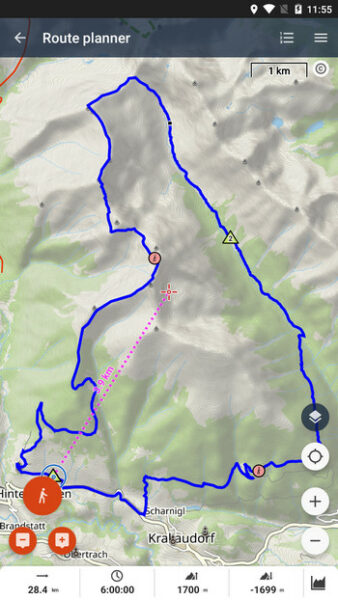 Navigace
Navigovat můžete v Locusu několika způsoby. První možností je podél již připravené trasy – naplánované v plánovači, importované odjinud nebo dříve zaznamenané. Dále lze přímo na mapě určit cíl navigace a Locus do něj naplánuje trasu podle zadaných kritérií.
Další možností, kterou oceníte zejména ve volném terénu bez cest, je navádění na cíl vzdušnou čarou. Metoda je oblíbená zejména mezi kačery.
Vyberte si mapu podle svých potřeb
Locus Map nabízí jako výchozí podklad cyklo/turistickou mapu celého světa – LoMapu. Jejím základem jsou OSM data a lze ji používat online i offline. Obsahuje kromě mapových dat také dynamické body zájmu LoPointy, offline adresy a výšková data.
Stejně jako Viewranger, i Locus Map nabízí mapy řady dalších poskytovatelů – Kompass, Outdooractive (DE), Freytag-Berndt (A), IGN (FR, BE), USGS, Neotreks/Accuterra (USA), Ordnance Survey (UK), a také spoustu volně přístupných online map na bázi OSM.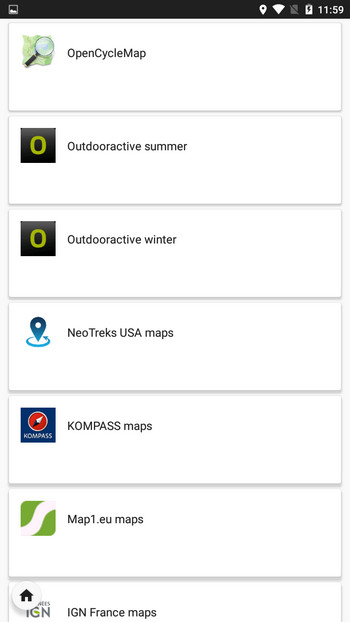 Mapy Ordnance Survey
Většina uživatelů Viewrangeru, se kterými jsme měli možnost mluvit, používá mapy OS. Máme je také v našem Locus Store, a to ve 140 offline balících, pokrývající celou Velkou Británii. Mapy se nepředplácejí jako ve Viewrangeru, ale kupují jednotlivě za jednorázové platby. Každý balík obsahuje dvě mapové vrstvy – Landranger a Explorer – a to v několika měřítkách.
Ve can offer you also Ordnance Survey OpenData maps combined with OSM data, Rowmaps and Core Path maps in JohnThornMaps covering the whole UK.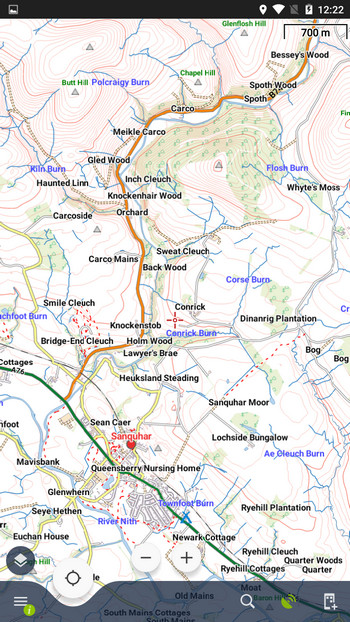 Live Tracking je nový Buddy Beacon
Sdílet polohu v reálném čase s rodinou a přáteli můžete pomocí funkce Live Tracking. Ta funguje jak vzájemně – mezi jednotlivými uživateli Locusu – tak jednosměrně – poloha z Locusu v mobilu se zobrazuje na webové stránce.
Polohu můžete sdílet veřejně nebo v uzavřené skupině. Skupiny můžete vytvářet a zvát do nich další účastníky, můžete v nich i chatovat a posílat si navzájem body zájmu.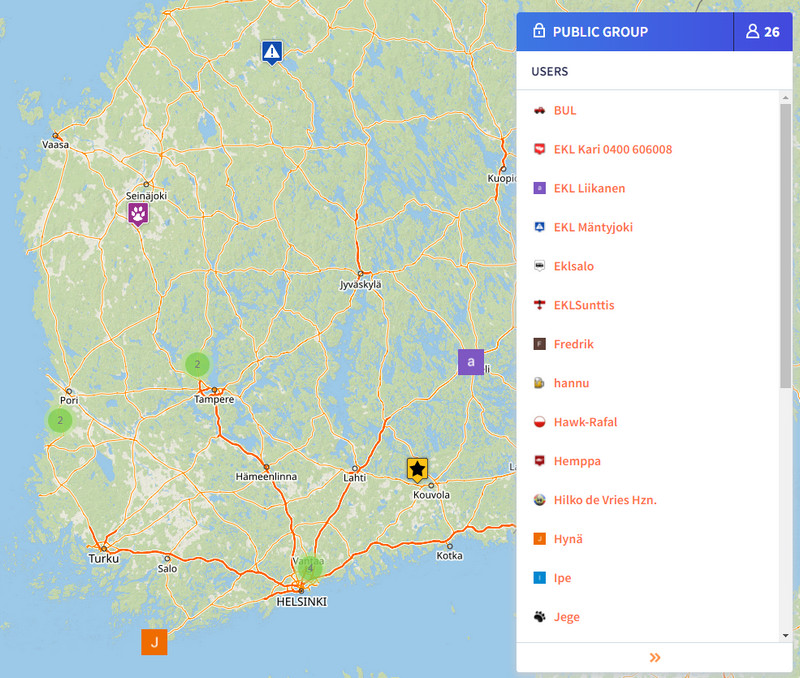 Používejte chytré hodinky
Locus Map můžete používat také ve spojení s chytrými hodinkami. Podporujeme platformy Wear OS, Tizen (starší hodinky Samsung), a také Garmin.
Ve všech případech je Locus Map v mobilu hlavní aplikace a v hodinkách běží pomocný add-on, který zobrazuje vaši polohu na mapě, navigační příkazy a můžete jím také ovládat záznam trasy.
Kde je Skyline?
Oblíbenou funkci se zapojením augmentované reality můžete s Locusem také vyzkoušet, a to pomocí add-onu Augmented Reality for Locus Map. Principielně funguje podobně jako Skyline, před jeho zapnutím je ovšem nejdříve potřeba v Locusu zapnout zobrazení LoPointů a zvýraznit vrcholy. Každopádně budeme rádi, když nám dáte vědět, zda tato funkce opravdu stojí za to. Protože je to jedna z oblastí, kde máme velké mezery.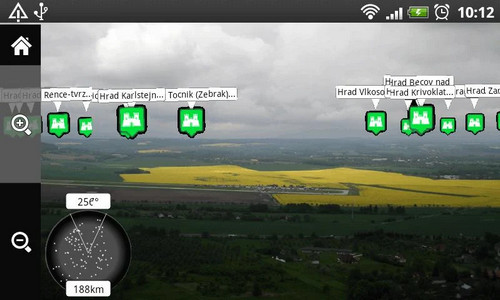 Můžu si Locus Map přizpůsobit?
Ano, mnoha způsoby.
Začněte na hlavní obrazovce, kterou lze uzpůsobit pro praváky a leváky, lze nastavit viditelnost všech hlavních tlačítek, a také tlačítka funkcí v postranních panelech.
Nastavit můžete styl tras na úrovni aplikace, složky, navigace, při záznamu trasy i v plánovači.
Přizpůsobte si počet a rozmístění položek v hlavním menu, nastavte jednotky, souřadné systémy, pomocnou grafiku, souřadnou mřížku, dokonce vzhled a velikost mapových a navigačních kurzorů.
Za co všechno je potřeba si v Locusu připlatit?
Aplikace je v základním provedení po stažení z Google Play Storu ZDARMA. Již v základu obsahuje vše, co potřebujete pro běžné outdoorové využití – záznam aktivit, plánovač tras, navigaci, cyklo/turistickou mapu celého světa online, a mnoho dalšího.
Rozšířit funkčnost a zrušit omezení některých vlastností aplikace lze zakoupením Premium balíčků Silver a Gold.
Premium Silver nabídne větší mapovou obrazovku bez reklam a obsahuje balík funkcí pro sportovní využití jako audio trenér nebo správce připojení senzorů. K tomu také balíček mapových nástrojů pro kalibraci, překryvy a posuny map.
Premium Gold nabízí maximum – všechny funkce včetně synchronizace dat s cloudem, vestavěný offline router, všechny offline LoMapy světa, satelitní mapu, live tracking s privátními skupinami atd.
Podrobné srovnání prémiových plánů najdete ZDE >>
Mapy našich komerčních partnerů nejsou zahrnuty v Premium balíčcích. Každý si tak může zakoupit právě jen tu mapu, kterou opravdu potřebuje.
Vítejte v Locus Map!
augmented reality
live tracking
Ordnance Survey
route planning
track recording
Viewranger
wearables