At first we thought, Locus Map 4 is so different from Locus Map Pro (series 3.x) that there is no need to deal with their differences too much. These are clear – the "4" has a much more convenient user interface, it can synchronize data with the cloud, communicate with a web-based route planner, it has its own offline router… Yes, but some of these benefits can only be found in the highest Premium Gold subscription.
But still, we have Premium Silver here. "It's the same as the Pro version so what's all that hassle about?" many say. So how can you decide what to do? Should you go for a prepaid Silver, or stay with the well-proven Pro?
The FAQ section of our website offers a brief answer. However, many probably overlook it or do not find enough detailed information in it, as we are still getting questions about version differences. That is why we bring you a more detailed summary here in the blog, which will be pointed out by notifications directly in the application:
Main screen and menu
Locus Map Pro
It is based on years of natural development of the application according to current trends, but mainly according to the wishes of users concentrated mainly in the community on the Locus forum. Admittedly, it's not very intuitive or ergonomic, features and buttons have been added gradually, and with the growing amount of what Locus can do, the UI ​​has become increasingly confusing. Unfortunately, this discouraged new users in particular. Nevertheless, this version of the interface has its rock fans, which is why we keep it in Locus Map Pro.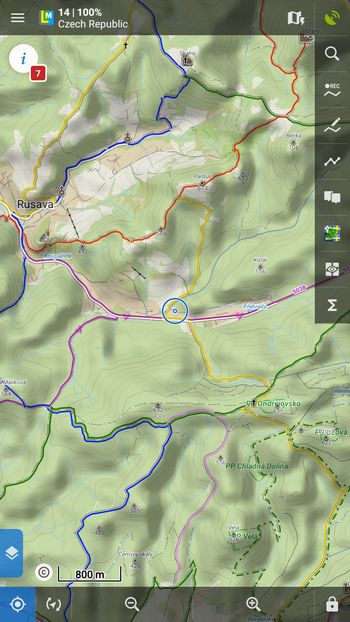 Locus Map 4
We looked at the UI ​​more in terms of clarity and ergonomics:
all important controls have been moved to the bottom of the screen for easy thumb control. Only the information bar remained at the top (hidden by default)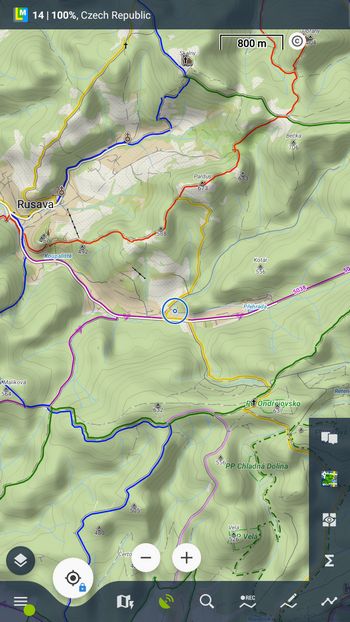 we added an opportunity to flip everything sideways for left-handers
and also the dark mode saving the battery
in the first level of the main menu there are 8 basic functions and the number of buttons can be expanded almost twice
all functions of the application are then clearly sorted by categories and can be searched for in full text
we've retained the popular fully configurable sidebars
we have added a special floating menu for external Bluetooth controllers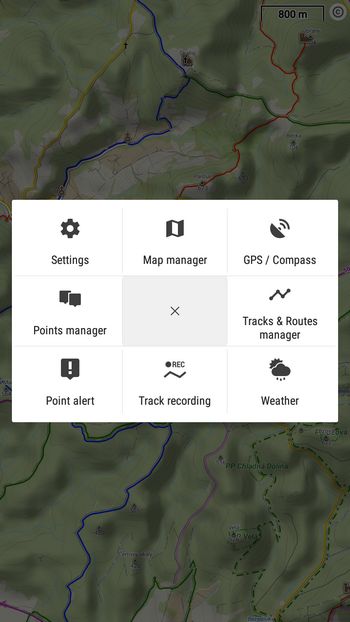 Panel with route or point details
Locus Map Pro
In the original version, you can access the details of the route / point via an intermediate step – a popup box on the map. This popup contains basic information and has its own action menu, configurable in the application settings. The details then expand to a full screen with several tabs. For many, the solution is complicated, but "hardcore" users praise it.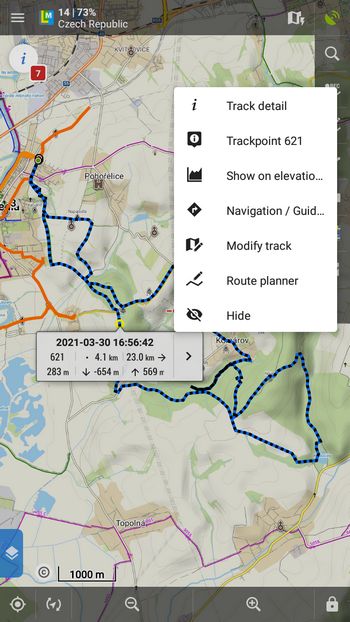 Locus Map 4
The new solution is much more compact. In the case of a route, a panel with basic information, an elevation profile with a trackpoint position and a toolbar opens on the first click.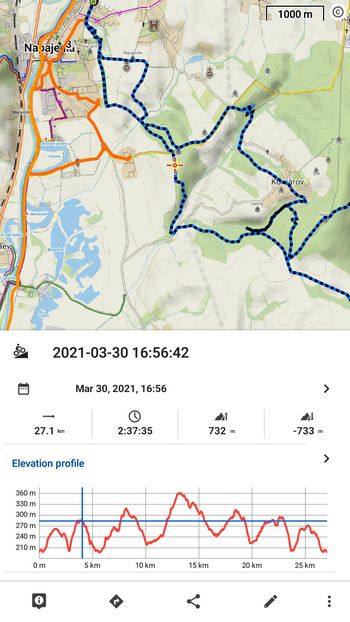 Each category of information has its own maximize button, which expands it to full screen: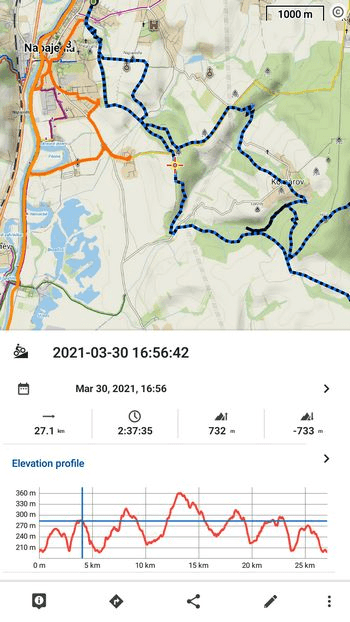 Further sliding the panel up shows more information – types of paths and surfaces, waypoints, classification into folders…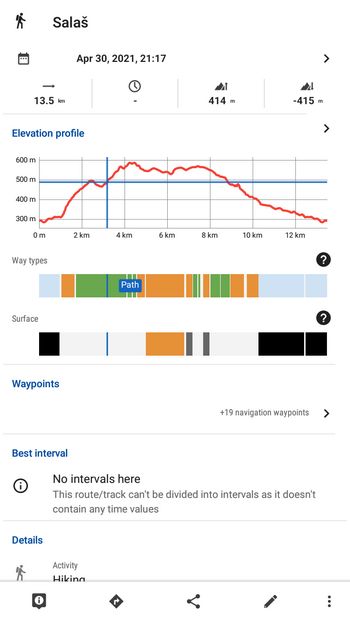 The button at the bottom left opens a separate panel with information about the selected trackpoint: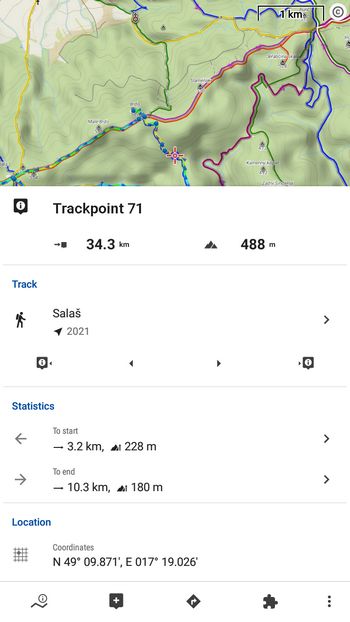 Similarly, for the point details, we chose a compact solution with the sliding panel. In the case of geocaches, on the first click, in addition to basic information, the number of trackables and waypoints also appears, which you can maximize into further detail. And also a toolbar with buttons, three of which you can reset to suit your needs – put a login button, hint, etc.: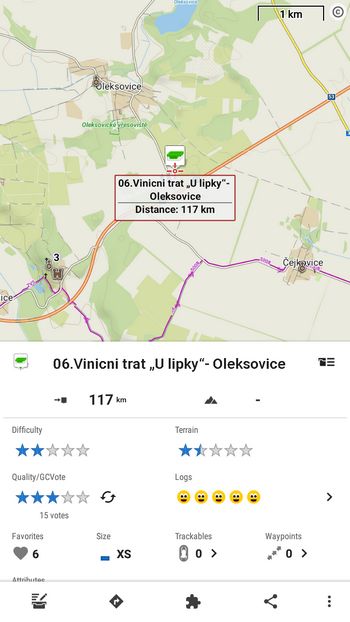 By further extending the panel, the app displays the attributes of the cache, the beginning of listing and other parameters. A menu with specific geocaching tools is also at hand.
Online LoMaps, LoPoints and LoRouter
Locus Map Pro
The application relies solely on third-party resources for online maps, points of interest, and routers, so it does not include the items mentioned in the title.
one of the publicly available OSM resources is displayed as the default map when the application is started for the first time
dynamic online points of interest are not on the maps
GraphHopper and YOURS are used as online routing services
Locus Map 4
We have equipped the new generation of the application with a complete package of our own free online content, which is also available in the basic non-prepaid version of Locus Map 4:
LoMap Online – a tuned optimized map of the world in a hike / bike theme with marked hiking and biking trails. The update from OSM data takes place once every two weeks. Of course, other online maps remain available.
LoPoints online – dynamic points of interest on the map with lots of information – opening hours of restaurants and shops, contact info…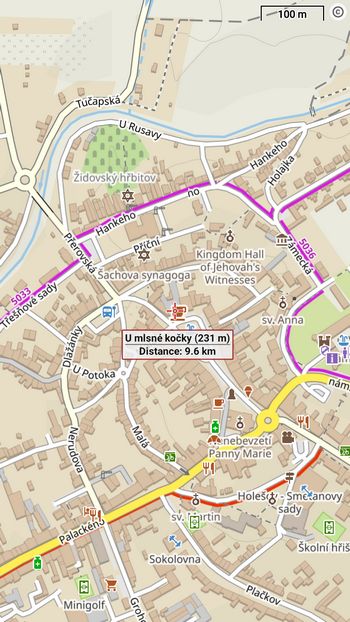 LoRouter online – a powerful router for fast route generation when planning or navigating to a destination. It contains the same routing profiles as our new web-based route planner, from where you can export routes for use in Locus. However, you can also use the aforementioned third-party routers if you like them.
The integration of our own online content services has been quite a challenge for us, but in addition to the benefits they already bring, they give us a wide range of opportunities to further supplement and improve content in the future. And be sure – we have big plans. We believe you have something to look forward to!
Other differences in details
directly in the route planner in Locus Map 4, you can open the content panel and easily change the background map, displayed points of interest, active items, etc.
Locus Map 4 supports OneDrive for backup or direct import / export of routes and points
plus hundreds of other minor changes, such as search in settings
What else do we plan to do?
Although we continue to maintain and update Locus Map Pro to make it fully usable on new Androids, Locus Map 4 is the foundation of our larger future plans. With this in mind, all its parts have been developed – whether we mean UI, content services integration, or a more sustainable financial model. If you decide to activate one of our Premium tariffs in Locus Map 4 instead of purchasing the Pro version, not only will you receive more new features in the future, but you will also allow us to implement new features and integrations into other services faster.
So what can you look forward to in the near future?
support for WMTS resources – the long-awaited modification will allow you to use a lot of other high-quality map materials in Locus
new sensor manager – we have merged Bluetooth and ANT managers into one center, which will clearly manage connected accessories – sensors, external GPS antennas, etc. There will be support for other sensors such as power meters
We will now leave it up to you to decide whether to install Locus Map 4 Premium Silver or stay with the good old Locus Map Pro (Locus Classic in the future). We provide the care that belongs to both products. And if you've already purchased the PRO version and want to switch to Locus Map 4 sometime, you'll get a discount that offsets the original purchase. So you don't have to worry more about the first choice.
differences
Locus Map Pro
LoMaps online
LoPoints online
LoRouter
Premium Silver