We hear this question quite often on the Locus forum, on the helpdesk, and on social media. What parameters should it have? What memory, battery life, processor? Primarily we are trying to get Locus to run on almost anything as we don't have much insight into the available hardware. We only use a few dozen common devices in development and for normal operation.
However, let's try to design an ideal model that would meet all available criteria for use with Locus. So what features should it have?
Durability
Locus Map is primarily designed for use as a navigation device for outdoor activities – hiking, mountain biking, climbing mountains, or scrambling through thickets for geocaches. So the phone should be able to withstand something – it should be shockproof and reasonably waterproof to survive a fall into mud or a cloudburst without harm. Some phones are directly certified for higher durability, and you can identify by this certification what the phone should be able to handle without harm.
But there are also plenty of cases and covers on the market that can turn your lounge model into a serious outdoor brick.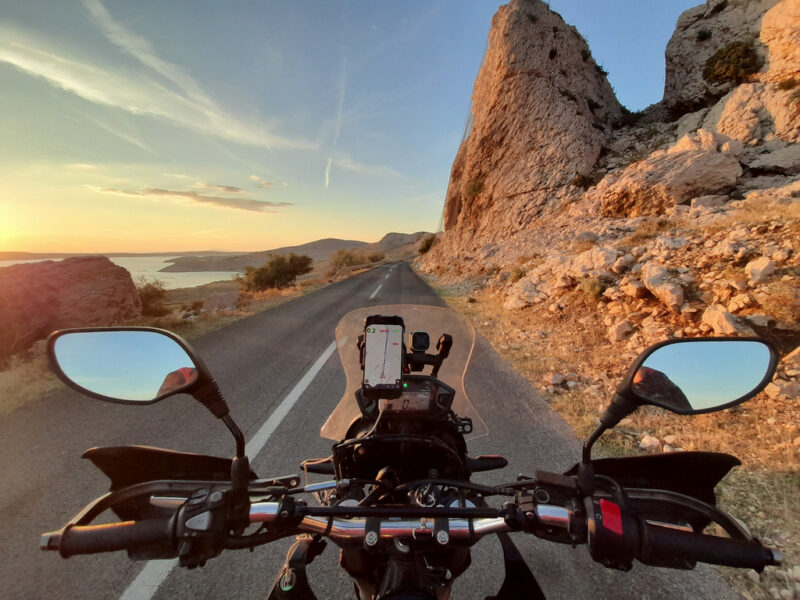 High-quality display
The basic communication interface of Locus is the map. If it's illegible or not visible in direct sunlight, it won't be much help in orientation. We, therefore, recommend choosing models with higher resolution, contrast, and, most importantly, display brightness. This is given in units of Nits or cd/m2. Many manufacturers mention this figure for their models, or it is measured independently by some reviewers, such as Gsmarena.com. Remember that many phones can only use the maximum display brightness if the brightness is set to auto. Of course, development is coming in leaps and bounds in this area – try comparing, for example, the very high-quality display on the Samsung S10 with the latest S22, the difference is very noticeable.
Large battery capacity
In general, the display, GPS module, and processor consume the most power. Locus Map uses all of them – the display shows the map, routes, and caches, GPS and other motion sensors capture your location, vector maps, and geodata work occupy the processor. So it's understandable that the app takes a proper bite out of your battery when running at full speed. Therefore, we recommend getting a phone with a bigger battery or carrying a power bank with you on longer trips.
Battery capacity is measured in mAh and this figure is always given by the manufacturers in the specifications of the phone. Higher = better, but the overall battery life also depends on other aspects such as manufacturer optimization. So again, it's a good idea to follow reviewers who have an established methodology for testing phone endurance so they can compare models against each other.
However, Locus Map can also save the power – the display can be automatically switched on only before turns during navigation, while the GPS saver mode records the location only after a few minutes. If you turn on the "airplane" mode, an average phone can run with Locus for a whole day.
Compact size
A smaller phone is less prone to damage, fits better on the handlebar of a bike, and a smaller display "eats" less… The smaller size has undeniably many advantages, unfortunately, current trends do not favor small mobile phones. Shops are full of giant "pancakes" with six-inch displays that don't even fit in your pocket. And let's face it, we got used to large displays very quickly, they are easy to read, they can fit a lot of information, they are great for viewing photos and videos… On the other hand, a smaller phone overwhelmingly means a smaller battery, see the previous section. So everyone has to find the right compromise.
Getting a second smaller phone can be an acceptable solution, or you can fish an older model out of the drawer. You don't even need to have a SIM card on it, Locus can run offline.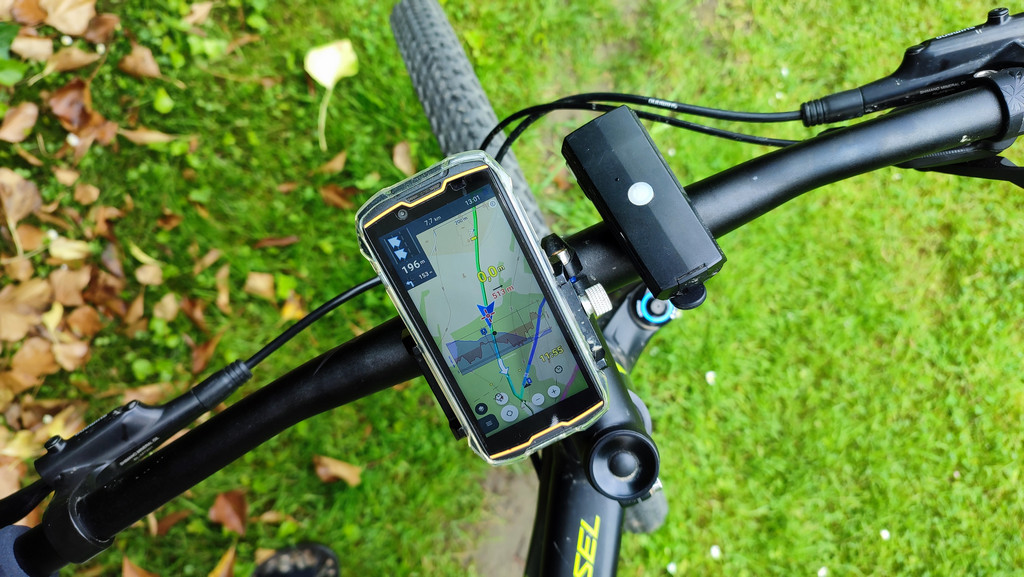 High-quality sensors
Every smartphone gathers information about the world around it using a range of built-in sensors. Of course, a high-quality GNSS module (GNSS = Global Navigation Satellite System) is indispensable for Locus Map, which can receive data not only from the GPS network but also from other systems – Galileo, Glonass, or China's Beidou. The more satellites it locates, the more accurate the position it sends to Locus. Modern phones of recent years can further improve position accuracy significantly by using multi-band GNSS. This is useful, for example, for navigation in cities, where there is significantly less variation in the reflection of the satellite signal from buildings.
For orientation within cardinal directions, it is a good idea to have a hardware magnetic compass (Locus works without it too, but then it only calculates orientation when moving from GPS data). But don't forget to calibrate it occasionally.
Locus also gets altitude information from GPS, but this can be greatly improved if the phone also has a barometric altimeter. However, its use needs to be activated in the Locus settings.
A good quality proximity sensor is useful for the proper operation of controlling the screen by gestures, but that's just icing on the cake.
Connectivity
Locus Map can communicate with many external sensors – heart rate, speed, cadence and power sensors, thermometers, etc. Both Bluetooth and ANT+ are supported. Bluetooth is a standard feature of all smartphones. It's worse with ANT+, which is unfortunately on the way out of the technological limelight. Manufacturers often no longer even indicate in the specifications of individual models whether ANT is installed, so we can only rely on the list of officially supported devices on the website www.thisisant.com. It has to be said that the list is unfortunately not expanding much anymore. Fortunately, more and more sensors supporting the latest Bluetooth standards are becoming available.
However, if you don't actively collect data about your sports performance and are just outdoors for fun, you can safely skip this parameter.
Performance
You can run Locus Map even on an older Android 5 phone (the oldest supported operating system), but let's face it, it's a bit more fun on the latest octa-core with 16 GB of RAM – you can view dozens of routes and thousands of caches on the map without lagging, use map overlays conveniently, or import large KMZ files. But if you learn to save power wisely, Locus Map doesn't require any extra "cannon".
You can save yourself a lot of trouble if you choose a model with a "clean" version of the Android operating system. Various add-ons, especially from Chinese manufacturers, often include battery-saving software that, at the best settings, turns off Locus Map when you need it the least – when recording a track or navigating.
What phones do we use?
We did a little research in the team: the developer part prefers models with pure Android, i.e. Pixels of all possible generations from the archaic Pixel 1 to Pixel 5, and there would be some Nokia ones too. The support section has Chinese phones Xiaomi, Honor, and OnePlus, as these cause the most problems that need to be tested frequently. We carry small or older phones on the bike – for example, the miniature and durable Cubot KingKong Mini 2 or, among the older ones, the legendary aluminum HTC One Mini 2 or Samsung S7. But some of our users go much further in their experiments. 🙂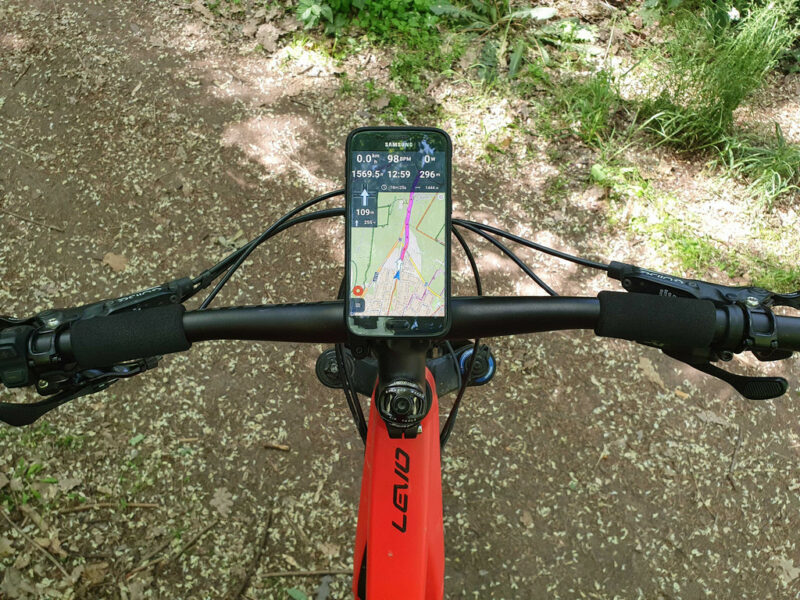 As part of a responsible approach to the environment, it's best to simply use the phone you already have, or for fun in the field, pull out an old, no longer used one from the drawer. So just think of this article as a set of recommendations on which features of your hardware to monitor.
We hope you have fun with Locus Map, whatever you use it on!
best of
mobile
phone