This question has been nagging us and our users since Android Kitkat 4.4.2. arrival on scene and our phones or tablets. And as many of you still need the answer to it, we'll dedicate today's blog post to it. Hope it'll help to find peace in our souls and calm many still upset users.
It worked very well until…
Before we get to the core of the topic, let me write a few words about Locus Map history. Locus Map since almost the very beginning coexisted in tranquil harmony with Android OS. It could completely migrate to SD card external memory without issues, store downloaded maps there, import points of interest, tracks and so on. This perfect partnership was breached upon the Nestlé candy update. It brought something nobody had expected – restrictions of writing to SD card for all applications. Reasons – security issues. Locus Map couldn't write on SD card which was in case of downloading SQLitedb raster maps quite crucial, it couldn't store even geocaches, vector maps or SRTM data, not even backup files. Out of the blue, SD card was read-only medium.
…we got into a real mess.
The consequences were almost catastrophic, until-then stable and fully functional Locus Map kept crashing, in some cases couldn't even start. Locus Team went through several dreamless nights until the situation calmed down. We had to find solution quickly and soothe our enraged users – we offered a few ways how to start living with Kitkat again and wrote about it here and there. Fortunately, users could still store data manually on SD cards – therefore large map data packages could be moved via a filemanager and the path to them defined manually in Locus Map settings.
Android 5.0 – a flash of hope
Android 4.4.4. didn't come up with anything solving the SD card read-only trouble. Only Android 5.0 brought a fresh wind of change:
It allowed us to return the SD card writing permission to Locus Map at least partially. Since then the folders with vector maps (MapsVector), SRTM data (elevation data useful for e.g. map shading – data/srtm) and backups (backup) can be transferred to SD card in Locus Map settings. Unfortunately, that's all, more is not possible so far. All the same, we spent a whole week by looking for workarounds outwitting this peculiar idea of Google. Therefore, we still recommend to keep Locus root directory in internal memory as well as the main map directory Maps where Locus stores downloaded maps from online (the downloaded maps can be moved manually to SD card afterwards and then added as "external" maps back to Locus).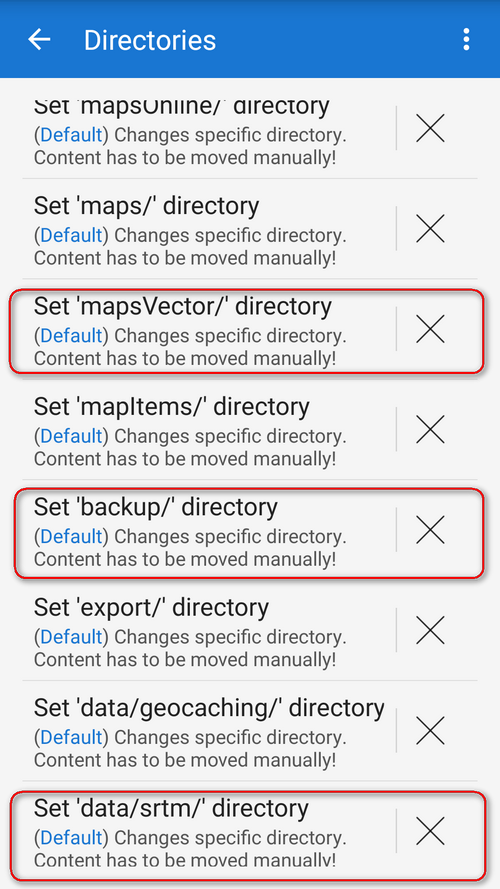 Android 5.0
backup
Locus Map
sd card
SRTM data
vector maps