The need to back up data is as old as the history of computing. The reason is obvious – digital data is quite vulnerable. Notably when we're talking about data on mobile devices – smartphones or tablets – especially when used for sports and outdoor activities.
Locus Map works with several types of data. These are maps, user tracks, routes and waypoints, and various settings. Maps downloaded to the app are, with a few exceptions, backed up directly with the provider or on our servers – if you accidentally lose the map on your mobile, you can download it again via the Locus Store. Your own tracks, routes, waypoints and settings need to be backed up in case you lose them, either through your own fault or due to poor hardware. In the case of a mobile phone or tablet, anything can happen – loss, theft, malfunction, accident, factory reset… Or you just need a new phone and your data transferred to it.
Locus Map offers two ways to protect your data – backup and cloud sync. Let's discuss the details of both solutions, their pros and cons, and how best to use them.
Backup
Locus Map can back up:
tracks and routes – all your recorded, planned and imported trips and workouts
points – all your downloaded caches, created or imported points of interest
settings – general app settings, dashboards, preferences, cache drafts, map themes and custom online map configurations
Everything is taken care of by the Backup Manager, which you can launch from Settings > Backup & File System. Setting it up is easy, but if you need help, you'll find everything in the user manual.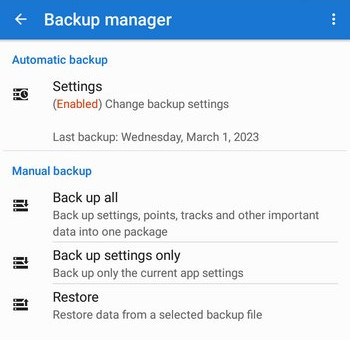 The backup file (ZIP containing everything mentioned above) is primarily saved in the Locus/backup folder in the root of the application (can be moved elsewhere, for example to the SD card). However, we strongly recommend saving copies of it outside of your smartphone – to Dropbox, OneDrive or Google Drive. That way you can access your backup from anywhere in the world.
If you don't have it yet, set up a regular automatic backup after a few days so that your backup is always up to date and you don't have to worry about a thing. We recommend doing a manual backup whenever you have a major task to do with your phone – data cleanup, factory reset, etc.
Maps – as we mentioned above, some providers' maps need to be backed up too. This applies to Outdooractive, OpenCycleMaps and NeoTreks maps.
Unfortunately, these providers do not allow you to re-download your already purchased maps, nor have they allowed us to keep a backup of the purchased maps. Since you must re-purchase such a map if you lose it, we recommend that you back it up. You can start backing up your map from the offline map manager: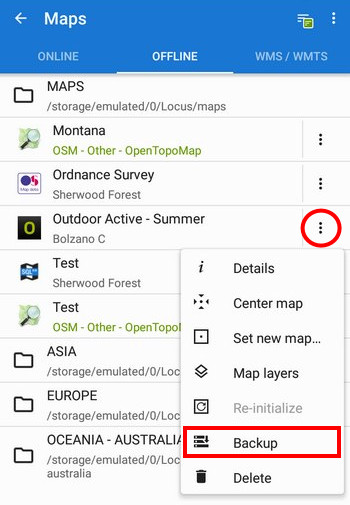 Pros
it's FREE – backup is included in all versions of Locus Map 4 and in Locus Map 3 Classic
wide choice of storage for backups – you can store backups on an external SD card as well as on cloud services like Dropbox, OneDrive or Google Drive
Cons
restoring from a backup overwrites the current app data – if you have a three-day-old backup and need to restore your data, you may lose the tracks you've recorded in the last three days
media taken with Locus – photos, videos or audio recordings – are not backed up
Sync
Unlike simple backups, synchronization is a dynamic process that allows you to maintain identical and up-to-date data on multiple devices at the same time. Locus Map 4 with the Premium Gold package allows you to sync your data with the cloud, respectively with your web library and all other mobile devices using your Locus account. What syncs:
tracks and routes – all your recorded trips and workouts, planned and imported routes
points – all your downloaded caches, created or imported points of interest
The sync happens automatically whenever there is any change on any of your synced devices – after recording a track, after planning a trip, after downloading caches, etc. However, the first sync needs to be started manually either from the top bar of the track manager or from the settings. See the manual for details.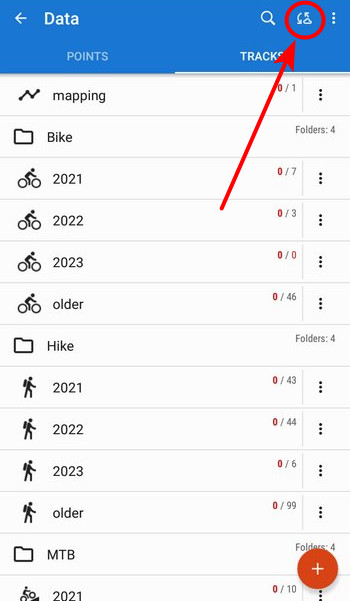 Pros
you keep data up-to-date on all connected devices
only the change is always synchronized, not the complete database as in the case of a backup
you can conveniently plan or edit routes on the big screen of your PC, using your smartphone just to record the track and navigate
Cons
sync is only available in Locus Map 4 with the Premium Gold package
media (photos or videos as attachments to routes or waypoints) are not synchronized, yet
settings do not sync – this is not necessarily a negative as we may need different settings for each connected device
Ideal solution – a combination of both
As each functionality has its pros and cons, the best solution is to use both. Synchronization keeps all your devices up to date and you can use your computer to plan trips or entire holidays. Backing up ensures that you don't lose your favorite settings and when you buy a new phone, you don't have to laboriously set everything up in Locus. And you know that Locus Map has a lot of settings!
Anyway, one recommendation is clear – back it up!
Photo by Denny Müller on Unsplash
backup
cloud
Dropbox
google drive
OneDrive
sync