At the beginning of last November, Android launched a new file management system in applications. What this meant for Locus Map, we described in detail in the previous blog post. The subsequent reaction of our user base was rightly stormy – such interference with user freedoms was imagined by few. Neither did we. But even though we had Christmas behind the door, we went back to work, fought hard, and managed to soften the effects of the November restrictive measures at least a little.
More options for working with external maps
The original solution for moving external maps to the Locus/Maps directory in the private folder encountered the impossibility of displaying this folder in common file managers, even with all the necessary Android permissions, let alone saving anything to it. So we've added these new options for saving the external maps:
Import maps within the application
Until now, Locus Map only used import for tracks and points. You can now use it to import raster map files too. Choose Import from the Locus features menu and use the file manager to locate the map. Click it to get the map to the default map folder Locus/maps/.
Use of Android/Media folder for maps
This folder, which you can find both in the internal storage and on the SD card, remains open for the time being and can also be accessed by other applications. This means that, for example, Locus maps can be linked to the popular c:geo. So:
move the raster maps to the Android/Media/menion.locus.android/maps directory using the system file manager
similarly, move vector maps to the Android/Media/menion.locus.android/mapsVector directory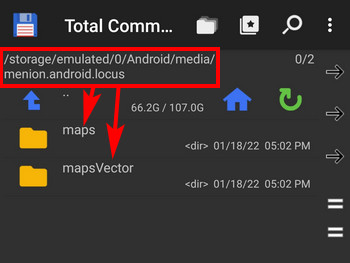 In Locus Map Pro, select the menion.android.locus.pro subfolder. Do not put vector map themes in the Android/media folder. You need to keep them in the default Locus/mapsVector directory, otherwise, the app will not load them.
Multiple subdirectories on the SD card
In the past, you could only move subdirectories with vector maps, elevation data, and backups to the SD card. We managed to solve how to get the following to the private folder on the SD card too:
Locus/Maps directory – for raster maps
Locus/mapsOnline directory – for definition files and online map cache
Locus/data/geocaching directory – for user photos, spoilers, HTML listings, offline data, etc.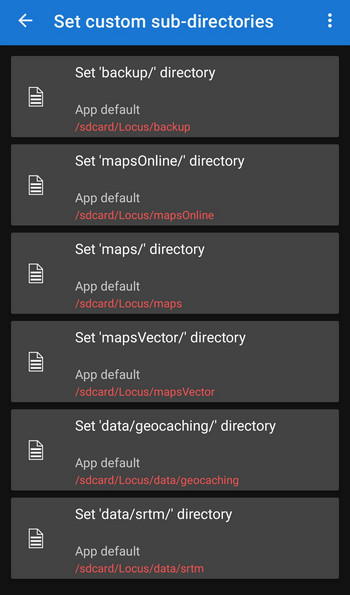 This will save you a lot more space in the internal storage!
P.S. If you can't run your Locus Map 4 or Pro reasonably without the "all files access", we have a special version for you to download from our repository. If you decide to install it, don't forget to turn off the automatic updating of Locus Map in Google Play.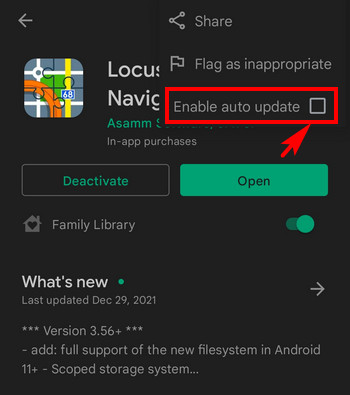 all files access
Android 11 file system
data
main directory
sub-directories