by Andreas Woithon, Matsch&Piste
There are a few demanding terrains for navigation on this planet. Deserts belong to them. Deserts are regions of our planet with poor or no vegetation. They have a few things in common: the lack of clearly identifiable marks we can use for orientation. At least for people who don't need to navigate and move around there daily, for us, the untrained. In the worst cases, the desert changes over time. All that doesn't help to make navigation easier.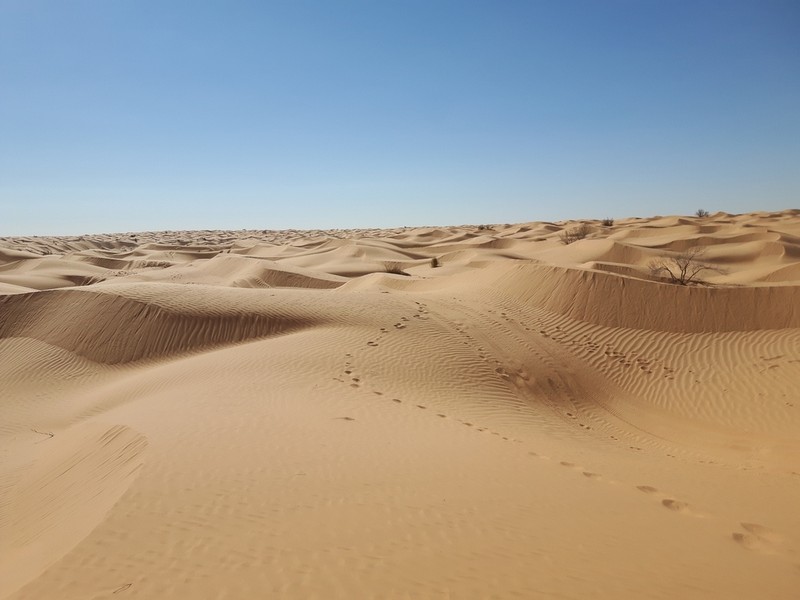 However, people cross these life-threatening places on Earth for centuries. So as not to fail, one needs some special knowledge and skills. Regarding navigation, these are the knowledge of the place you are in and you want to go, where the tracks (earth roads), the oases and water wells are and the skill to orientate oneself among less obvious structures. Pros with pro-equipment are better suited than most of us. The natives, who are used to move in deserts often use invariable natural features, like special dunes or mesas that we don't recognize.
As most of us stay in deserts for a too short time, we can't train these skills nor buy pro-equipment. We need different tools to aid us. Thanks to satellite navigation and digital global maps it has become easy for everyone to find our way through the desert. However, that doesn't mean that we can move around actually as easily as we can navigate with these modern systems. But we know where we are and in which direction to go, after all. But only as long as the satellite systems and our gear works. That is important to respect, as this is not self-evident.
It's a fact that there always have been ways to navigate in deserts. Since at least the Second World War it became important for a larger group of people without love or interest for deserts, to find their way through. The classic way to achieve this was a compass and a map. But the compass meant limitations and difficulties the user needed to know about and to handle that correctly. Because of the missing orientation marks you could keep direction to you have to control your direction otherwise. The need to controlling your direction with a magnetic compass meant to stop the vehicle, leave all metal behind, move away from it far enough, coming back, continue to drive every few meters. That was impractical and a waste of time. In flat deserts, you could do that for quite some distance, but in the middle of dunes, where you can see only a few hundred meters ahead and you change your direction very often, that was even harder, if not impossible.
A guy from Switzerland, Mr. Bagnold, invented the sun compass for the British Army. This was used in conjunction with tables for times and places to allow navigation while driving. But only by day. During the night it was useless. What a relieve satellite navigation systems are!
Satellite navigation and you're done?
Is it enough to have your GNSS (Global Navigation Satellite Systems) equipment and a few maps with you while crossing a desert? Yes and no. The App should be capable of a few functions which really support you and it should provide selected maps. However, regardless of your equipment, finding the best path through in the desert will only work by looking and checking when you are driving. Depending on the surface and its condition you need a lot of experience to complete a noteworthy distance. Without that experience, your daily legs will be short and your effort huge. Without the skills to "read the sand" you'll get stuck often, resulting in digging and recovery operations.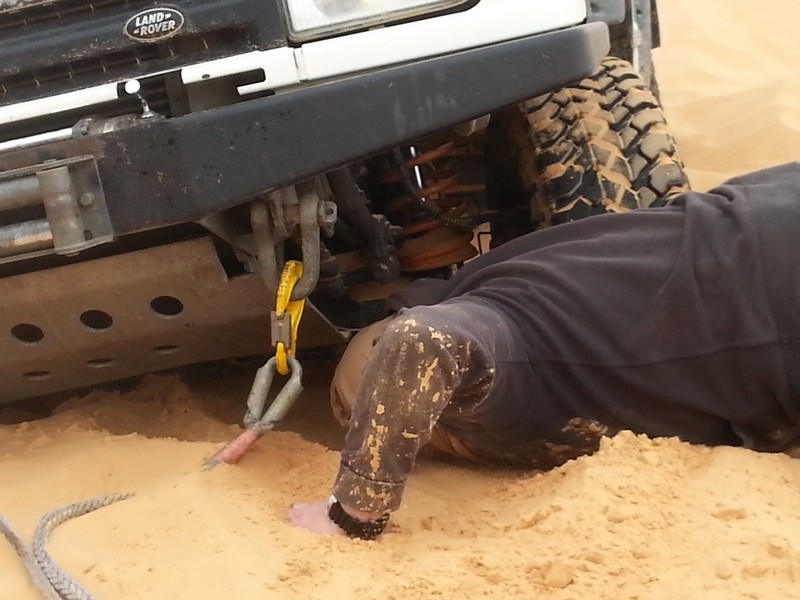 Most of the time you can't follow the line-of-sight. That only works in large, obstacle-free areas, like the Jebel National Park in Tunisia. And even there you have to be aware of nearly invisible brims of a wady or other harmful obstacles. You don't want to turn your car into a crashing plane or to get stuck in a chott. A chott is a large sediment plain, with only a thin crust. Below that is deep, wet, salty sand without any capability to carry load. If you get stuck there you're in trouble. Fech-Fech is another surface you better not try to drive on. This is very, very fine sand (like powdered pepper), also with no capability to carry load and which heavily dusts. A car will sink down to its chassis very quickly.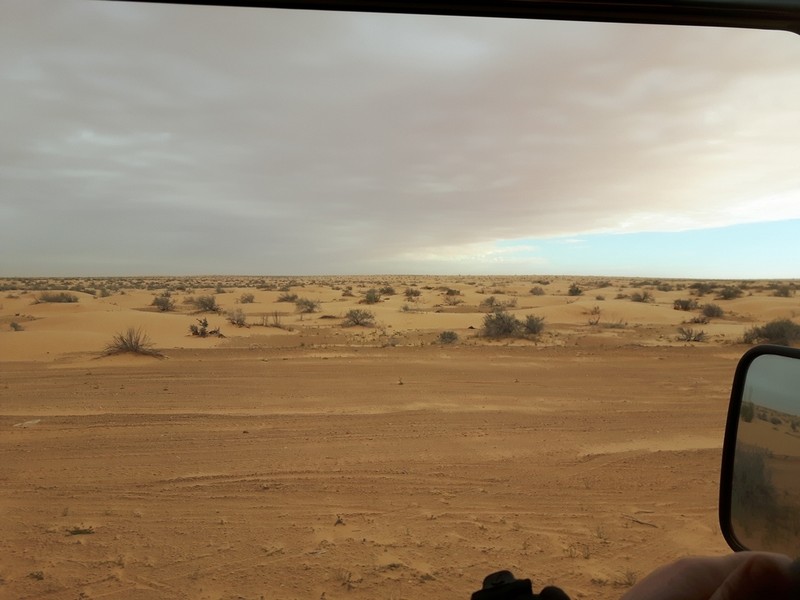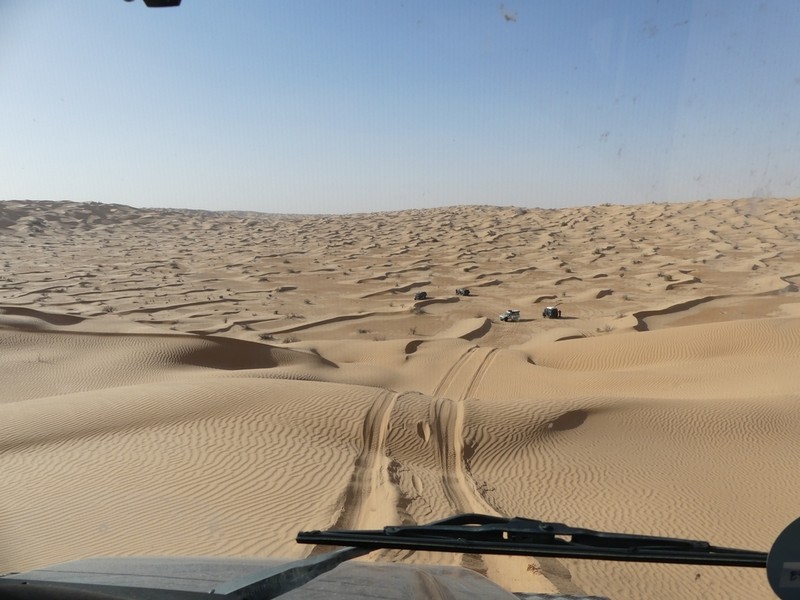 Maps
Let's return to digital navigation and what an App needs to provide if you want to cross a desert. The first thing which comes to my mind is maps. In general, you need two kinds of maps. A good topographical vector map, which shows all streets, tracks, oases, villages and all that stuff. Second, an up-to-date satellite map.
I prefer to use the OpenAndroMaps topographical vector maps, as their themes are detailed and very granular. Height data for these maps can be downloaded from the Locus Map store or at http://www.viewfinderpanoramas.org/Coverage%20map%20viewfinderpanoramas_org3.htm. You need to select the appropriate section, download it, unzip the ZIP-file and copy the .HGT files to "/Locus/data/srtm".
For satellite images, I like the ESRI hybrid maps, which you can use with Locus Map. Who used the already gone Locus Map Tweak in the past should have listed this map server in the Online section of the map manager.
It should be noticed here that maps that are based on OpenStreetMap (OSM) not necessarily show all existing tracks in deserts. Some can only be found on old military maps or maps from professional map providers. They usually have access to other map and geographical sources that don't rely on contributions from a community (like OSM). That's why paper maps, like the Michelin 953 North Africa or digitized paper maps like the ones from mapstor.com, are a meaningful addition. Besides an unfolded paper map can be studied and discussed much better in the sunlight with a group of people, than doing this around a 10″ display.
The topographical maps show me the details, tracks and paths and the remarkable waypoints, POI's, etc. The satellite maps are fine for locating and estimating dunes. At least for me, the presentation of dunes on OSM maps is something I don't really get used to.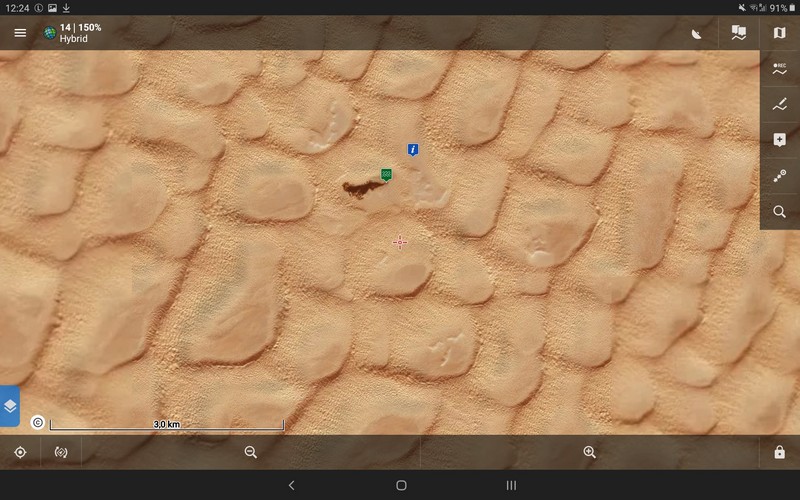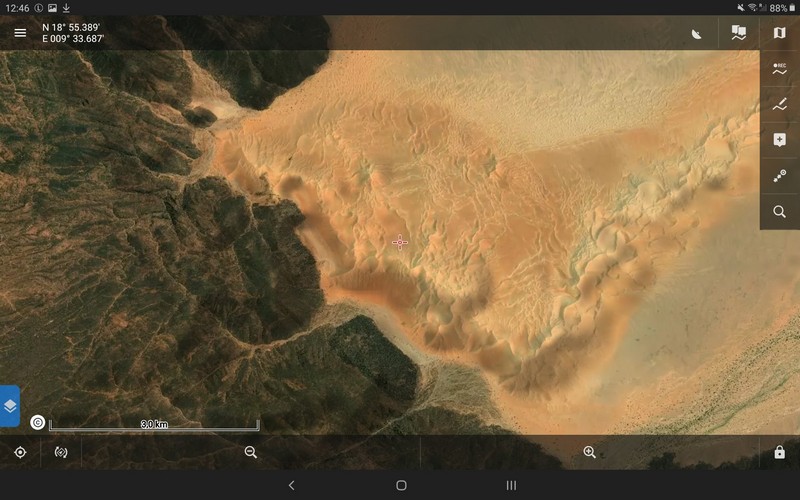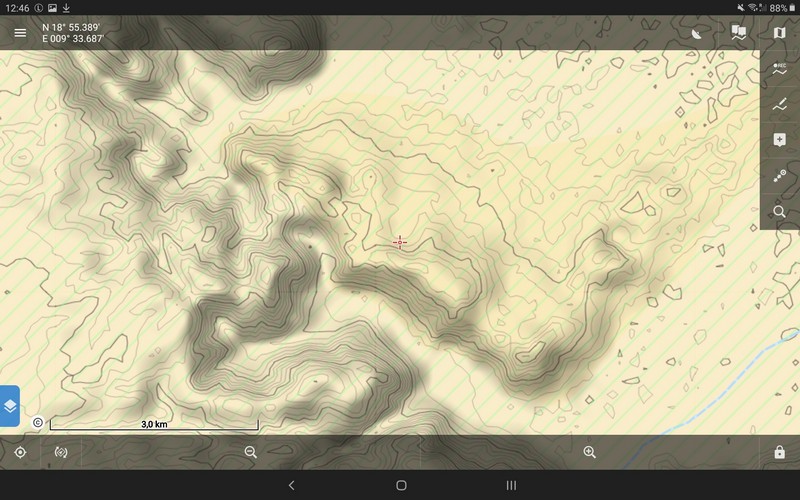 That is one of the important functions an App should be capable of: provide several map types and maps from different sources, vector, and image-based.
Offroad navigation functions useful in deserts
Regarding the navigation itself, many people are satisfied with seeing where they actually are. Ok, that is nothing special, any navigation App will do that. However, I prefer to have a supporting visual reference to the destination which can be captured by one glimpse. Especially if you're sitting alone in your car as the driver. This is a great help because most of the time your eyes should be focused on the way in front of your car than on your navigation device. At this point, many Apps fall behind. Locus Map provides this by offering two functions: "Guide on" and the "Route planner". Both provide a very good visual reference while you are concentrating on driving.
But why are these functions so helpful? There are two main reasons. First, the visualized line of sight between you and your destination guides you, even if the destination is not visible on the map because you have to travel over a longer distance and the landscape lacks visual reference structures or landmarks you could use for guidance. Second, you have no visual contact with your destination most of the time while driving in dune fields.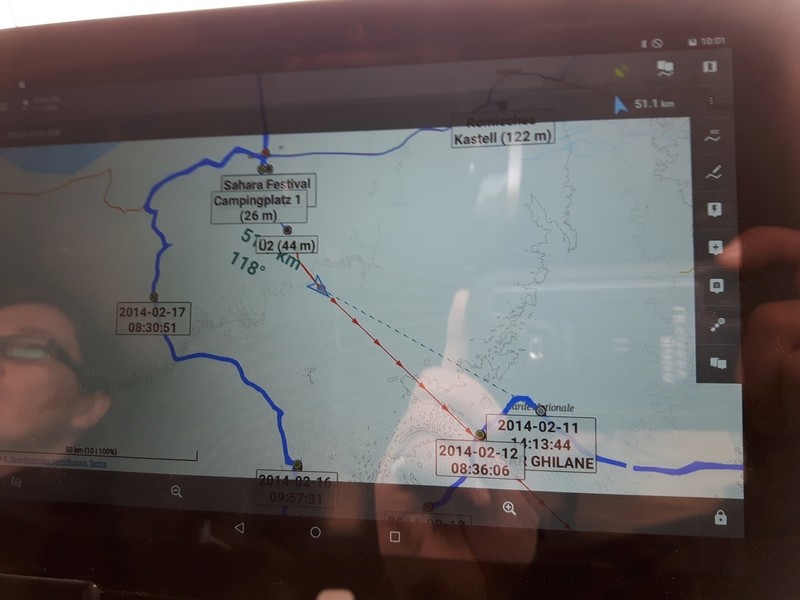 Offroad navigation with Locus Map function "Guidance"
While you're driving over plain tracks you could mark the destination and start the guidance (Guide on). You'll receive information about the line-of-sight distance and direction immediately. While you're driving you can roughly estimate if you're still driving in the right direction, even if the target is not visible on the map. That's good for routes that do not have many turnoffs, junctions, etc. and where the route is mainly straight (but doesn't have to).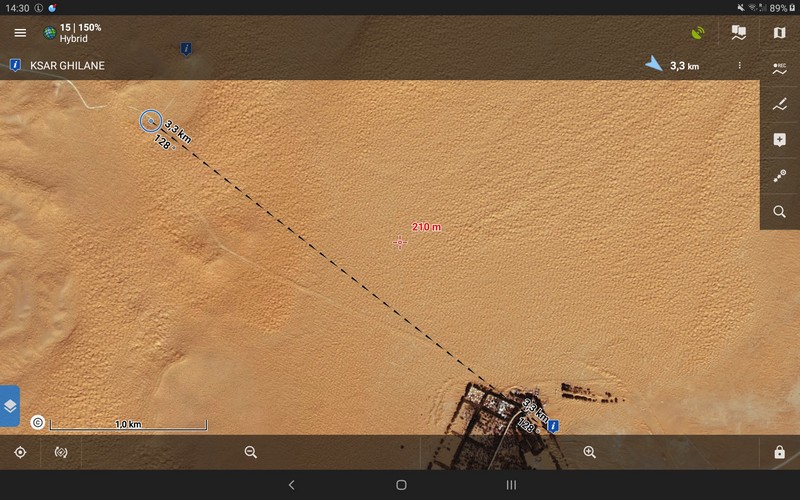 Offroad navigation with the Locus Map Route Planner
If your way has many junctions or runs over longer distances or which is far from being straight, you can use the Locus Map route planner and the "Guide on"-function while following your planned route. Draw your route into the map. You can decide on how detailed you plan it and how close you stick to the actual tracks visible on the map. You should set a route waypoint at least where you have to decide about where to drive (like junctions and turnoffs). By doing that you receive detailed information about your route right while you're planning it. While driving, you can easily follow your planned route without the need for continually zooming in and out or moving the map around. That lets you concentrate on your way and driving, especially when it becomes somewhat harder or you have to focus on not losing the momentum. Despite the increased effort, the route planner is very helpful. At that point, only a very small number of Apps are left.
Within dune fields, this function is even more helpful. The condition of the sand dictates where you can actually go in your car. Using the "Guide on" and Route planner" allows you to stick to the route or the guidance line, while you meander around, always looking for the best way to cross a dome or to drive around a gap. Or while you're following the skid marks of some local experienced guys, who know how to read the sand, while at the same time you try to keep the general direction.
The route planner and the guidance function become even more important if you're driving without native experts. The problem is the lack of landmarks you can easily recognize, like a mesa or very high dune. Even if you find one, just by changing the position with a different view, that landmark can make itself unrecognizable to you, as its look can change very much. If you're standing on a summit looking at a high dune in the far, you can very easily lose that mark while driving around in the dune fields. You constantly dive into gaps and holes, cross summits, dig a car out, etc. and when you're back on the top after a few hundred or thousand meters it seems to be gone. That's where the visual guidance line of Locus Map is a great help. It's still pointing to your destination.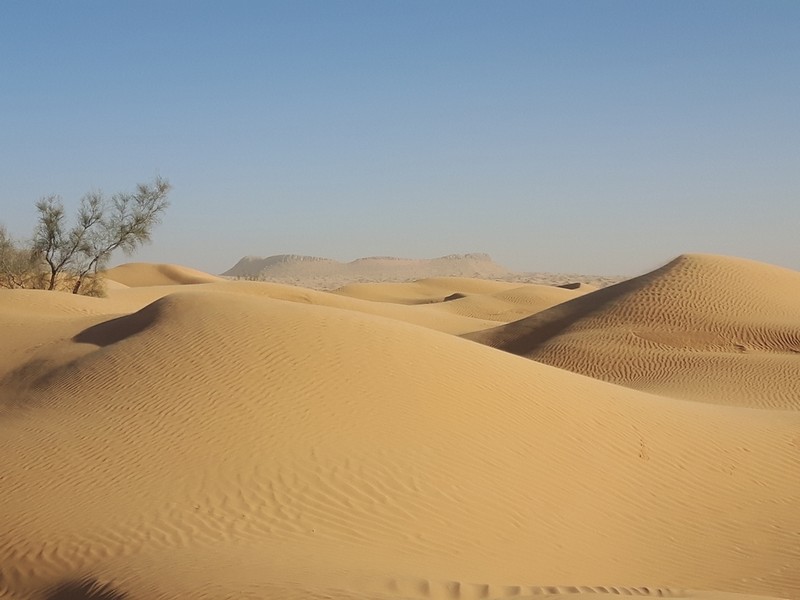 The same applies if you see high mountains or a mountain chain in the far, something you really can't miss. Again, the guidance line is a perfect help, while moving through dune fields. You can't keep the mountains in your eye all the time while driving because you're below the summits of the dunes you're in and you change your direction very often while following possible ways. And when you get a sight to the mountain again, you suddenly realize that you have moved away from it instead of towards it. That wastes fuel, water and time. The Locus Map guidance always shows you the right general direction, so you can easily detect if your general direction leads you to that mountain.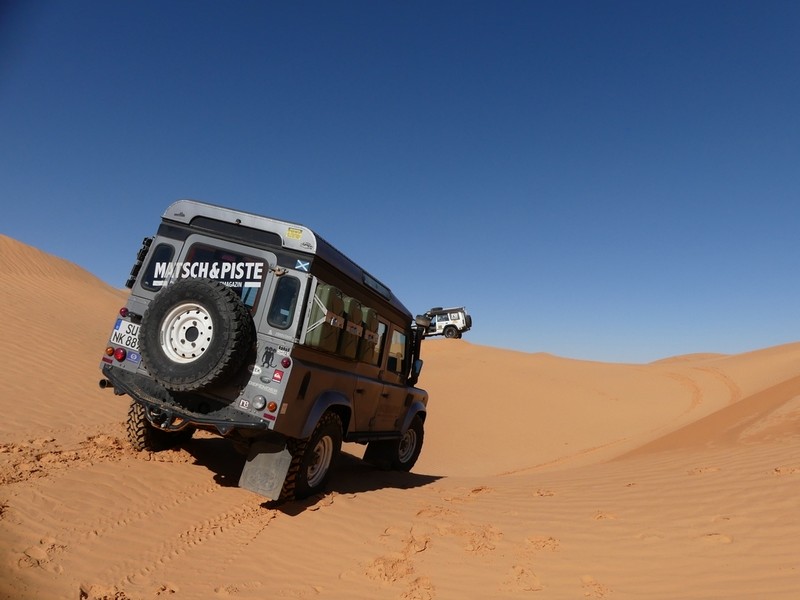 If you want to drive around dune fields, the planner is your friend, again. Using it together with the satellite maps you can find flat areas to circumvent higher dunes. Draw your route and simply follow it as general guidance. If you have to drive around smaller obstacles, the guidance line to the next waypoint will always guide you back to your route. If it takes you too far from the next waypoint, just skip it and head to the next one.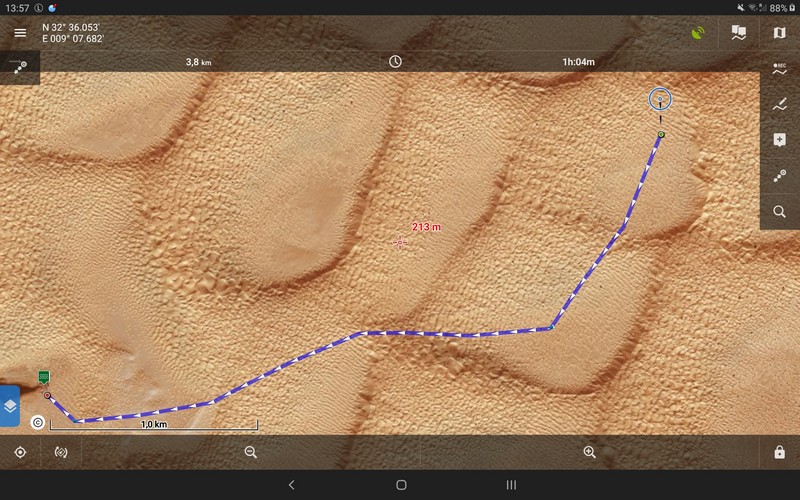 After planning the route you can switch the map to a higher zoom level to get more details and follow your route. Where and how to cross these fields exactly is always a matter of checking out the actual conditions while driving.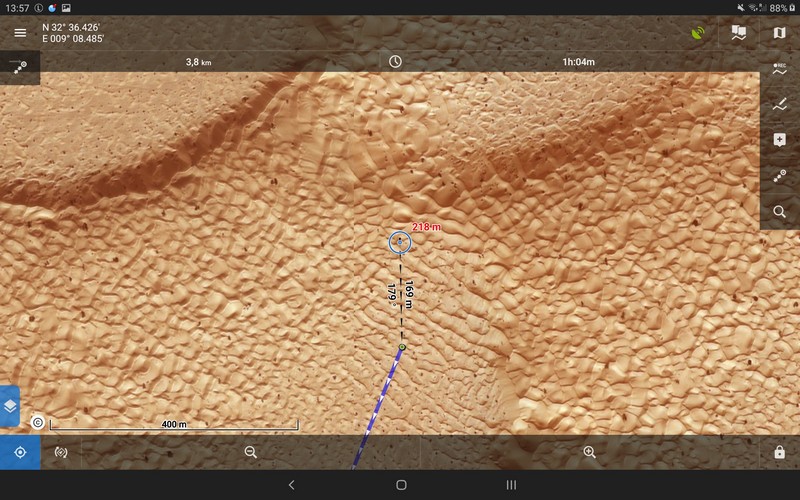 Scared by handling the App or the technical stuff? Matsch&Piste guides you!
Most offroad navigation Apps don't provide all these options and functions discussed here. However, some users are satisfied with that, as they don't want to cope with all that stuff. Besides other things I appreciate Locus Map because of the possibility to get rid of all the things you don't need and to focus on the few important functions I need and which are easy to learn. But some people either don't have the time or the will to dive deeper into these things. Or they are scared of technology in general.
If you want to get quickly and easily your hands on Locus Map you can book our live Webinar-Sessions about offroad navigation with Locus Map Pro. If you plan to visit really far-away places, where navigation is no fun anymore but essential, our weekend workshop about classic and digital navigation is exactly suited to you. You learn how to handle maps, compass, digital navigation (with Locus Map) and how that all fits and works together. Knowing how to handle paper maps and compass is vital in really offsite places. You should acknowledge that all this comfort of digital navigation can end immediately. Just think about the accident, where your gear is destroyed or if you have to leave the vehicle behind. At our weekend workshop, you also have a practical session with your car, where you can practice what was learned before.
All webinars and trainings are in German.
Find more information about our trainings here: https://www.matsch-und-piste.de/shop
Here's a short video of our desert driving in 2017:
desert
guidance
navigation
offroad
OSM
Sahara
satellite map