Despite many ski resorts are still operating to their full capacity and in many mountains it is snowing, the spring is obviously behind the doors. The days are longer, the snowdrops are in full bloom in gardens and the sun is sending first shy warm rays. Wood and meadow paths in lowlands are slowly getting dry and inviting for first walks and bike rides. Last time we brought here a few useful tips for geocaching that is also awakening. In a nutshell, it's a high time to introduce a new version of your favorite app – and here you are, brand new Locus Map 3.22 is coming!
Attention please, an announcement!
This is how the new notification center works – you'll find its button in the upper left corner of the main screen: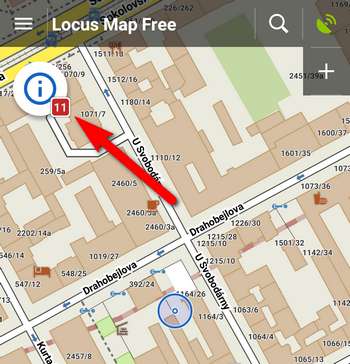 The center button appears on the screen always when Locus wants to tell you something. E.g. when you download maps, routes or elevation data from Locus Store. Or when we post some news on our website, or when we remind you of downloading your map gifts, informing about polls, messages from devs etc. When you tap the button you unfold the list of announcements: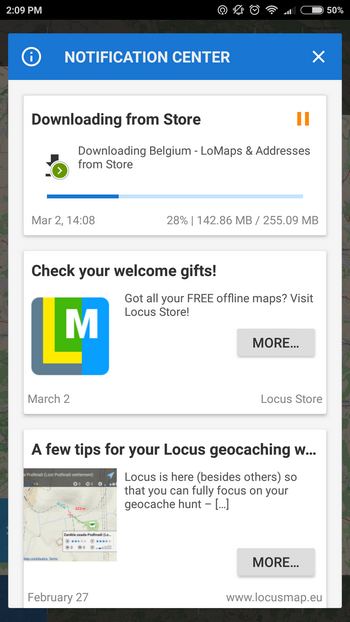 The button changes its appearance according to some actions in background. E.g. it works as a downloading indicator: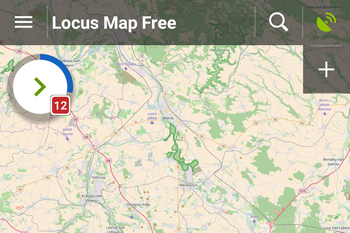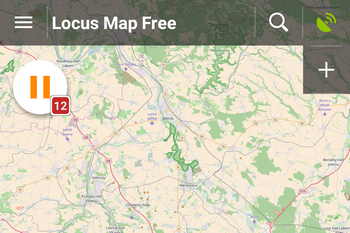 Individual announcements can be swiped away from the list or the whole box can be emptied by tapping a button in its bottom. When nothing is to be announced, the notification center button is not displayed.
Look, I'm just on a trip!
This is how our new service "My LIVE location" works. You surely know our Locus Live tracking that works practically the same way but only among Locus apps. The advantage of this solution is that you can share your location in the real time with anybody in the World who has access to the internet. The new feature can be found in Menu > Share: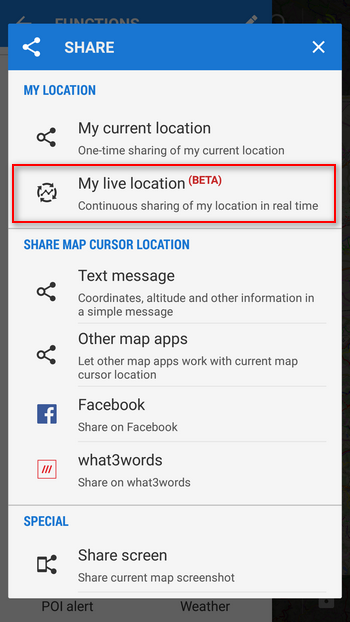 If you like you can show a message to those who will track you and then just tap the green START button.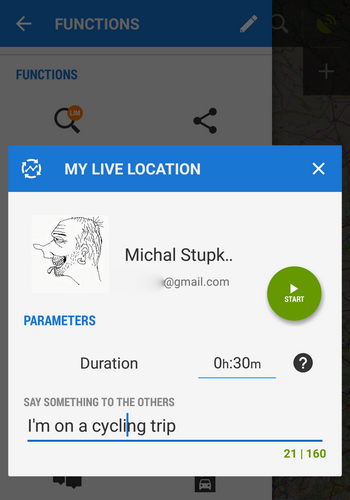 In the next dialog you can copy to clipboard or share via all available services the URL displaying your real time location.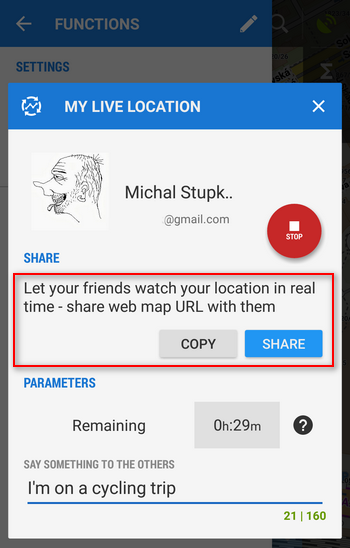 The URL can be opened in any internet browser. You location is displayed on a microsite map and is updated every 15 seconds. A menu on the left shows your actual speed and elevation.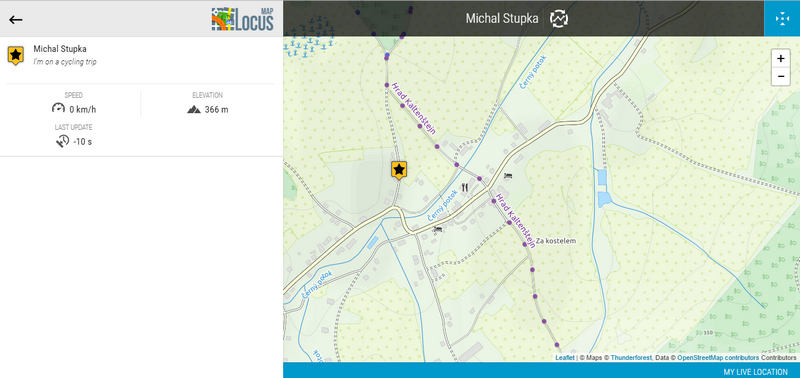 The service is running in BETA mode so far and can be used for free for 30 minutes. If you like it you can subscribe to Live Tracking Premium service in the Locus Store and share your real time location with your friends without limits.
Would you like a personal coach?
Monitoring of sports performance during workouts became massively popular after coming of smartphones. Apps like Runtastic, Runkeeper, Endomondo and so on are installed in almost each phone of everybody who goes running, skating or bike riding. Sports trackers, as these apps are called, not only record stats of such activities but they also announce these numbers directly to the sportsman's earphones. Locus Map can record track stats from its very beginning but its ability of commenting the workouts has been modest until now in the "Training manager".
The feature is named Audio coach in the new Locus 3.22 and its settings can be found in the track recording settings:
Firstly it's necessary to create a new training and define its intervals (lap distance or time) and events to be monitored – track distance, speed, pace, heart rate etc.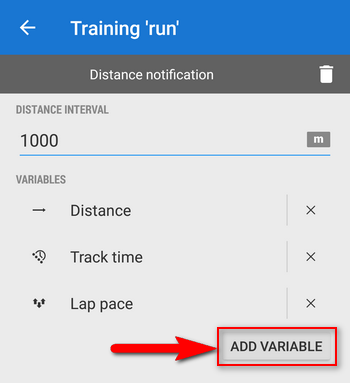 The news is the interval monitoring – Locus announces performance in the last interval which length you define: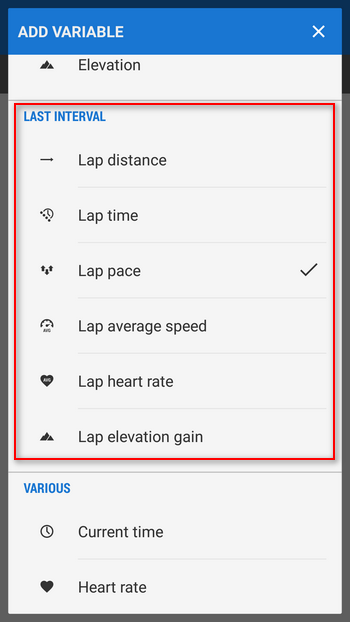 So what, it looks like another unnamed app can be uninstalled from your phone… 😉
Do you often reset Locus? Presets can help!
Locus Map is a very universal app working excellently not only when mountain hiking, bike riding, running or doing other outdoor sports but it can also navigate in car or help professionals collect geo data or locate targets for rescue squads. This versatility and heaps of features, however, has its drawbacks – using Locus for more activities means a lot of re-setting. Speaking of adjustments to your screen layout, changing type of navigation recalculation, switching vector map themes, increasing map resolution or repositioning map cursor.
With new Presets you can reset whole Locus with two taps.
Using Presets needs a bit of settings in the beginning – above all, we recommend putting Presets button in the function panel: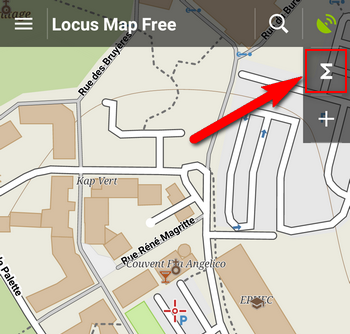 There are three default Presets: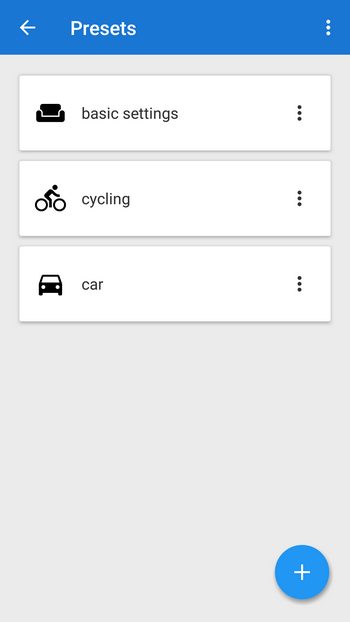 1. basic settings as you know it after the first Locus start, 2. cycling – with hidden control panels and a dashboard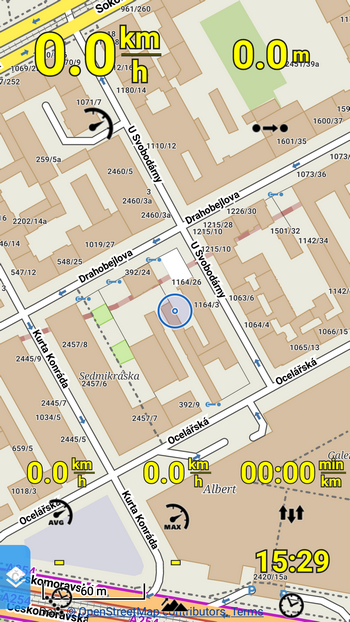 and 3. car – map rotation on, location cursor moved, target-priority auto recalculation on, road theme of maps and others.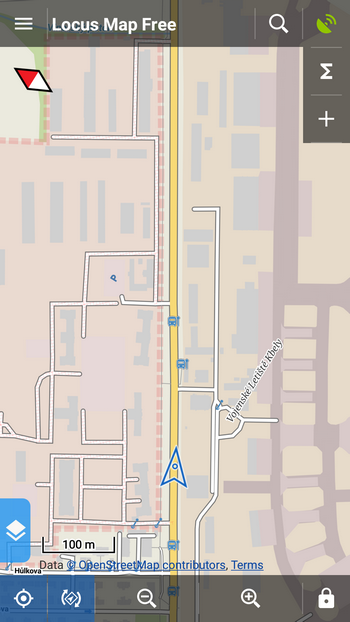 The Preset is activated by tapping it.
If you want to add another Locus Preset, just save your current Locus settings by tapping the blue + in the bottom right part of the Preset box. Then just rename the new preset.
If you're an experienced Locus user you can get to re-setting of the default presets – check "Advanced mode" in the topbar.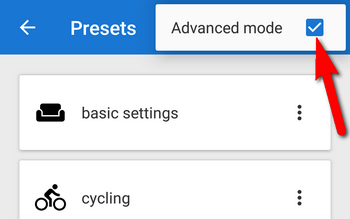 Option to edit activates in each preset action menu,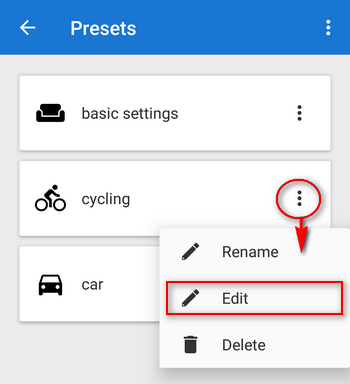 tapping it gets you to the panel of settings switches.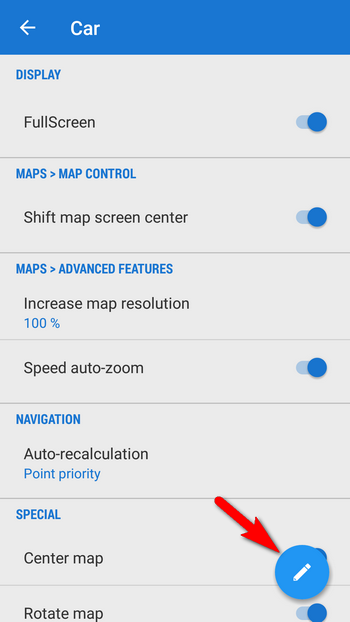 By tapping the blue pen button in the right you get to the preset settings selection menu: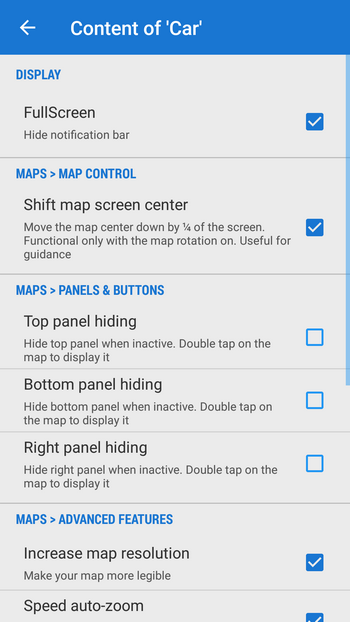 Presets run in BETA mode so far and they don't contain all settings options Locus normally offers. There are only the most used preferences that resulted from our recent user survey.
Elevation data without maps
You probably know that when you purchase one of our LoMaps you get also a package of elevation data of the map area with it. Elevation data are necessary for rendering terrain shading, for calculation of elevation profile of a planned route and for many other useful features. Until now using of elevation data has been subject to downloading of related LoMap. As it is possible to use maps of many other providers in Locus we decided to abort this rule and enable detached download of elevation data. Of course, necessity to purchase the relating LoMap for using the elevation data remains.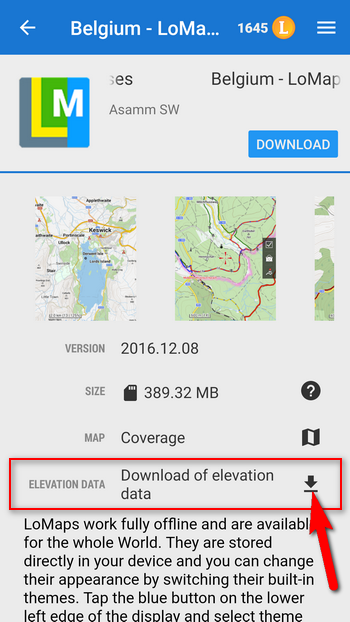 Many minor changes as the topping
The end of this blogpost is, again, traditional – this, our friends, is not all. There are numerous minor changes, improvements and fixes done, the whole list is available in menu > about application. Just by random choice there is new display of points on map by tapping their icons in the list, option of repeated notification in point guidance, option of direct sharing of the map cursor position with other map apps (Share > Other map apps), option to insert an existing point to a route, improved POI displaying in LoMaps and many more.
We wish you all a beautiful spring with Locus!
Audio coach
Locus 3.22
Locus Map Free
Locus Map Pro
My LIVE location
new release
notification center
Presets