Locus Map Watch add-on for wearables has been available for a few months now, gaining bigger and bigger popularity among Locus Map users who own Android Wear or Wear OS devices. However, many outdoor fans use wearables made by Samsung. Those, alas, haven't been so lucky – Samsung wearables Gear S(X) and Galaxy Watch run on Tizen – a completely different operation system than Android Wear/Wear OS devices and therefore we had to develop the add-on on an absolutely different platform.
To be honest, it was a struggle but in the end we won the battle and Locus Map Watch for Gear and Galaxy watches is finally here!
Free and Pro versions
More exactly, there are two Locus Map Watch addons – Locus Map Free Watch and Locus Map Pro Watch. Reason? Unlike Android, Tizen perceives Locus Free and Pro as two independent apps and is not able to connect one add-on to both of them, so:
If you use Locus Map Free, install Locus Map Free Watch. If you use Locus Map Pro, install Locus Map Pro Watch
Both add-on versions are, of course, for FREE. If you use Locus Map Free and you install, by accident, Locus Map Pro Watch, don't worry – you don't have to purchase Locus Map Pro. Just uninstall the wrong add-on and install the right one – Locus Map Free Watch.
Map, track recording controls or navigation right on your wrist!
Samsung version of our Locus Map Watch add-on offers almost the same features as its Wear OS twin:
Find your position right away
just a short glance on the map and you see where you are:

Tap your watch and start to record your trip instantly
select type of your activity on track
start recording or insert a waypoint

Browse and zoom the map and orient yourself better in the landscape
Besides browsing the map you can zoom the map across several levels and see what is ahead or around your position: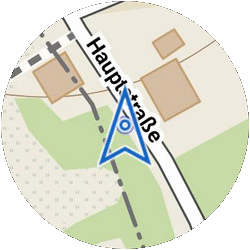 You know where you're heading – the map rotates in your direction during navigation: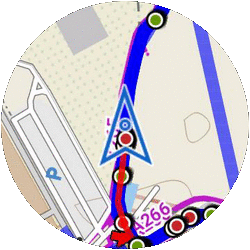 Navigate easily with your watch
watch turn-by-turn navigation commands
always know your position an route, shape and distance of the next turn

Check all stats and adjust your watch dashboard
Each sports freak needs to monitor something else. One needs to check his average speed, another one his HR, cadence or elevation gain. We added a lot more, including energy consumption or battery status.
Not all values fit in the small watch screen so the dashboard can be rolled down. And what's more, the dashboard cells can be customized – you can select what values you need to see on what position. Just long tap the cell and confirm your selection from the vaste range of features.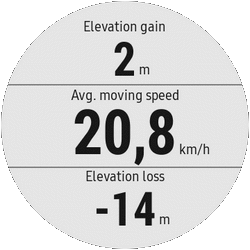 So, what are you waiting for? Go to Galaxy Apps and install!
Galaxy Watch
Gear
Locus Map Watch
S2
S3
Samsung
wearables