Doplněk Locus Map Watch pro chytré hodinky Android Wear/Wear OS je na světě již několik měsíců a získává mezi uživateli Locusu stále více na popularitě. Ovšem držitelé hodinek od Samsungu neměli doposud takové štěstí – jejich hodinky Gear S(X) a Galaxy Watch fungují na Tizenu – naprosto odlišném operačním systému, než je Android Wear/Wear OS. Tudíž jsme museli postavit nový doplněk takřka na zelené louce.
Buďme upřímní, byl to boj, ale nakonce pro nás vítězný, a Locus Map Watch pro hodinky Gear a Galaxy je konečně tady!
Free a Pro verze
Přesněji, jsou tady dva doplňky Locus Map Watch – Locus Map Free Watch a Locus Map Pro Watch. Důvod? Narozdíl od Androida, na Tizenu není možné propojit jeden doplněk se dvěma verzemi aplikace, takže:
Pokud používáte Locus Map Free, instalujte Locus Map Free Watch. Pokud používáte Locus Map Pro, instalujte Locus Map Pro Watch
Obě verze doplňku jsou samozřejmě ZDARMA. Pokud používáte Locus Map Free a náhodou nainstalujete Locus Map Pro Watch, nebude vám to fungovat. Nemějte obavy – nemusíte si kupovat Pro verzi. Stačí odinstalovat nesprávný doplněk a nahodit správný – Locus Map Free Watch.
Mapy, ovládání záznamu trasy nebo navigace přímo na vašem zápěstí!
Doplněk Locus map Watch pro zařízení Samsung nabízí téměř stejné funkce jako jeho sourozenec na Android Wearu:
Najděte rychle svoji polohu
stačí letmý pohled na mapu na hodinkách a víte, kde jste:

Klepněte na displej a spusťte záznam trasy
vyberte si typ vaší aktivity na trase
spusťte záznam nebo vložte waypoint

Prohlížejte nebo zoomujte mapu a orientujte se lépe v krajině
Kromě brouzdání po mapě můžete mapu libovolně zvětšovat napříč několika měřítky a vidět tak, co je před vámi nebo v okolí vaší pozice: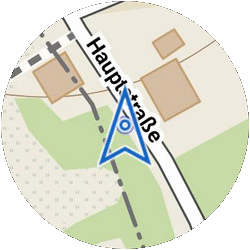 Víte, kam máte namířeno – mapa se otáčí ve směru pohybu během navigace: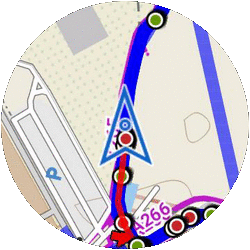 Navigujte snadno pomocí hodinek
sledujte navigační příkazy na displeji
vždy máte jasno o svojí poloze na trase, o tvaru a vzdálenosti následující odbočky

Mějte pod kontrolou statistiky a nastavte si údaje na displeji
Každý sportovní fanda má potřebu monitorovat něco jiného. Jeden si kontroluje průměrnou rychlost, jiný tepovku, kadenci nebo dosažené převýšení. A lze toho sledovat mnohem víc, včetně spotřeby energie nebo stavu baterie.
Ne všechny údaje se vejdou na maličký displej hodinek, takže jeho obsah lze rolovat. A co víc, jednotlivá políčka na displeji si můžete přizpůsobit – stačí si jen vybrat parametry, které potřebujete a jejich pozici na displeji. Podržte prst na políčku, vyberte a potvrďte výběr z nabídky údajů.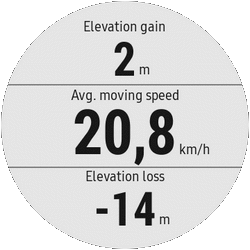 Tak na co čekáte? Upalujte do Galaxy Apps a instalujte!
Galaxy Watch
Gear
Locus Map Watch
S2
S3
Samsung
wearables