You know it, you're riding your bike in the woods by Locus navigation and there are trees fallen on the path so you take a detour and hope that it joins the original route somewhere. Correctly set Locus lets you immediately know that you've left your route and starts guiding you to the nearest route point. After some time it rather recalculates the route so that you don't get completely lost. That's perfect but how to get this? Let's be honest, Locus settings can be sometimes quite a riddle for someone so it's not useless to chip in an advice or a tip.
Distance for recalculation or maximum allowed deviation?
These terms can be found in Locus navigation settings (menu > settings > navigation). Distance for recalculation defines the spot that triggers automatic recalculation and rendering of a new route. Maximum allowed deviation is a distance in which Locus switches from navigation to guidance mode – guiding to the nearest route point with a beeline. Add the "out of route notification distance" – yes, all these can be set according to your needs.
Alerts according to Willy
All mentioned parameters are pre-set with default values. However, not everybody is happy with them. It's good to get inspired from time to time.
Willy Van Driessche is our long time "power user". He frequently supplies us with hints and improvements, he's a fellow helpdesk man and many of his ideas has been implemented in the app. Couple days ago he sent a video showing his route alerts setting. At once it was clear that it would be a pity not to share his method with you. So, let's enter the labyrinth of Locus settings: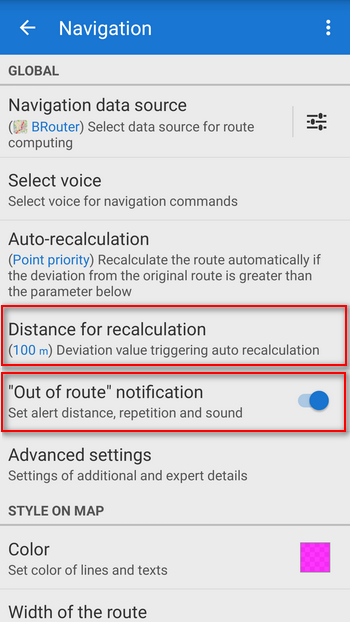 Set the Auto-recalculation as you need – if you want to be navigated to the finish or back to your original route is up to you. You can leave the default value of the distance for recalculation as it is – 100 m. If you have the "out of  route" notification off, the switch it on. Another settings window appears: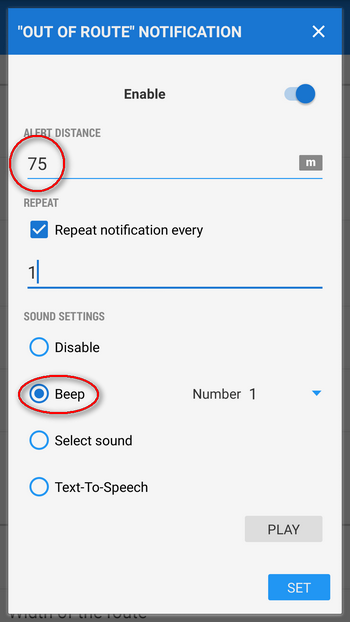 Set the distance to 75 meters, select the sound. Willy selected a simple beep in 1 second interval. It's pretty audible during a bike ride (unlike TTS that can be appreciated during a hike). Go back to the settings menu and select "Advanced settings".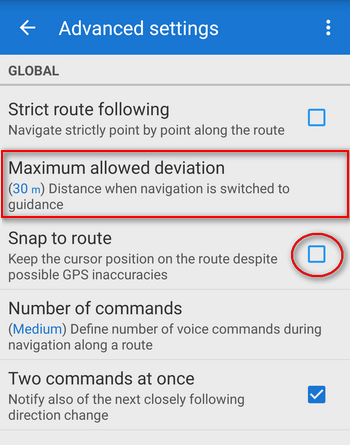 The maximum allowed deviation can be set to 30 meters. In a more rugged terrain we recommend bigger values, the GPS can be less accurate. Switch off the "snap to route" option for better illustration of the settings.
Terrain test
And you can set out to a ride. Check yourself if these settings suit you. In Willy's case it looks like this:
So how did it go? Is your setting different? Better? Share it with us!
alert
navigation
notification
out of route
route
settings