Vlastní body, kešky, k tomu zobrazení několik tras najednou… Konečně, tato masivně očekávaná funkcionalita, které v kanceláři říkáme ošklivým slovem "multicontent", je vám plně k dispozici v našem webovém plánovači-knihovně na web.locusmap.app.
Synchronizujte
Abyste mohli svůj uživatelský obsah dostat na web, je potřeba synchronizovat váš Locus Map s cloudem. Jak jsme psali tady, tady a tady, je k tomu potřeba předplatné Premium Gold a první synchronizaci musíte spustit ručně. Pak se stačí jen přihlásit na web.locusmap.app stejným účtem jako v aplikaci a již můžete brouzdat svými trasami a body.
Zobrazte body na mapě
Ve vaší webové knihovně přibyla kategorie Body, sdružující veškeré vaše uživatelské body zájmu, kešky apod.: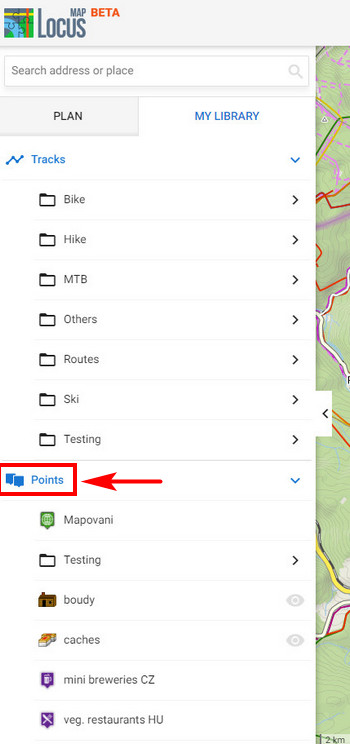 Vaše body dostanete na mapu po celých složkách: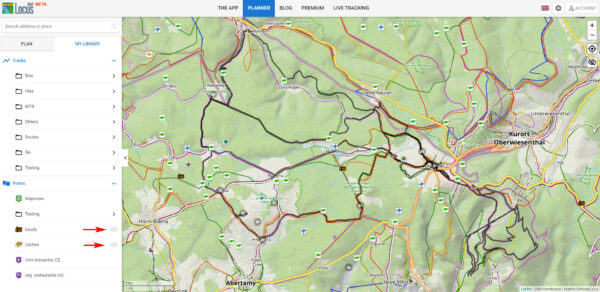 Můžete takhle "aktivovat" kolik bodů chcete, ale nad mapou se nemusejí zobrazit hned všechny najednou (máme tam limit proti zahlcení prohlížeče). Navíc, tam, kde se body překrývají, prohlížeč body soustředí do skupinek. Takže, abyste na mapě uviděli konkrétní bod, je potřeba mapu přiblížit.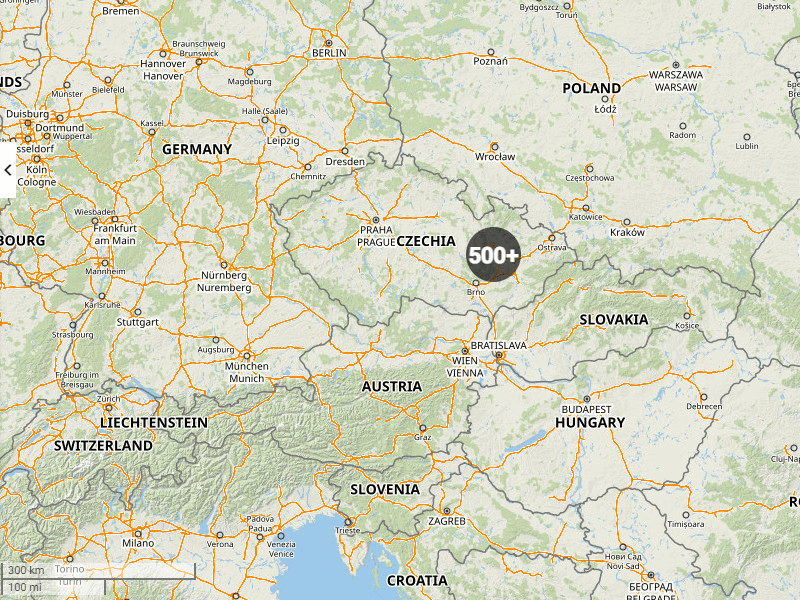 Konkrétní bod najdete ve složce a kliknutím na něj jej zobrazíte na mapě. Vlevo se zároveň rozbalí podrobnosti o bodu: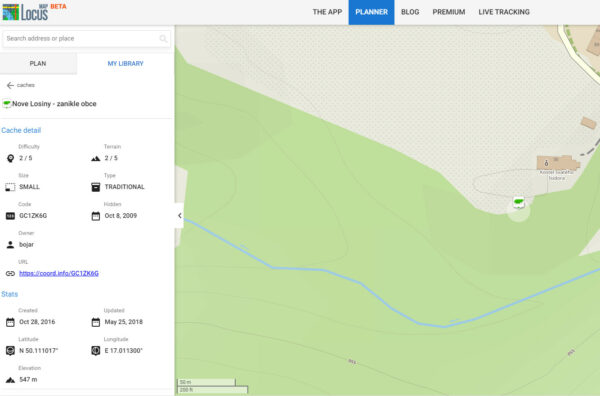 Když najedete kurzorem na bod, otevře se okno s nabídkou přidání bodu do plánované trasy, zobrazení podrobností nebo celé složky: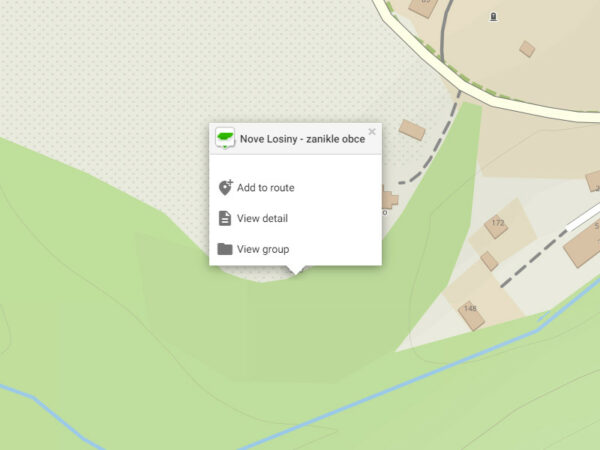 Výlet pro kačery
Jak my zasvěcení víme, "kačer" je pěkný poetický název pro někoho, kdo holduje hře geocaching. Takový hráč dost často používá Locus Map, v němž má staženou spoustu kešek. Díky nové funkcionalitě webové knihovny si nyní může tyto kešky zobrazit v plánovači tras a naplánovat si zábavu na celý den.
Stačí zvolit příslušnou aktivitu (pěšky, na kole, autem, lze to i kombinovat) a postupně přidávat kešky do trasy:

V panelu vlevo se zobrazuje itinerář se vzdálenostmi, odhadem času na trase a dalšími statistikami, pod mapou je graf převýšení s vyznačenými zastávkami: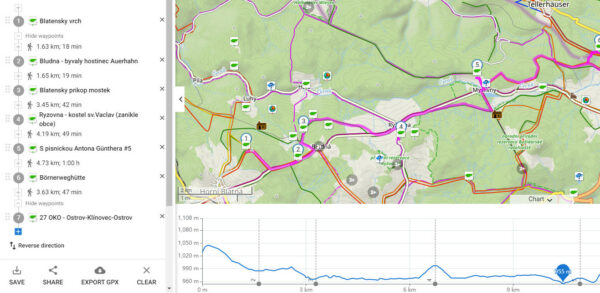 Trasu nyní stačí uložit, automatická synchronizace se postará o její přesun do mobilní aplikace. A můžete vyrazit.
Více tras na mapě
Abyste mohli naplánovat trasu, po které jste ještě nešli, je dobré vědět, kde už to máte prochozeno. Zobrazte tedy na mapě všechny výlety, na kterých jste už byli. Ve webové knihovně označte všechny trasy, které potřebujete. Zvýrazní se nad mapou a můžete začít plánovat: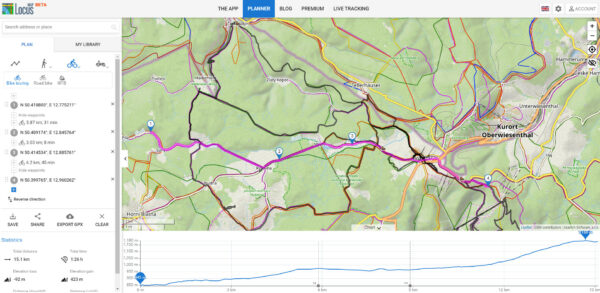 Na co se ještě můžete těšit
Na webovém plánovači stále pilně pracujeme, takže můžete do budoucna očekávat další vychytávky. Tak například:
více možností sdílení tras a bodů
filtrace, řazení tras, bodů a jejich vyhledávání
grafy s dalšími informacemi o trasách
zobrazení typů a povrchů cest
souhrnné statistiky tras ve složkách
import a více variant exportu tras a bodů apod.
Tak co říkáte na novou knihovnu a možnosti plánování? Dejte nám vědět v komentářích.
body na mapě
dovolená
multicontent
routes
trasy na mapě
web planner
webová knihovna