Jak jistě víte, a jako uživatelé Locusu jste na to zvyklí, naše aplikace vyvíjíme s velkým zřetelem na vaše přání a nápady na zlepšení. Některé vaše ideje však nemohly být zrealizovány bez zásadních změn v naší práci. Museli jsme kvůli tomu posílit náš tým o několik opravdových expertů, překopat strukturu a rozdělení kompetencí v týmu, investovat do infrastruktury… A také změnit náš obchodní model (viz dále). Tohle vše ovšem obnášelo poněkud více času, než jsme původně očekávali.
Uskutečnit tak ambiciózní plán, a přitom udržovat appku v chodu a běžném aktualizačním režimu, byla docela výzva. My vám tedy děkujeme, že jste s námi měli trpělivost.
První vydání
Tak jako například knižní díla se dočkají svého prvního vydání, i náš projekt Locus Map 4 publikujeme nyní v jeho první verzi. Je to verze plně funkční, a to jak její aplikační část, tak i webová, nicméně ještě stále máme v šuplíku vychytávky, které musíme odložit do "dalších vydání".
Již několik měsíců nás totiž bombardujete dotazy, kdy už to konečně spustíme. A tak jsme si před několika týdny řekli, že uděláme maximum pro to, abychom to zvládli do konce března. Což se podařilo, nicméně v dalších týdnech a měsících se můžete těšit na další porce větších či menších vylepšení, které pro vás chystáme.
A co pro vás máme už teď? Zbrusu novou appku, která nabízí hned tři úrovně využití:
Pro přechod na vyšší úroveň aplikace již nebude třeba instalovat jinou aplikaci, jak tomu bylo v případě Locusu Map Pro. Odpadá tedy zdlouhavé přenastavování nové appky a mnoho dalších problémů.
Locus Map 4 zdarma
Tento přímý pokračovatel původního Locus Map Free je k dispozici bezplatně a umí vše, co potřebujete pro běžný pohyb v přírodě:
zobrazit vaši polohu na mapě, ukázat směr vašeho pohybu
vyhledat na mapě místa nebo adresy
zaznamenávat trasy vašich pěších výletů nebo vyjížděk na kole
navigovat přímo do určeného cíle, podél plánované nebo importované trasy
plánovat výlety, vyjížďky nebo běžecké tréninky
k tomu spoustu dalších drobností, včetně nahrávacího widgetu, který byl původně pouze v placené aplikaci
Nové rozhraní
Oproti předchozí generaci získal Locus Map 4 zcela nové ergonomické rozhraní hlavní obrazovky. Dospěli jsme k němu na základě vašich četných připomínek i našeho interního výzkumu a testování. Dominuje mu multifunkční tlačítko centrace a rotace mapy: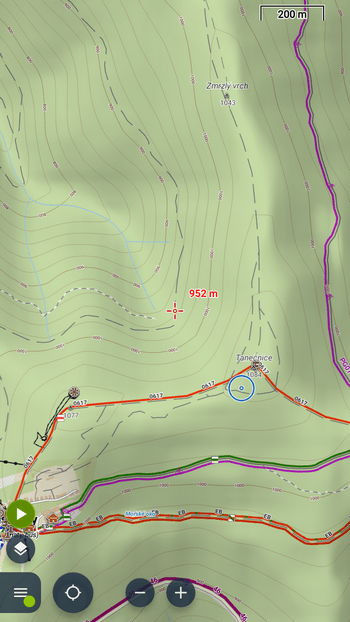 Vedle něj se přesunulo tlačítko hlavního menu. Je teď krásně na dosah palce a vysunuje hlavní nabídku zespoda. Ta může obsahovat až 15 tlačítek s funkcemi.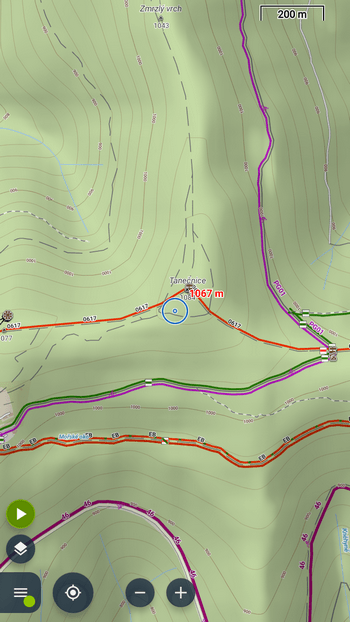 Nad hlavním menu je tlačítko nového obsahového panelu, který je nyní mnohem komplexnější, přitom si zachovává původní kompaktnost. Snadno jím přepnete mapový podklad a jeho vzhled, zobrazené body zájmu, aktivní položky nebo nově mřížku souřadnic: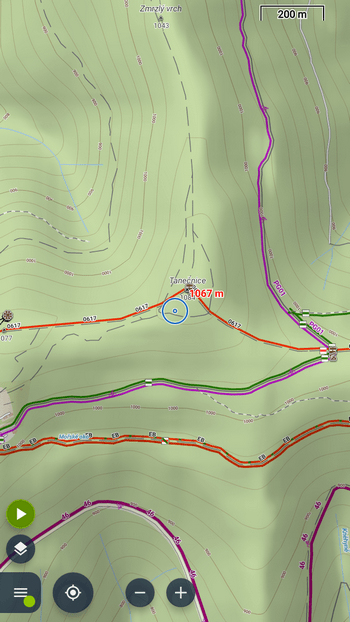 Volitelně na hlavní obrazovku přibylo tlačítko záznamu trasy. Pomocí něj můžete záznam spustit rychle a bez zbytečného hledání v menu: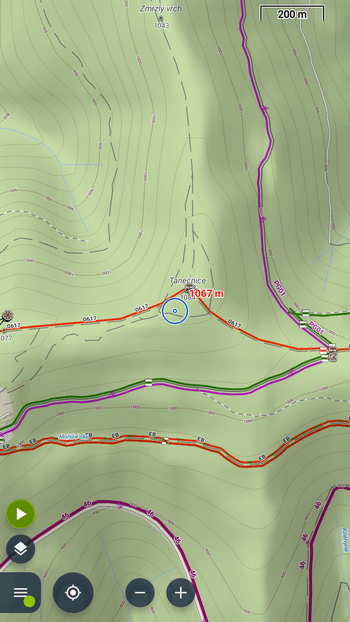 Tlačítka zoomu mapy se přesunula nad spodní panel a lze je volitelně schovávat, stejně jako tlačítko záznamu a všechny postranní panely.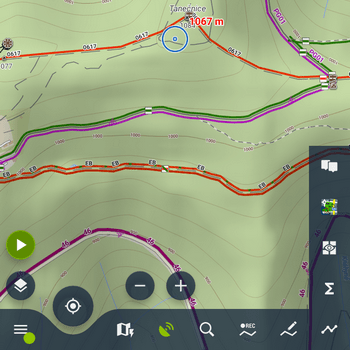 Horní panel s tlačítky funkcí se přesunul na spodní okraj obrazovky, nahoře zůstala pouze informační lišta. Všechny ovládací prvky jsou tak v dosahu palce a není již potřeba aplikaci ovládat oběma rukama.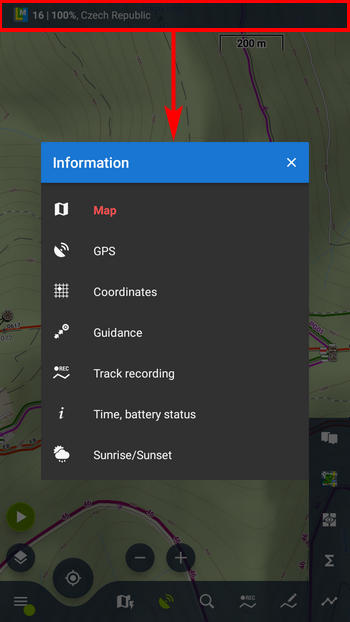 Pro leváky jsme navíc přidali možnost celou hlavní obrazovku zrcadlově otočit, pro úsporu baterie nechybí možnost přepnutí aplikace do tmavého režimu.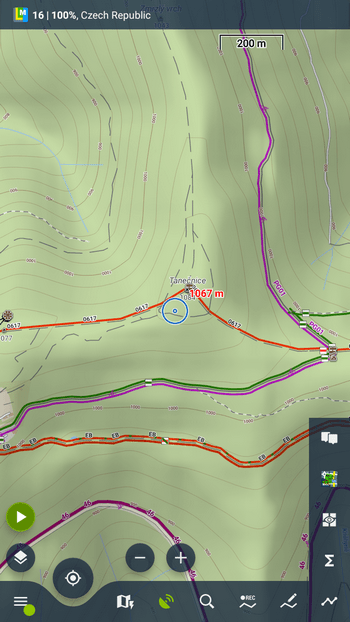 Online LoMapa, LoPointy a LoRouter
Jelikož jsme dříve nedisponovali vlastní online mapou, která by se uživatelům zobrazila hned po zapnutí aplikace, využívali jsme služeb volně dostupných map na základě OSM dat. Ty nebyly vždy podle našich představ zejména po stránce čitelnosti a grafického zpracování.
Léta jsme však upravovali a ladili naše offline LoMapy. Ty se nám podařilo upravit tak, že je bylo možné nasadit na online server. Nyní jsou nyní k dispozici všem zdarma hned po prvním zapnutí aplikace. A to včetně LoPointů, dynamických bodů zájmu!
Pro navigaci a plánování tras jsme využívali rovněž online služeb třetích stran, ať už to byl GraphHopper nebo YOURS. Abychom měli online routing pod kontrolou a mohli upravovat a přidávat do ní další profily, vyvinuli jsme vlastní službu LoRouter. V prvním vydání aplikace LoRouter nabízí dva pěší, tři cyklistické a dva auto profily. Počet profilů budeme dále rozšiřovat podle uživatelské poptávky.
Plánovat trasy můžete i na webu
To jste mohli i dříve na jiných plánovacích webech, jelikož Locus Map podporuje import tras v různých formátech. Nicméně díky tomu, že již disponujeme našimi vlastními online mapami a routerem, můžete od nynějška plánovat na našem vlastním webovém plánovači, který najdete na našem novém webu www.locusmap.app. V prvním vydání plánovač umožňuje:
vypočítat trasu podle zvolené aktivity
přidávat do trasy kromě vlastních bodů i LoPointy
zobrazit výškový profil trasy a základní statistiky
sdílet trasu prostřednictvím URL odkazu
trasu exportovat jako GPX soubor
předplatitelé Premium Gold mají možnost trasu uložit do cloudu a synchronizovat s Locusem v mobilu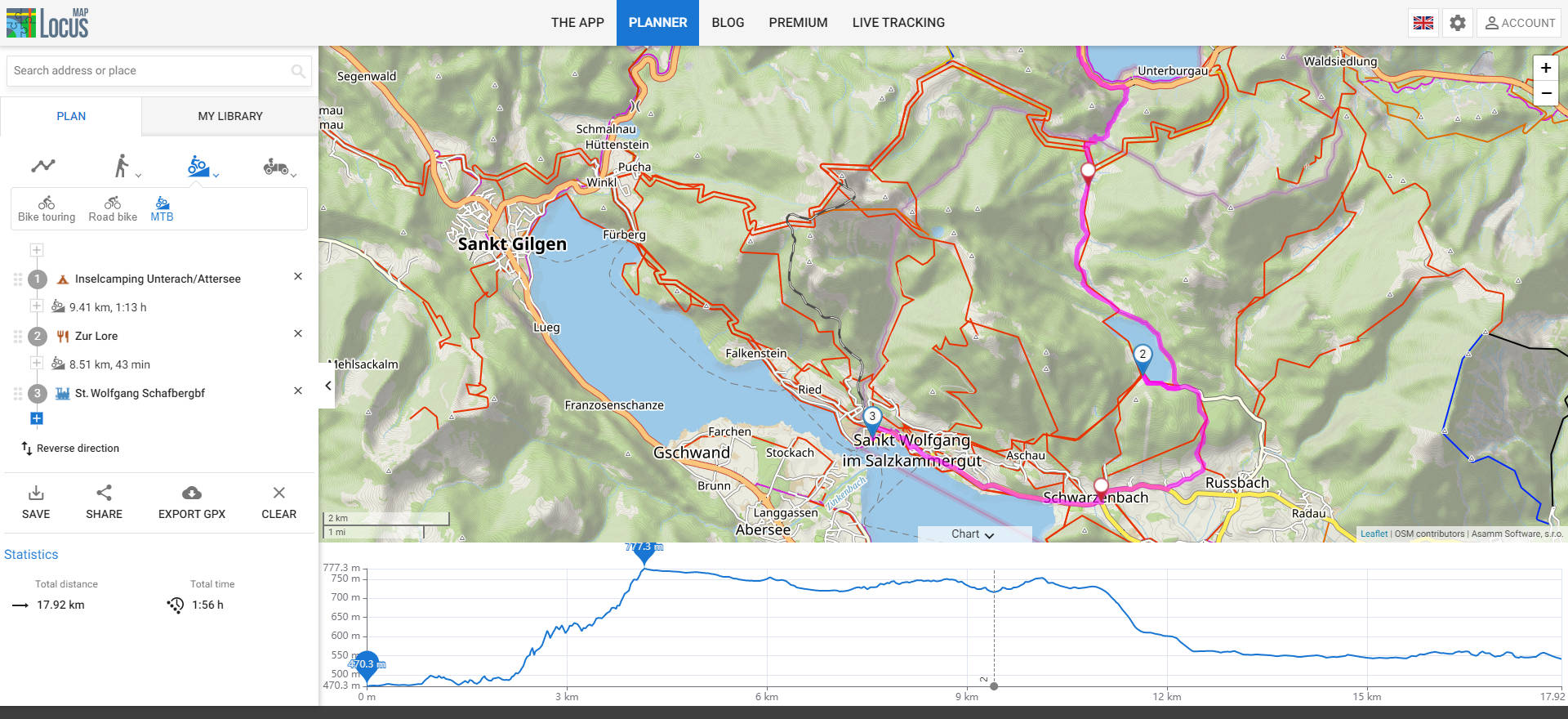 Premium Silver pro ty, co to s outdoorem myslí vážně
Silver odemyká množství funkcí, které oceníte, pokud v přírodě aktivně sportujete pravidelně. Při předplacení na rok vás bude stát 10 €, za měsíční předplatné dáte 1,4 €.
Majitelé Locusu Map Pro získávají roční předplatné Premium Silver ZDARMA!
Žádné reklamy = větší mapa
Nejen, že zmizí to věčné uklikávání se na reklamní banner a otravné zavírání stránek, které nepotřebujete při vyjížďce na kole vidět. Hlavně získáte až o 10% mapy na displeji navíc!
Balíček pro sportovce
Konektivita se senzory – Locus Map si přes Bluetooth a ANT+ rozumí s řadou periferií, jako jsou externí GPS jednotky, senzory srdeční frekvence, kadence nebo rychlosti, krokoměry či teploměry
Audio trenér – chcete získávat pravidelné hlášení o vaší rychlosti, tempu, čase a jiných parametrech vašeho výkonu? Audio trenér vám je naservíruje přímo do sluchátek, takže mobil ani nemusíte vytahovat z kapsy.
Dashboard – proměňte Locus v nadupaný cyklokomp. Nastavte si nad mapu transparentní vrstvu se všemi údaji, které potřebujete – rychlost, převýšení, čas do cíle, grafy trasy…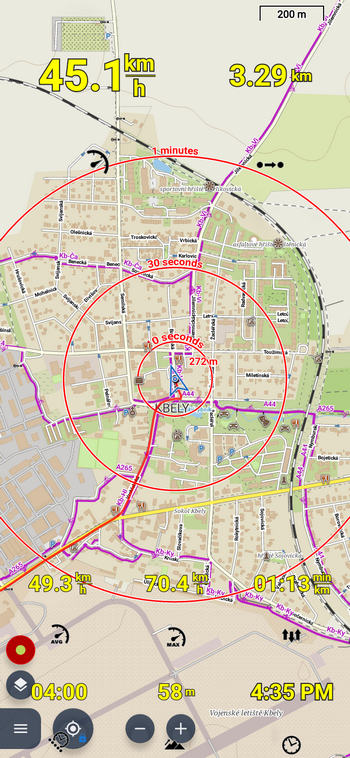 Mapové a trasové nástroje
Stínování terénu, grafy převýšení tras, jejich dynamické kolorování podle převýšení, sklonu a dalších parametrů. Vše z offline dat nadmořských výšek.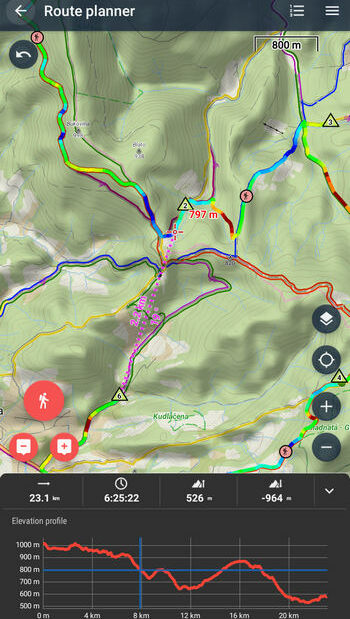 Kalibrace obrázku s mapou – s její pomocí dostanete do Locusu kterýkoli orientační plán města, nástěnnou mapu, JPG s mapou stažený s internetu…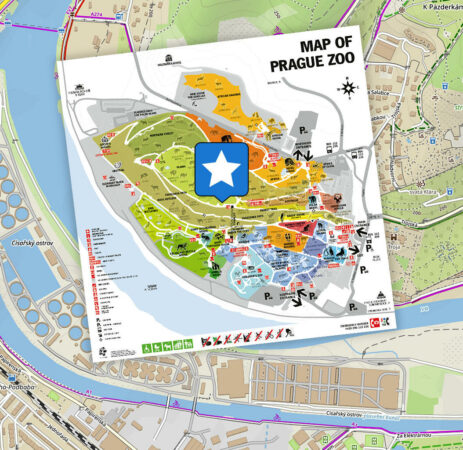 Překryvy více map – pro zobrazení více informací můžete nad sebe položit dvě různé mapy, třeba leteckou a turistickou. Kombinovat lze různé typy, online i offline.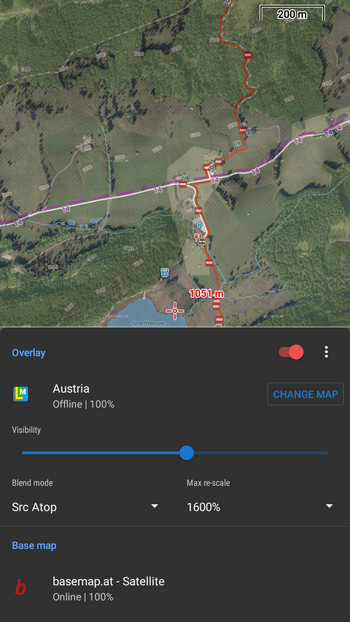 Premium Gold dostane z Locusu maximum
Pro ty, kdo chtějí aplikaci bez kompromisů, je tady Gold. Obsahuje kompletní nabídku funkcí v aplikaci, webové služby a ofline LoMapy celého světa včetně aktualizací. Předplatné na celý rok používání stojí 24 €, za měsíční dáte 3 €.
Majitelé Locusu Map Pro získávají na rok využívání Premium Gold exkluzivní slevu 50%!
Silver included
Samozřejmě v rámci Goldu nechybí velká obrazovka s mapou bez reklamy, balíček vychytávek pro sportovce, mapové a trasové nástroje využívající offline výšková data. K tomu spousta vylepšení navíc, například možnost v plánovači generovat okružní trasy nebo zobrazit povrchy a typy cest: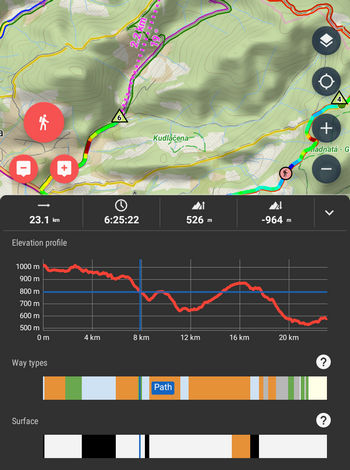 Všechny offline LoMapy včetně aktualizací zdarma
Standardně má uživatel k dispozici 3 offline LoMapy zdarma. V rámci předplatného Gold získáváte LoMapy všechny, a to včetně aktualizací, které připravujeme tři až čtyři krát ročně. Máte tak neustále k dispozici aktuální mapu bez nutnosti připojovat se k internetu.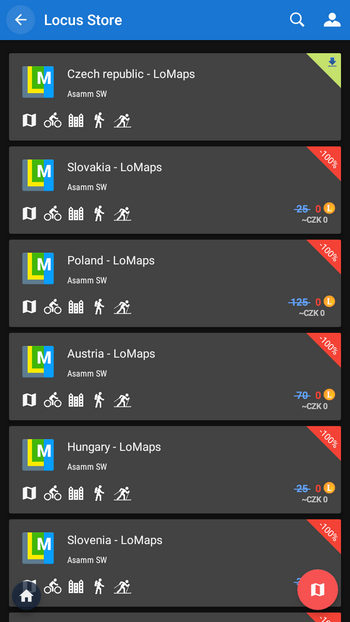 Vestavěný offline LoRouter
Navigace a plánování tras bez připojení k internetu nebyly ještě v Locusu snazší. Už není třeba instalovat doplňkové aplikace. Stačí přímo v Locusu stáhnout balíček routovacích dat příslušné oblasti a nastavit jako výchozí router offline LoRouter.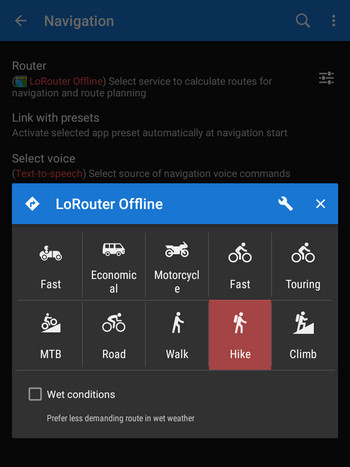 V prvním vydání LoRouter nabízí tři pěší, čtyři cyklistické, jeden motocyklový a dva auto profily. Na profilech nadále makáme, takže brzy budou k dispozici další.
Synchronizujte více zařízení
Používáte Locus Map na více zařízeních? Rádi byste mezi nimi sdíleli své trasy a body? Chcete pohodlně zálohovat svá data? To vše řeší náše nová synchronizační služba.
Jejím srdcem je cloudové úložiště, kam Locus Map z mobilu nebo tabletu automaticky posílá vaše trasy a body. Například, stačí trasu nahrát v mobilu a při nejbližším připojení k wifi internetu se trasa sama nahraje do cloudu. Tato data jsou pak následně synchronizována s dalšími vašimi zařízeními, používajícími stejný účet.
Cloudové uložiště je pouze doplňková služba – trasy a body zůstávají samozřejmě ve vašem zařízení, kde jsou vám vždy k dispozici. Pokud se rozhodnete cloud využít, vaše data jsou u nás v bezpečí. Vývoj cloudu jsme plně podřídili nejpřísnějším požadavkům zpracovávání osobních dat.
Vaše osobní webová knihovna tras
Na cloudové úložiště a synchronizační službu je navázán i výše zmíněný webový plánovač, jehož součástí je i knihovna vašich tras. Do ní se ukládají vaše naplánované trasy a knihovna se synchronizuje s aplikacemi ve vašich mobilech a tabletech.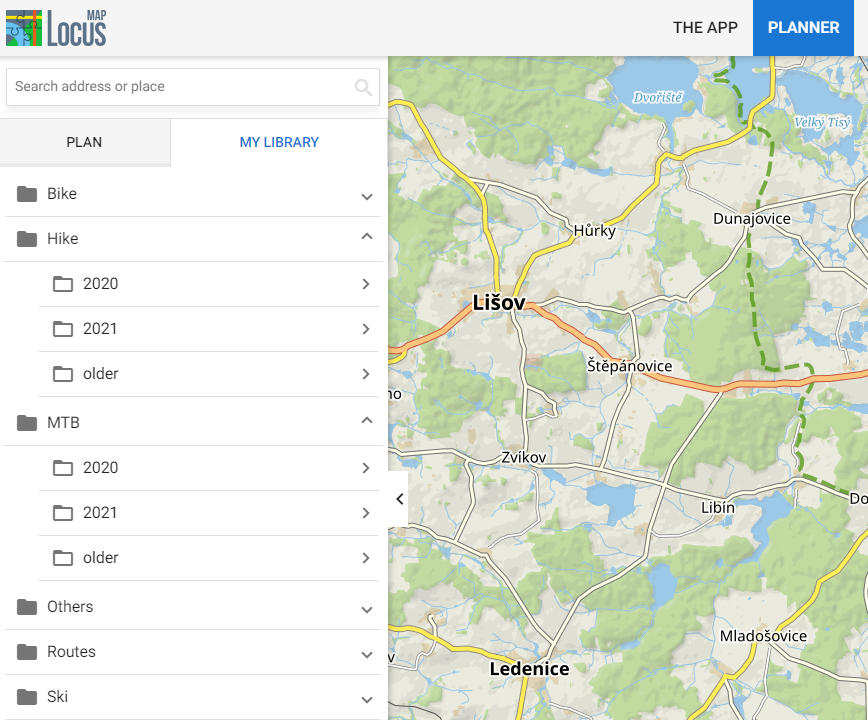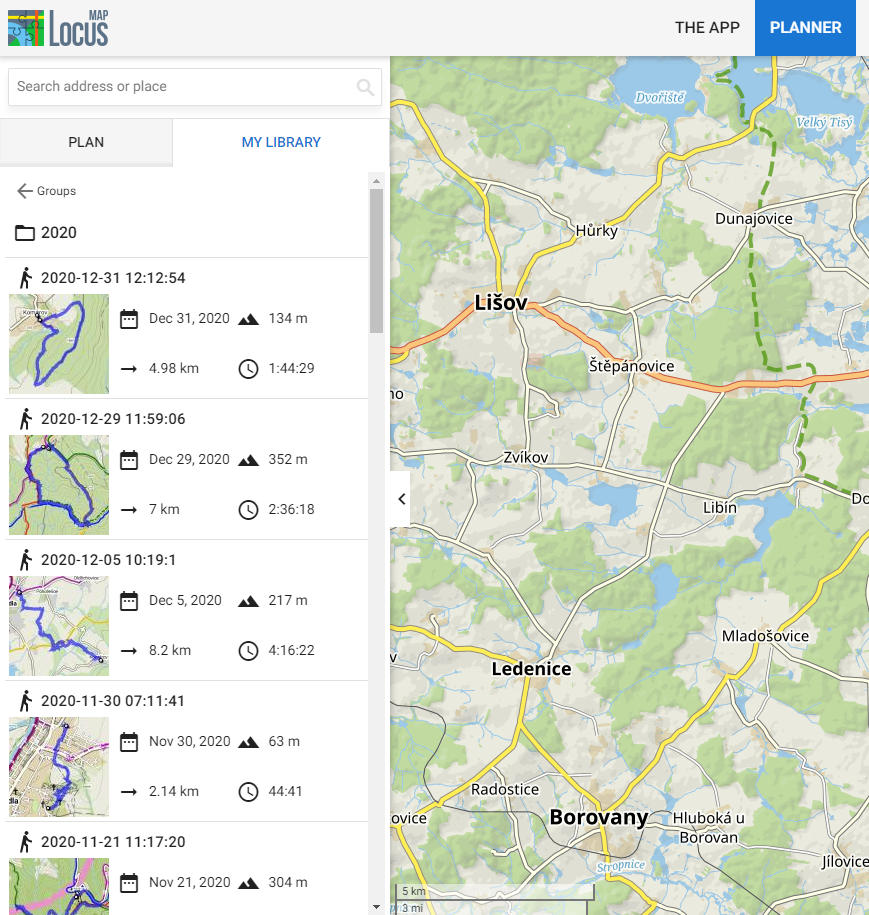 Trasy z knihovny si můžete zobrazit na velkém monitoru PC, sdílet jejich URL odkaz s kamarády nebo exportovat jako GPX. Můžete také upravit její název a popis, do budoucna plánujeme přidat další možnosti, jako úpravy vedení trasy a podobně.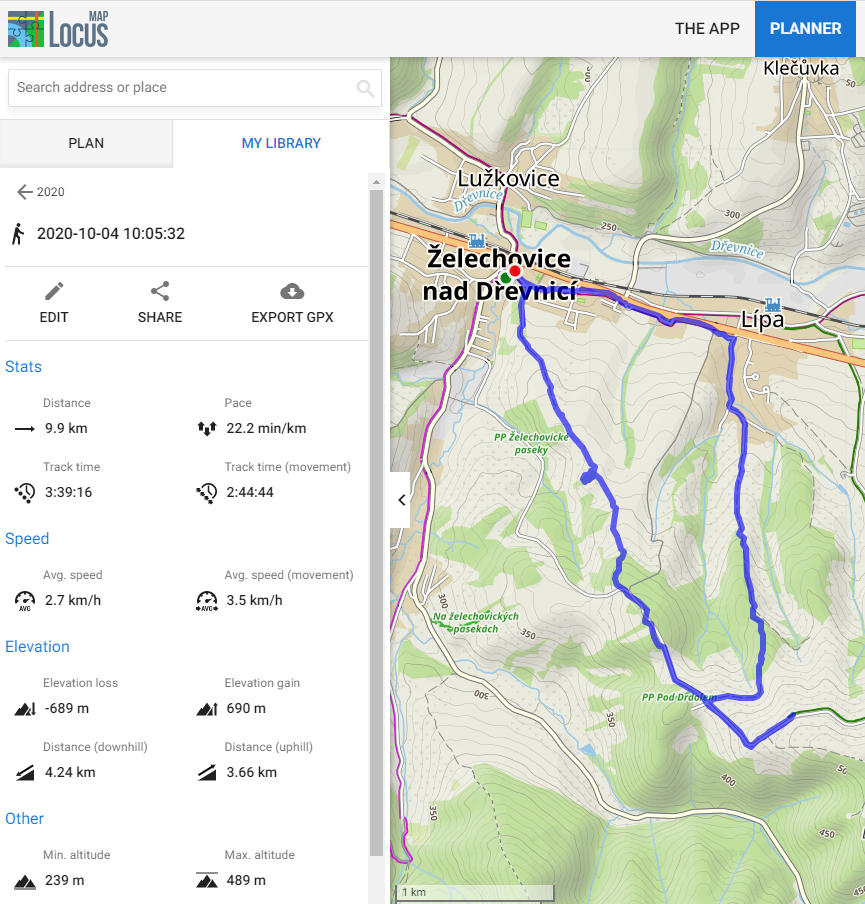 Sdílejte polohu v reálném čase s kamarády a rodinou
Součástí Premium Gold je i služba Live Tracking Premium, která vám umožňuje vytvořit vlastní skupiny pro soukromé sdílení polohy v reálném čase. Polohu si vaši známí mohou zobrazit buď opět v aplikaci Locus Map, nebo na webu Live Trackingu.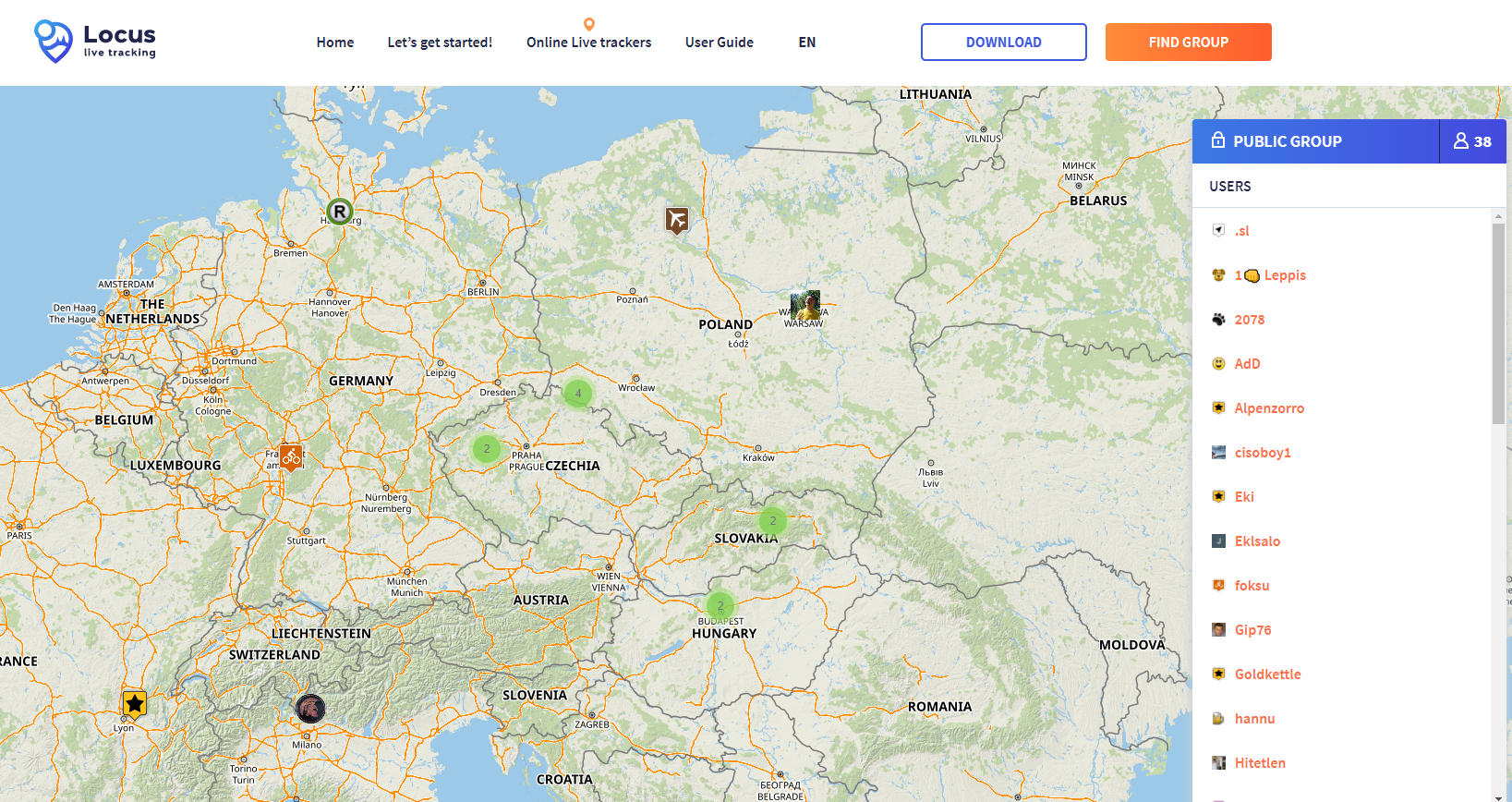 Premium Gold rovněž odblokuje časový limit u služby Moje poloha LIVE, pomocí níž sdílíte svoji reálnou polohu pouze jednostranně (nikoli vzájemně, jako je tomu u live trackingu).
Podrobné srovnání
Výše jsme uvedli samozřejmě pouze stručný výčet toho, co vám jednotlivé verze aplikace Locus Map přinášejí. Pokud byste chtěli zevrubně prostudovat jejich konkrétní rozdíly, sestavili jsme pro vás podrobný seznam.
A co Locus Map Pro?
Pro Locus Map Pro se nic nemění. Tato nejoblíbenější aplikace v našem portfoliu (4,8* Google Play rating v březnu 2021) pokračuje nadále v řadě 3, momentálně ve verzi 3.51.1. Nedávno se dočkala velkého balíku úprav a oprav a slouží k plné spokojenosti svých uživatelů. Další aktualizaci pro ni připravujeme zase cca za měsíc.
Pokud vlastníte Locus Map Pro a máte zájem o přechod na některou z předplacených úrovní Locus Map 4, máme pro vás exkluzivní nabídku:
první rok předplatného Premium Silver zcela ZDARMA
SLEVU 50% na první rok předplatného Premium Gold
Pro ověření nároku na slevu se přihlašte stejným účtem v Locus Map Pro i Locus Map 4.
Do budoucna plánujeme aplikaci přejmenovat na Locus Classic, při zachování všech jejích stávajících vlastností a funkcí.
Co nás čeká v budoucnu?
Jak jsme již předeslali v úvodu, nyní vám představujeme první vydání nové generace projektu Locus Map. Do dalších vydání máme opět spoustu plánů. Z těch krátkodobějších můžeme prozradit následující:
další funkce webového plánovače – grafy tras s povrchy cest, možnost editace linií tras, možnost přidávat a editovat vlastní body, kešky apod., integrace služby live tracking, import tras a další
budeme pokračovat ve vylepšování uživatelského rozhraní aplikace – v plánu je zbrusu nový správce map, přepracování obrazovek detailu trasy…
na základě vašich připomínek plánujeme zavést také jednorázové časové platby za úrovně Silver a Gold, které budou k dispozici v Locus Obchodě nebo přímo na webu Locusmap.app.
obnovení prací na doplňcích pro wearables, případně vývoj stand-alone aplikace pro chytré hodinky
v souvislosti s integrací live trackingu do webového plánovače chceme live tracking dále vylepšit, aby byl ještě použitelnější například pro pátrací týmy a záchranné složky
atd., atd.
cloud sync
Locus Map 4
new generation
Premium Gold
Premium Silver
track library
web planner