As you probably know, and as Locus users you are used to, we develop our applications with great regard to your wishes and ideas for improvement. However, some of your ideas could not be realized without fundamental changes in our work. Because of this, we had to strengthen our team with several real experts, overturn the structure and division of competencies in the team, invest in infrastructure … And also change our business model (see below). However, all this took a little more time than we originally expected.
Implementing such an ambitious plan, while keeping the app running in a normal update mode, was quite a challenge. So thank you for your patience.
The first release
For example, like books are issued in their first edition, also our project Locus Map 4 we now publish in its first version. It is a fully functional product, both its application part and the web service. However, we still have tweaks in the drawer, which we must postpone until the "next editions".
You have been bombarding us with questions for several months, "when will we finally launch it?" So we said a few weeks ago that we would do our best to make it by the end of March. Which we somehow managed. But in the coming weeks and months you can look forward to more portions of larger or smaller improvements that we are preparing for you.
And what do we have for you now? A brand new app , which offers three levels of use:
You will no longer need to install another application to upgrade the application, as was the case with Locus Map Pro . So there is no need to reconfigure the new app and deal with many other problems.
Locus Map 4 for free
This direct successor to the original Locus Map Free is available free of charge and can do everything you need for a normal leisure activity outdoors:
it can show your location on the map, show the direction of your movement
search places and addresses on the map
record tracks of your hikes and bike rides
navigate directly to your destination, along a planned or imported route
plan trips, rides and running workouts
plus a lot of other little things, including a recording widget that was originally only in the paid app
New interface
Compared to the previous generation, Locus Map 4 has a completely new ergonomic main screen interface. We arrived at it based on your numerous comments and our internal research and testing. It is dominated by a multifunctional map centering and rotation button: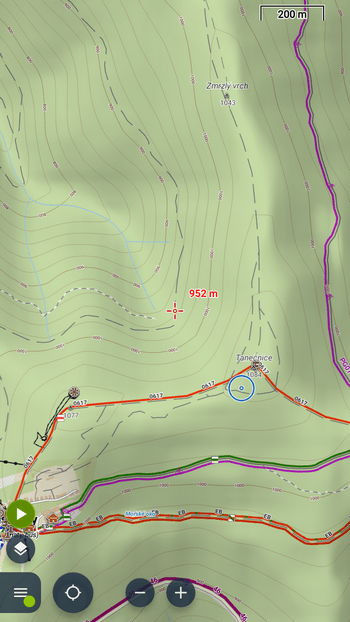 The main menu button has moved next to it. It is now beautifully within easy reach and pushes the main menu from below. It can contain up to 15 function keys.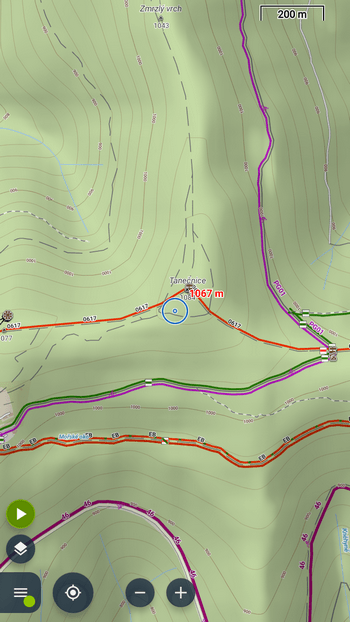 Above the main menu, there is a button of the new content bar, which is now much more complex, while retaining its original compactness. With it, you can easily switch the map base and its appearance, display points of interest, active items or a new coordinate grid: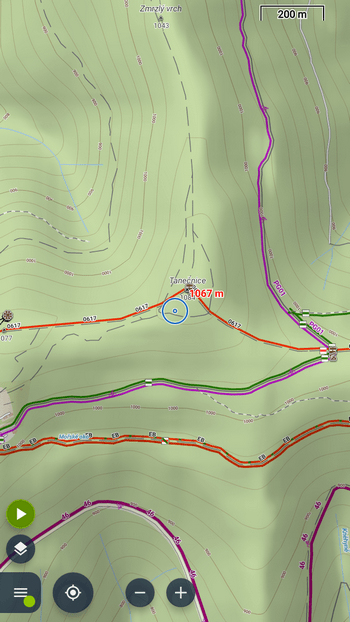 Optionally, a track recording button has been added to the main screen. With it, you can start recording quickly and without annoying search in the menu: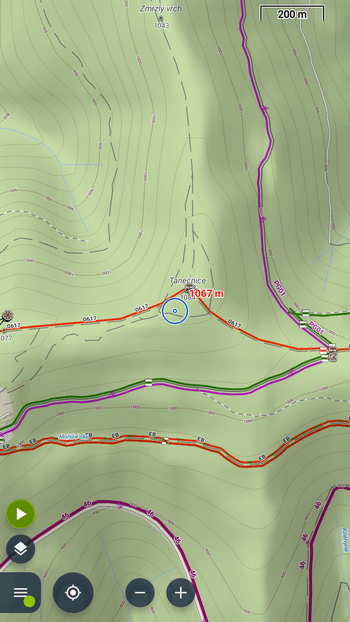 The map zoom buttons have moved above the bottom panel and can be optionally hidden, as well as the record button and all sidebars.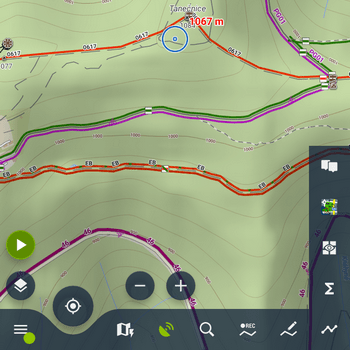 The top bar with function buttons has moved to the bottom of the screen, leaving only the info bar. All controls are thus within easy reach of the thumb and there is no need to control the application with both hands.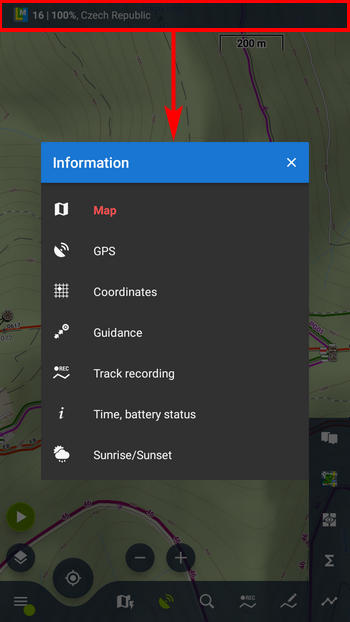 For left-handers, we've also added the ability to side-swap the entire main screen, and to save battery, there's the ability to switch the app to dark mode.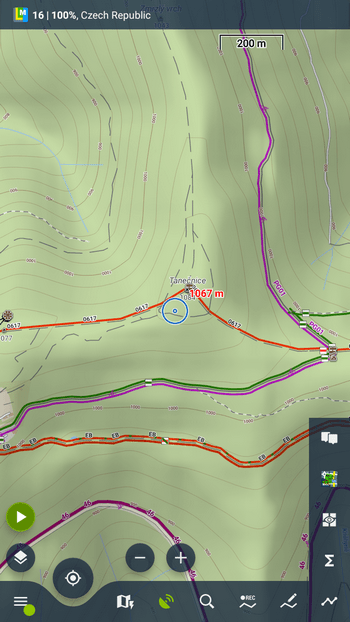 Online LoMap, LoPoints and LoRouter
Because we didn't previously have a custom online map to display to users as soon as the app was turned on, we used freely available map services based on OSM data. These were not always according to our ideas, especially in terms of readability and graphic design.
But over the years, we've been editing and tweaking our offline LoMaps. We managed to modify them so that it was possible to deploy them on an online server. Now they are now available to everyone for free right after the first start of the application. This includes LoPoints, dynamic points of interest!
We also used online third-party services for navigation and route planning, whether it was GraphHopper or YOURS. To keep online routing under control and to edit and add more profiles, we've developed our own LoRouter service. In the first edition, LoRouter offers two pedestrian, three bicycle and two car profiles. We will further expand the number of profiles according to user demand.
You can plan the routes also on the web
That you could do also before on other planning sites, as Locus Map supports importing routes in various formats. However, with our own online maps and a router, you can now plan on our own web planner, which you can find on our new website www.locusmap.app. In the first release, the planner allows you to:
calculate the route according to the selected activity
add LoPoints to the route in addition to your own points
view route elevation profile and basic statistics
share route via URL link
export the route as a GPX file
Premium Gold subscribers have the option of saving the route to the cloud and synchronizing it with Locus on their mobile phone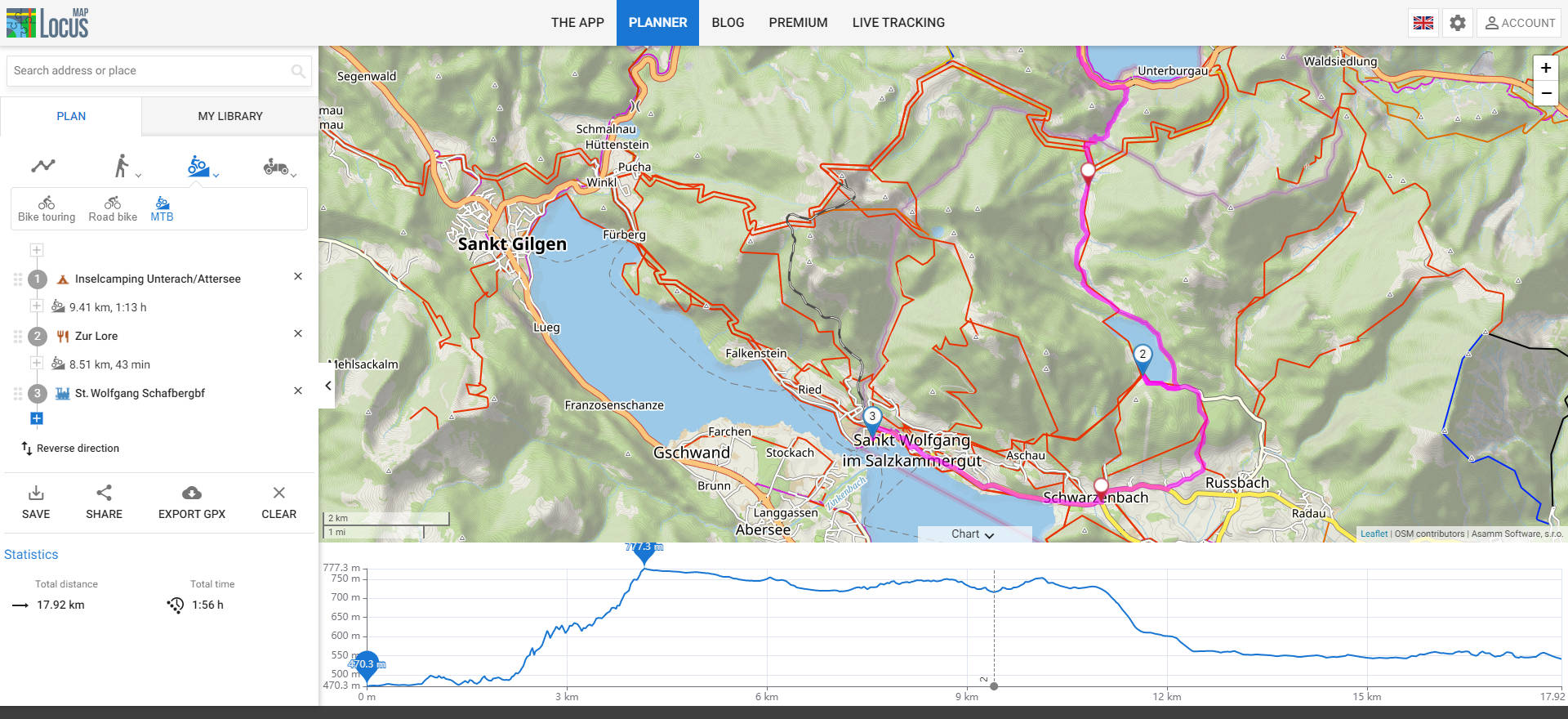 Premium Silver for those who take the outdoor seriously
Silver unlocks a number of features that you will appreciate as a regular active outdoor sportsman. With a one-year subscription, it'll cost you € 10 , and you'll pay € 1.4 for a monthly subscription.
Locus Map Pro owners receive a one-year FREE Premium Silver subscription!
No ads = bigger map
Not only that, the perpetual mis-clicking on the banner ad and the annoying closing of pages that you don't need to see when riding a bike will disappear. Most importantly, you get up to 10% more of the map on the screen!
Package for sportsmen
Sensor connectivity – Locus Map can communicate with a variety of peripherals via Bluetooth and ANT+, such as external GPS units, heart rate, cadence or speed sensors, pedometers and thermometers
Audio coach – do you want to get regular reports on your speed, pace, time, and other performance parameters? The Audio coach will serve them directly to your headphones, so you don't even have to take your mobile phone out of your pocket.
Dashboard – turn Locus into a hi-tech bike comp. Set up a transparent layer above the map with all the data you need – speed, elevation, time to destination, route graphs…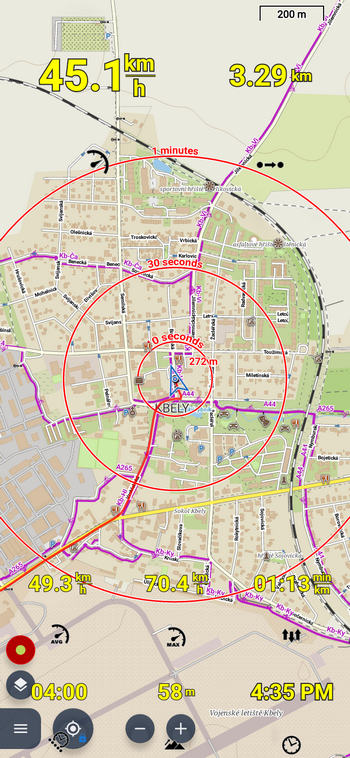 Advanced map and track tools
Terrain shading, elevation charts, their dynamic coloring according to elevation, slope, and other parameters. All from offline elevation data.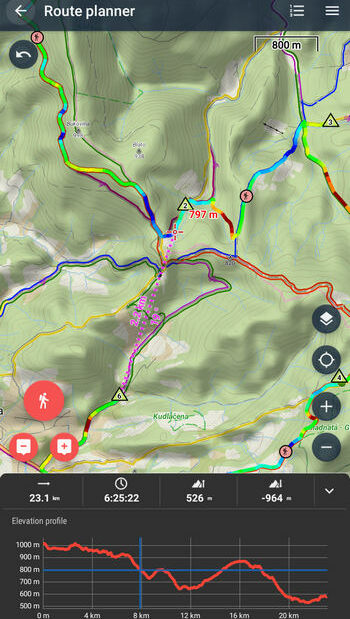 Calibration of an image with map – with this you can get any city orientation plan, wall map or a JPG with map downloaded from the internet into Locus…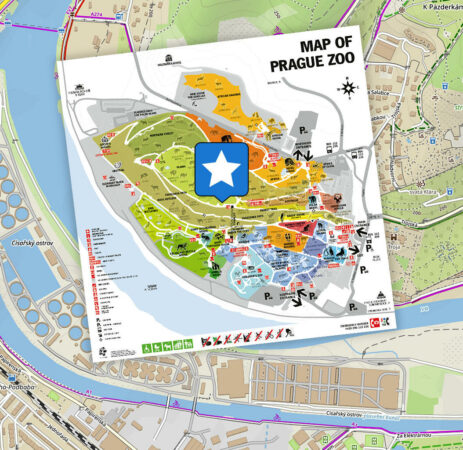 Map overlays – you can overlay two different maps, such as e.g. aerial and tourist, to see more information. Various types can be combined, both online and offline.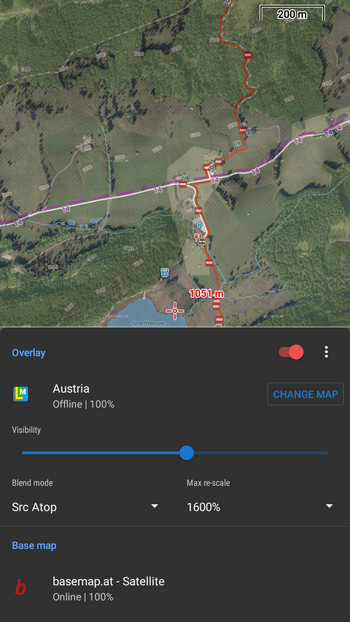 Premium Gold squeezes maximum out of Locus Map
For those who want an application without compromise, there is Gold. It contains a complete range of in-app features, web services and offline LoMaps of the whole world, including updates. A full-year subscription costs € 24, monthly you pay € 3.
Locus Map Pro owners get an exclusive 50% discount for a year of using Premium Gold!
Silver included
Of course, Gold includes a large ad-free map screen, a sportsmen package fo features, and mapping and track tools that use offline elevation data. In addition, there are many more improvements, such as the ability to generate circular routes in the planner or to display surfaces and path types: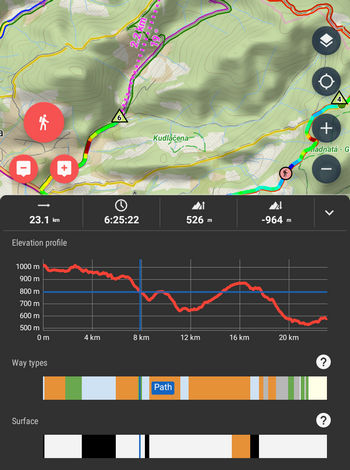 All offline LoMaps including updates for free
As a standard, you get 3 offline LoMaps for free. As part of the Gold subscription, all LoMaps including updates, which we prepare three to four times a year, are for free. So you always have an up-to-date map without having to connect to the internet.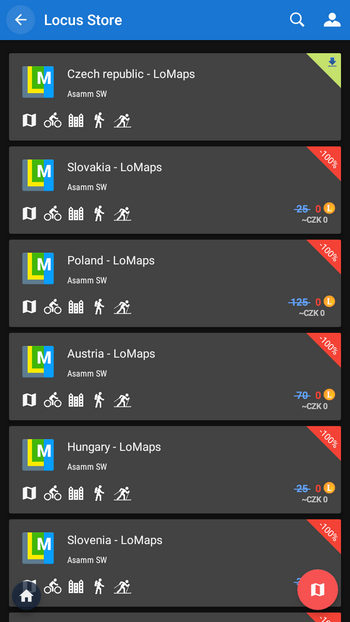 Built-in offline LoRouter
Navigating and planning routes without an Internet connection hasn't been easier with Locus. You no longer need to install additional cooperating applications. All you have to do is download the routing data package of the relevant area directly in Locus and set LoRouter as the default offline router.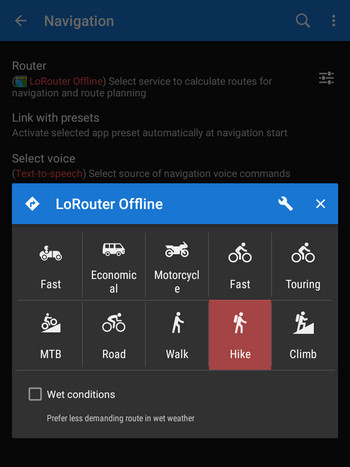 In the first edition, LoRouter offers three pedestrian, four bicycle, one motorcycle and two car profiles. We're still working on profiles, so more will be available soon.
Synchronize multiple devices
Do you use Locus Map on multiple devices? Would you like to share your routes and points with them? Want to conveniently back up your data? All this is solved by our new synchronization service.
At its heart is cloud storage, where Locus Map automatically sends your routes and points from your mobile or tablet. For example, just record a track on your mobile phone and the next time you connect to the wifi internet, the track will upload itself to the cloud. This data is then synchronized with your other devices using the same account.
Cloud storage is only an additional service – routes and points remain, of course, on your device, where they are always available to you. If you decide to use the cloud, your data is safe with us. We have fully complied with the development of the cloud with the strictest requirements for the processing of personal data.
Your personal web library of tracks and routes
The cloud storage and sync service is also linked to the aforementioned web planner, which includes a library of your routes and tracks. It stores your planned routes and the library syncs with the apps on your mobile and tablet.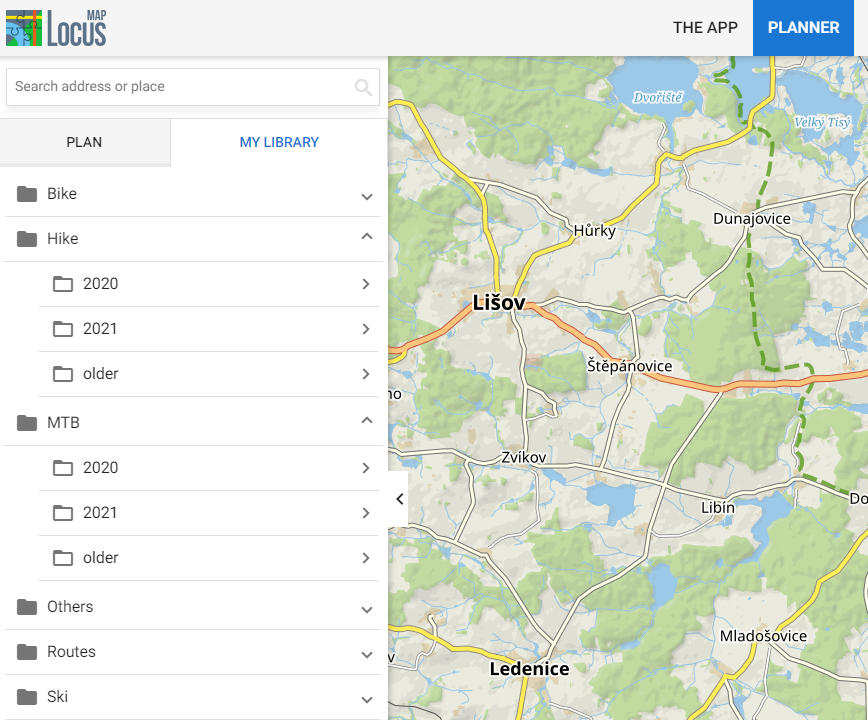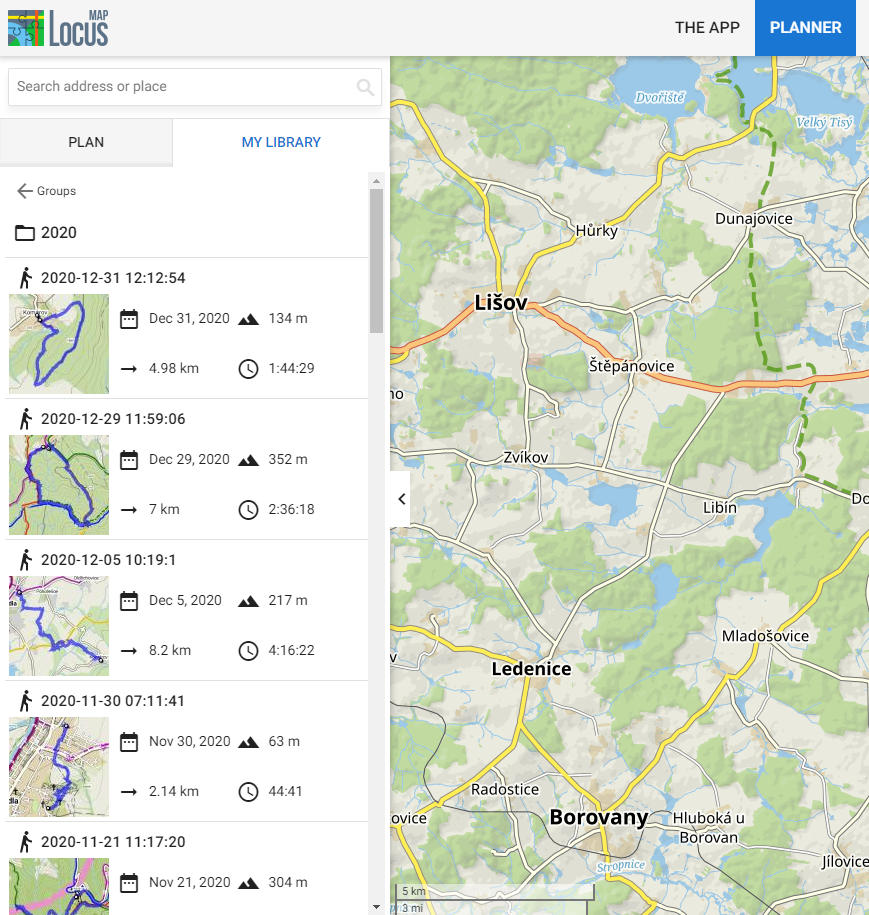 You can view routes from your library on a large PC monitor, share their URL link with friends, or export them as GPX. You can also edit their name and description, in the future we plan to add other options, such as editing the route line and the like.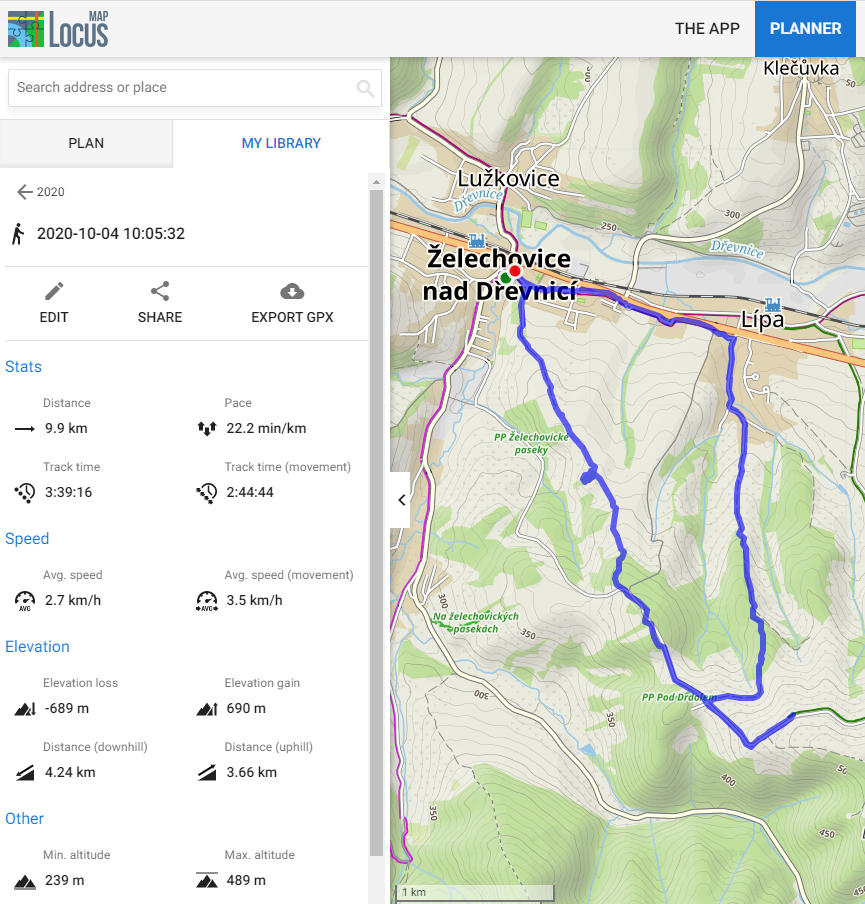 Share your real time location with your friends and family
Premium Gold also includes Live Tracking Premium service, which allows you to create your own groups for real-time private location sharing. Your friends can view your location either in Locus Map or on the Live Tracking website.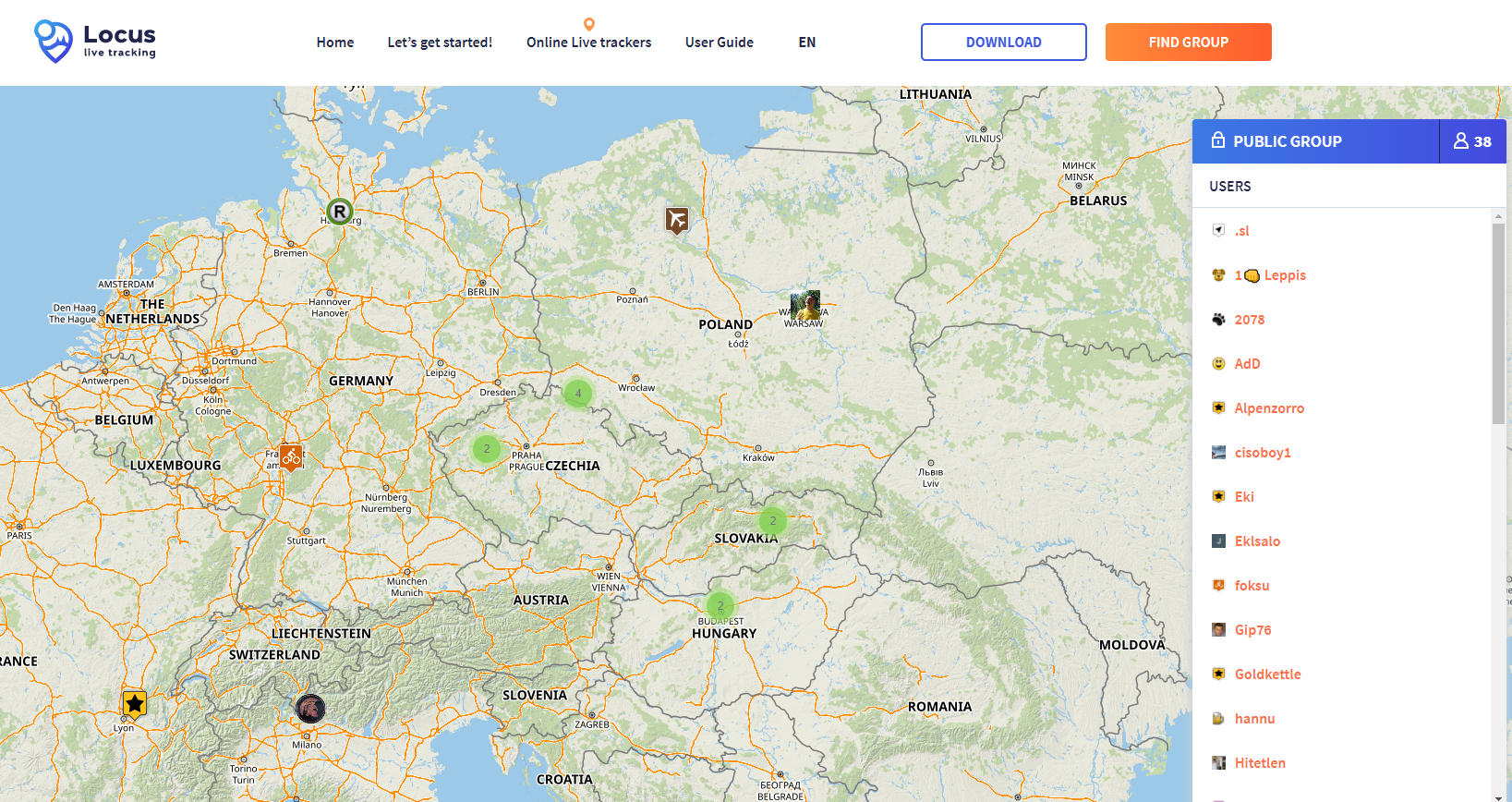 Premium Gold also unblocks the My LIVE location timeout, which allows you to share your real location unilaterally (not to each other, as with live tracking).
Detailed comparison
Of course, above we've listed just a quick list of what each version of Locus Map brings to you. If you'd like to study their specific differences, we've put together a detailed list .
And what about Locus Map Pro?
For Locus Map Pro, nothing changes. This most popular application in our portfolio (4.8* Google Play rating in March 2021) continues in line 3, currently in version 3.51.1. It has recently received a large package of modifications and fixes and serves to the full satisfaction of its users. We are preparing another update for it in about a month.
If you own Locus Map Pro and are interested in switching to one of the subscribed Locus Map 4 levels, we have an exclusive offer for you:
the first year of Premium Silver subscription for FREE
50% OFF for the first year of Premium Gold subscription
Sign in with the same account to both Locus Map Pro and Locus Map 4 to verify your discount eligibility.
In the future, we plan to rename the app to Locus Classic, while retaining all of its existing features and functions.
What awaits us in the future?
As we mentioned in the introduction, we are now presenting the first edition of the new generation of the Locus Map project. We have a lot of plans for future releases. Of the short-term ones, we can reveal the following:
additional web planner features – route graphs with road surfaces, the ability to edit route lines, the ability to add and edit custom points, caches, etc., live tracking integration, route import, and more
we will continue to improve the application's user interface – a brand new map manager is planned, redesigning the route detail screens…
based on your feedback, we also plan to introduce one-time payments for the Silver and Gold levels, which will be available in the Locus Store or directly on Locusmap.app website.
we want to resume work on wearables add-ons, or develop a stand-alone smartwatch app
in connection with the integration of live tracking into the web planner, we want to further improve the service to make it even more usable, for example, for search teams and rescue services
etc.
Install Locus Map 4 and there will always be something you can look forward to!
Locus Map 4