Dear Locusers,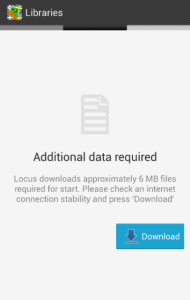 New month is here and also Locus comes with new version.
The list of news is probably short but the most changes were made in core with goal to improve performance and solve some issues.
You can see the most significant change when you open Locus for the first time. Locus asks you for downloading additional data – it's a new library which helps us to implement offline POIs in next two months.
We are also glad that Locus store is successful project. Minor issues were solved and it seems that you like the welcome gift (three vector maps for free). Purchasing of LoCoins is more stable and secure.
As usual we've improved some parts of Locus core – for example reading offline elevation data (HGT files) is more quicker an also lot of solved minor issues.
Enjoy
release
version