Are you keen skialpinists? Or ski freeriders? Or backcountry skiers, snowshoe hikers? Then you'll surely welcome information about slope angles in the map of your favorite mountains. Until recently this information was available only in winter Outdooractive maps that Locus offers in Germany and Austria. New version of Locus can display  slope angles above any map – online, offline, topographic or satellite, raster or vector, from any producer or provider. It's up to you to select one.
Are you traveling in a scattered group and would you like to know the position of its individual members? That may be quite useful just for example when skialpining. We are introducing a brand new Locus live tracking, that doesn't use services of third parties. Just insert your name or nick, start and your friends see you hover above the map.
What slopes tend to avalanche?
There is a whole range of factors that influence probability of avalanche danger. Of course there are weather conditions, snowpack layers content or the terrain properties. A very important factor is, however, the angle of the slope under the snow cover. Slope angles higher than 30° are on the verge of risk, steeper angles 35°and 40° multiply the danger. For safe planning of your snowy adventures it is, therefore, useful to now this information and you can plan your trip routes according to it. The winter Outdooractive maps that Locus presents in its portfolio contain slope angles but only in the area of Germany and Austria. In the Canadian Rockies or Caucasus you would look for them in vain. Until now. Locus can calculate and interpolate slope angles from elevation data that are available worldwide.
You might object that Locus can display hill shading based on elevation data. Yes it can but that's something different – shading is just an aid highlighting the plasticity of the terrain for maps without contours or for those users who can't (or don't want to) read contour lines. The difference is clear: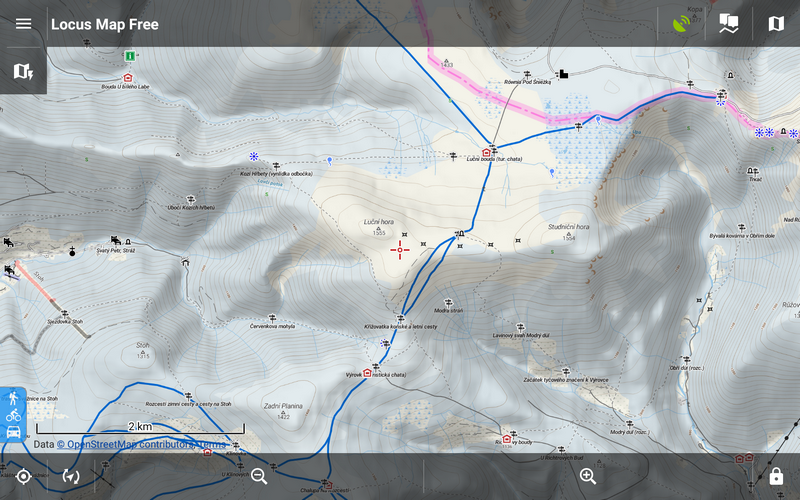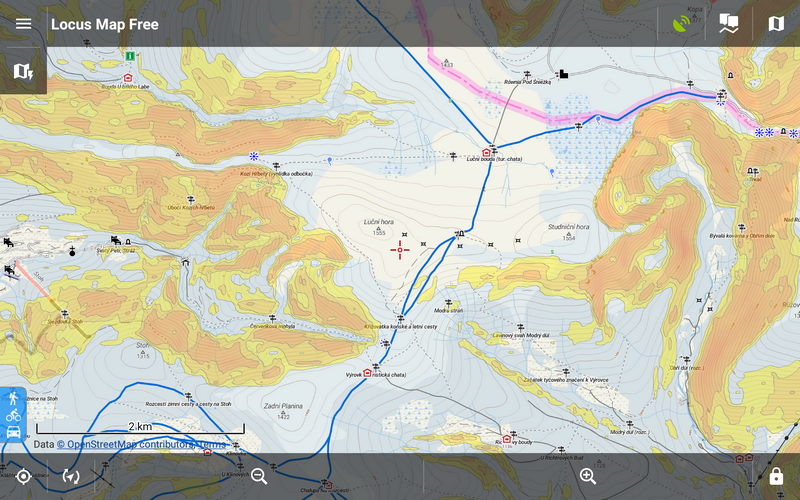 Live tracking – next level for free
We wrote recently that you can set the live tracking feature via cooperating web service GPSies.com. It is cool to see your pals online on a web map but the setting isn't much user-friendly. Now we are introducing a dedicated service that connects Locus users directly among each other – you can track your friends right on your Locus map screen. And Locus Free users too!
Menu > More functions > Live tracking
tap + buton and choose Locus live tracking
insert your name, nick and set your icon
you can also leave a message for your friends
We have pre-set also two cooperating web services for you – already known GPSies.com and also a testing interface of one our VIP user. For geeks we left the option of custom live tracking settings as it used to be originally.
Locus live tracking is in BETA version for the time being which means that we haven't finished its development yet – for example we're solving possibility of private groups and other gimmicks. Dedicated live tracking is also another step in the more general context of Locus server services that once might lead to cloud solution of data, settings and other information synchronization. But let's not anticipate 🙂
And finally…
It wouldn't be a new release without loads of minor fixes and improvements. Randomly, optimized values in the trip time feature, improved online search and many others.
hill shading
live tracking
slope angles