You know, we want Locus Map to be still better and better. And you, our users, are one of the reasons why Locus is still better and better. You are giving us your tips, your ideas, you are asking us and, therefore, making us think all the time what could be improved, added, adjusted. Recently, we realized our website lacked an appropriate communication interface. We decided to change it and a brand new contacting website is finally here: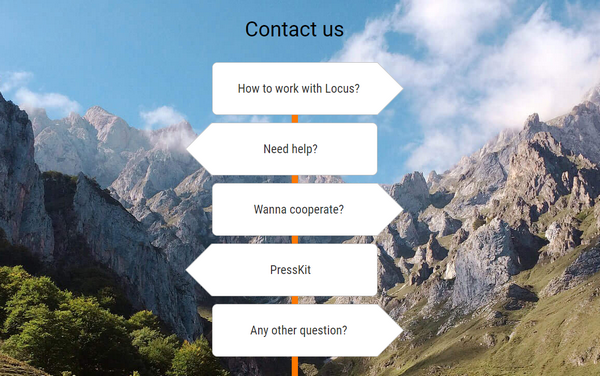 The signpost on this page helps you decide and better aim your questions on us:

This way you get to Locus Map User Guide. It contains a complete knowledge base regarding controlling of the app, its functions, features, settings, tips or tricks, frequently asked questions, advanced advisory, customization instructions etc.

When you don't find your answer in the User Guide, come here – it's a direct link to Locus Map Helpdesk. Our team will do their best to solve your issues, answer questions and tackle problems 24/7.

Are you a representative of a business and are you interested in cooperation with us? Please enter here.

Do you work for media and are you interested in writing about Locus? Here we offer a set of articles and graphics you are free to use without need to ask us.

If you didn't find your topic of question among the signs above, please feel free to ask here via a simple form. We'll get back to you ASAP.
We're looking forward to the feedback from you!
contact us
cooperation
helpdesk
Locus team
presskit
user guide