Jak již dobře víte, my jako tým chceme, aby byl Locus stále lepší a lepší. A vy, naši uživatelé, jste jedním z důvodů, proč tomu tak je – dáváte nám své tipy a nápady, ptáte se nás na to či ono, reportujete poruchy, a tohle všechno nás stále nutí přemýšlet, jak a kde appku vylepšit a vytunit. Nedávno jsme si ale uvědomili, že na webových stránkách Locusu není kloudná možnost, jak nás kontaktovat. Rozhodli jsme se to změnit, a výsledkem je naše zbrusu nová parádní kontaktovací stránka: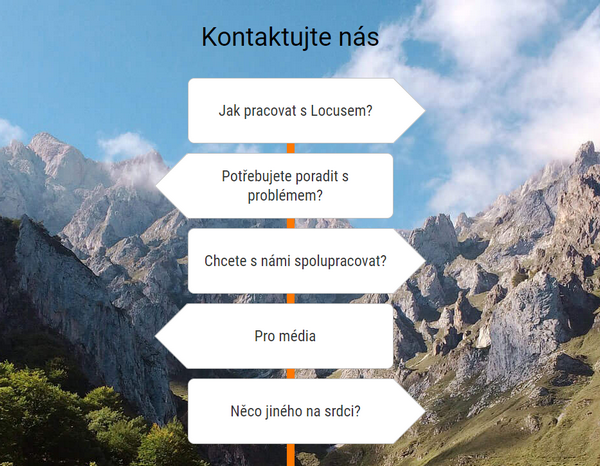 Směrovník na stránce vám pomůže zorientovat se, na co se vlastně chcete zeptat:

Všechny otázky tohoto typu vám zodpoví náš zevrubný Manuál. Najde v něm kompletní balík informací o ovládání aplikace a jejích funkcí, o nastavení, tipech a tricích, často kladených otázkách, jsou zde i témata pro pokročilé uživatele, developery a customizátory.

Pokud jste hledali v manuálu, ale nenašli to, co potřebujete, jsme tady pro vás osobně – zde je přímý odkaz do našeho Helpdesku. Náš tým udělá první a poslední pro to, abychom vám poradili nebo vyřešili problém, a to od rána do večera.

Jste zástupce korporátu či firmy? Máte zájem o spolupráci? Vítejte a prosíme, vstupte zde.

Pracujete v médiích a chcete o nás napsat pochvalnou recenzi? 😉 Tady si můžete stáhnout potřebné textové a grafické materiály bez nutnosti se nás na cokoli ptát.

Pokud jste opravdu nenašli téma svého dotazu mezi výše zmíněnými, zeptejte se prostřednictvím jednoduchého formuláře. Ozveme se vám hned, jak to půjde.
Těšíme se na vaši odezvu!
contact us
cooperation
helpdesk
Locus team
presskit
user guide