It's been over two weeks since the Locus Map 4 launch. It triggered a great wave of interest among our users and also among those who heard about this app for the first time. And almost everything we've been doing during this time is answering thousands of questions. Here's the summary of the most frequent ones:
WEB planner and library
Great stuff but what more to expect?
User points on map – so far, the points are only synchronized with the cloud but are not displayed in the planner. Quite a lot of you got upset by this and we are sorry – we underestimated this a bit but we're revving all our engines to add it ASAP.
More tracks on map at once – the same as above, please be patient
More UI features to come – centering button, road surfaces, way types for the planner
Track/route import – GPX and other formats
Track editing
More maps from other providers – until recently we thought the online LoMap is enough. We re-thought it but first we have to evaluate and select which sources could be viable
Live Tracking integration
Continuous improvement of LoMaps, LoPoints and LoRouter – please don't hesitate and send us your ideas – what is missing? What should we focus on? What to improve? What to fix?
What are the best practices for data synchronization?
take the first device on which you have the oldest Locus data (tracks, routes, points). This device should ideally have all your complete data
go to the main menu > Go Premium > log in and subscribe to Premium Gold
open your track/point manager and tap the sync button in the topbar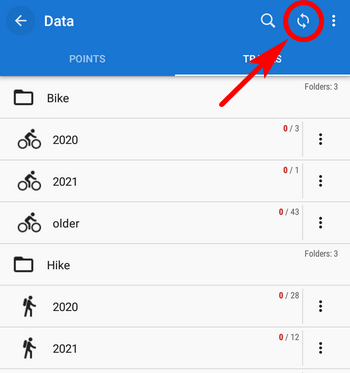 confirm manual synchronization, let it go all the way through
your personal database on the cloud has been created – you can sync other devices or plan/save routes in the web planner
Locus Map Pro
What's its future?
Locus Map Pro will be maintained and updated so that it is still fully available in Google Play Store and is compatible with all future Android versions. When the transition of the most of the current Pro users starts to decline, we'll rename it to Locus Classic.
Why is Locus Map 4 better?
Even the basic free version of Locus Map 4 brings a solid bundle of improvements:
new user interface – the main screen, better structured feature menu, ergonomic controlling, clearer point detail, track detail etc.
new native online content – default online LoMaps, LoRouter and LoPoints
new route planner with integrated map content panel
OneDrive support for direct import/export and automatic backup
track recording widget also in the basic version for free
Can I use both versions?
Yes, both versions are autonomous apps with their own configuration. If they are installed in the internal memory they share the main database files – tracks, routes, points and maps. When you uninstall one of them, the data remain in the device.
EDIT 29/12/2021, Android 11+ devices: both apps use their own data – maps, tracks, points, etc. The data can't be shared between them any more. More info here >>
How can I get the discount as the Pro user?
Firstly, make sure you have logged in Locus Store in your Locus Map Pro. Then, when you tap Go Premium in the Locus Map 4 menu and log in the My Locus profile, you are automatically offered the discounted subscriptions.
How long will the discount available?
At this time, there is no deadline, no time limit when the discount offer should end.
Why am I not "Silver" automatically when I have bought Locus Map Pro?
At the beginning, there were two separate applications – Locus Map Free and Locus Map Pro. Locus Map 4 is the successor of Locus Map Free, not of Locus Map Pro. Therefore, there is no relation between your purchase of Locus Map Pro and subscribing to Premium Silver.
However, when you log in and the system recognizes you as the Pro owner (see above), you get the Silver for free for one year.
Will my Locus Map Watch Pro work with Locus Map 4?
No, add-on Locus Map Pro Watch communicates only with Locus Map Pro app. Locus Map 4 as a direct successor of Locus Map Free communicates with Locus Map Free Watch add-on. The add-on is identical to Locus Map Pro Watch. They have only different names. We had to duplicate them because of Samsung's regulations forbidding one add-on serving two apps.
Locus Map 4
Where's the rotation button, zoom buttons, zoom lock, magnifier?
Rotation of the map is controlled by the multifunctional centering button: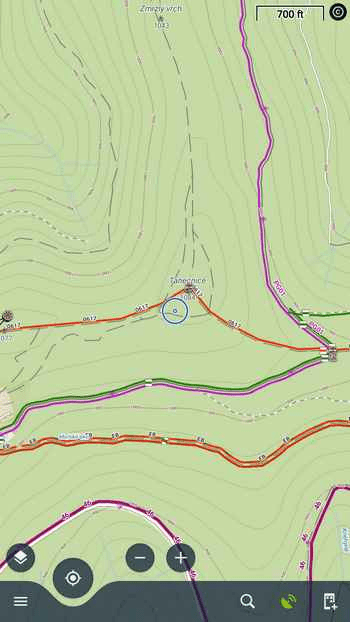 Zoom buttons are hidden by default but you can make them visible in Locus settings > controlling > Panels & buttons: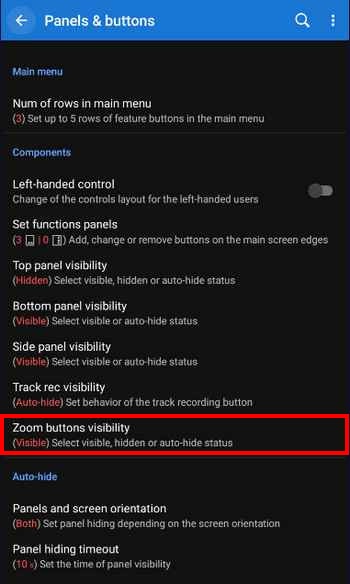 Zoom lock and maginfier are also hidden but you can add them to the function panel: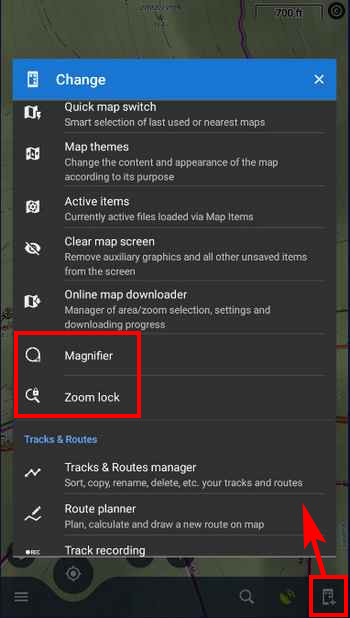 Dark mode causes the screen blinking and other problems
Unfortunately, this is caused by an agressive behavior of the MIUI system dark mode in Xiaomi devices. Exclude Locus Map from the system dark mode and all will be OK.
Locus Map records tracks wrongly even if it is not battery optimized
In Android 10 and 11, Locus Map needs a special extra permission for access to location when running in the background. This permission prompt emerges right before the action is started – track recording, navigation, guidance etc. Please, give it to it so that tha track recording on the background runs smoothly.
What about my maps? Do I have to download them all again?
No, as we have mentioned above, Locus Map Pro and Locus Map 4 share the same data folders. Only, if you have maps linked to Locus Map Pro from an external storage (SD card), you have to link them the same way in Locus Map 4.
Will my app stay in Premium when I'm offline for a longer time?
Yes, of course. Your subscribed app stays as it is with all subscribed features. When you get online and the app finds out your subs expired, it gives you a grace period long enough to re-subscribe comfortably.
Locus Map 4 manual contains obsolete information
We deeply apologize for this inconvenience. The user's manual will be updated in the near future. If you have any questions, please ask us at our helpdesk.
FAQ
Locus Map 4