When you are moving in free terrain with no roads or paths, heading to a distant target – a hunters cabin, a watch post, or, most likely, to a geocache – navigation is of no help. "Navigate to" feature renders a route along roads and paths and "Navigation" needs a route to navigate along. Without roads, paths, and routes, the only way how to get to a particular spot is to use guidance.
Start at the target
To launch the guidance line, showing distance and azimuth of the target, just tap the target and select Guide ON from the action menu: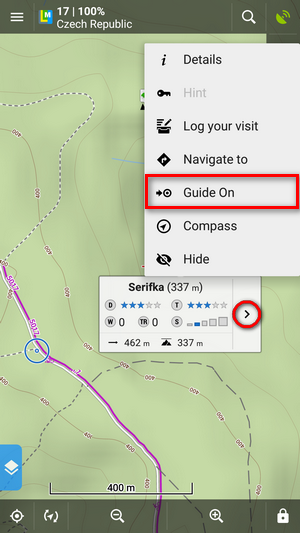 All you need to know about the target is displayed in the guidance panel. In case of a geocache, you see its name, direction, distance, difficulty, terrain rating, number of waypoints, number of inserted travel bugs and size of the cache box:
If you prefer compass view, switch to it from the guidance panel menu: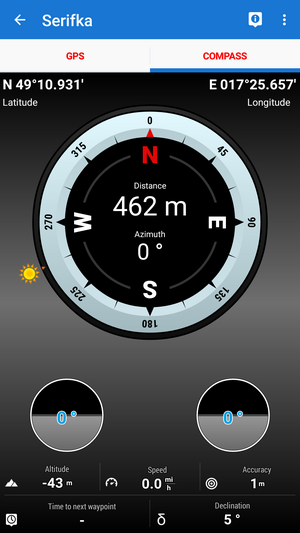 Don't watch the screen all the time – put on alert
In a difficult terrain where you have to be careful about where to put your feet and not to break your ankle, some acoustic alert may help. In the guidance settings, you can choose a single alert or alert with increasing frequency as you are getting closer to the target. Of course, you can select plain beeping, your own sounds, vibration or spoken alerts, informing about the target distance and direction: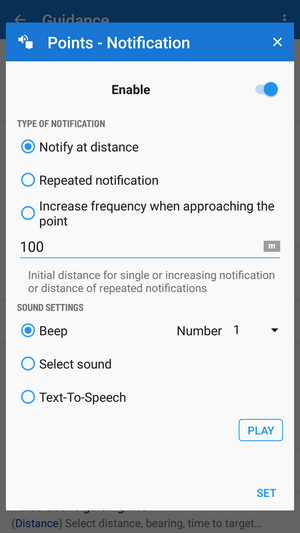 The closer to the target, the more detailed map you see
Locus Map can zoom the map automatically according to the distance from the point you are guided to – the closer the target is the bigger zoom is displayed so both your position and the target are visible on the map screen: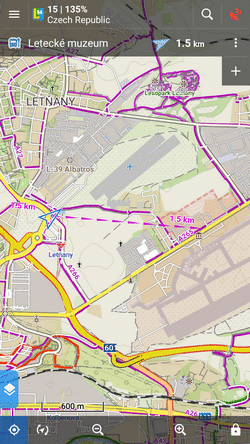 Low battery? Locus Map will turn the screen on just when you need it
The screen on/off control in Locus display settings offers a few options on how to turn the phone screen on automatically only when you need it. One of them is during the point guidance: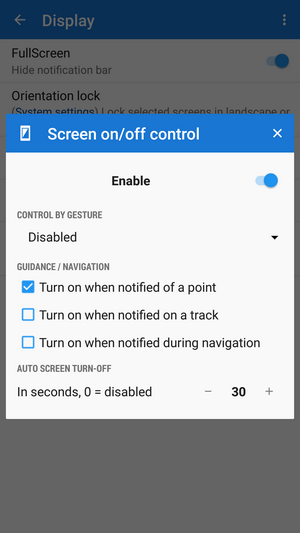 The screen lights up just in time of the point alert so you can quickly check the map. This feature is especially useful when Locus guides you along a route, switching the screen on only on turns.
Guidance along a route? What is it for?
It is useful, especially for sailing, sea-kayaking or flying. Also for cross-country hiking when there are no roads for turn-by-turn navigation – Locus guides you along a manually drawn line and notifies you of the direction changes.
Alert! You're off your route!
That's an especially useful feature when you are guided with your screen off, listening only to voice commands. Sometimes, it happens you miss a turn or you're forced to make a detour. The guidance doesn't recalculate your route but Locus Map notifies you of its leaving. When you set up text to speech, Locus Map tells you how far and in what direction your original route is running.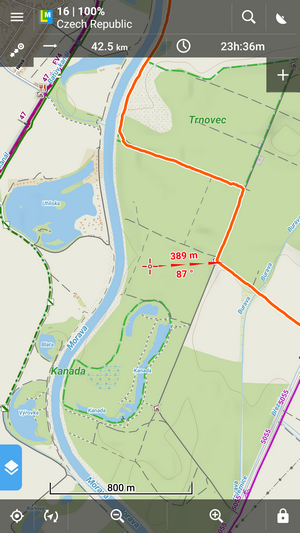 So, let's go off road with Locus Map!
backcountry
free terrain
geocache guidance
geocaching
guidance
offroad
voice commands