We all successfully survived Christmas and New Years Eve celebrations and threw ourselves again into work. And this is the result:  a new version of the best outdoor mobile navigation app – Locus Map 3.29. Actually, we'd like to present results of our work that took us much longer – over a year. And we think our effort was worth it. Ladies and gentlemen, please meet…
Locus Store 2.0!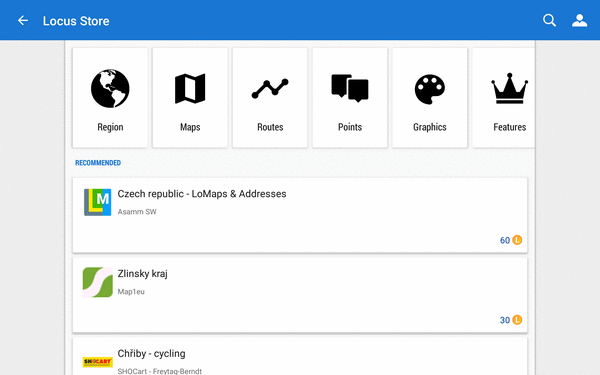 Select your map quickly according to your location
One of the most common reasons we need a map is we want to know where to go in the area we are at the moment. Therefore, the first thing you see when you open Locus Store either from the Locus menu or from the map manager is map of your neighborhood: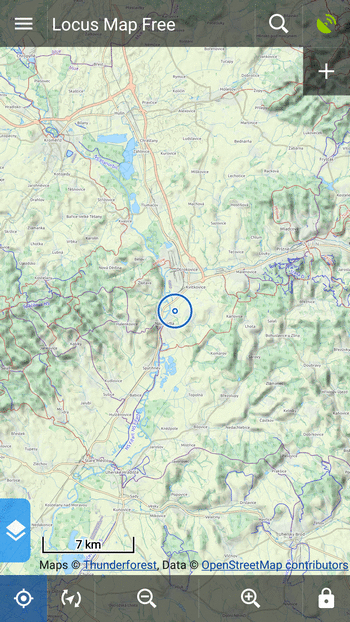 Find the best map for your vacation
If you need a map of a place you want to visit on your vacation, you've got several options how to find it:
1) you can browse the Store in regions and in map providers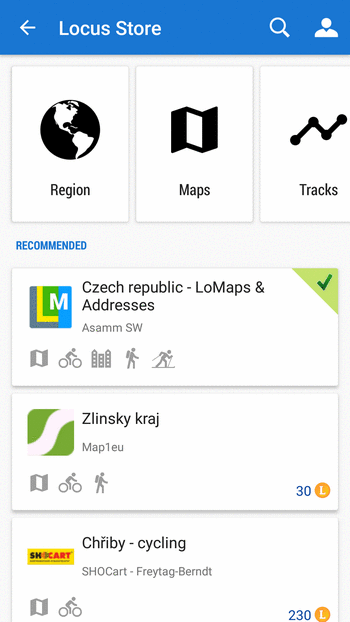 2) you can find your vacation place on an overview map and select appropriate map product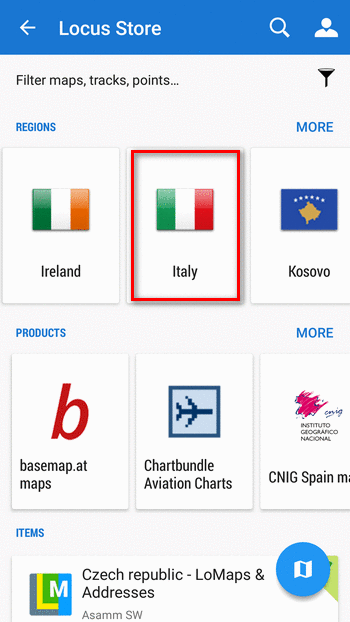 3) you can fultext search for your map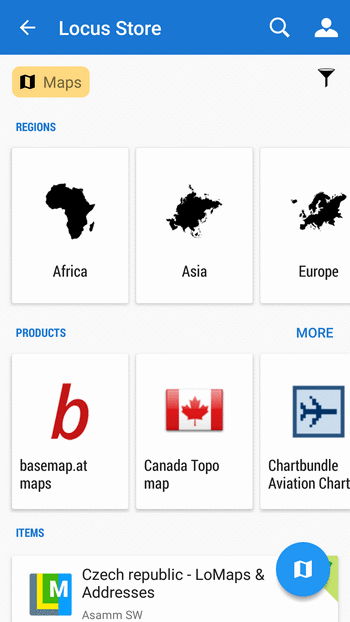 4) you can filter the map you need according to the activity on your vacation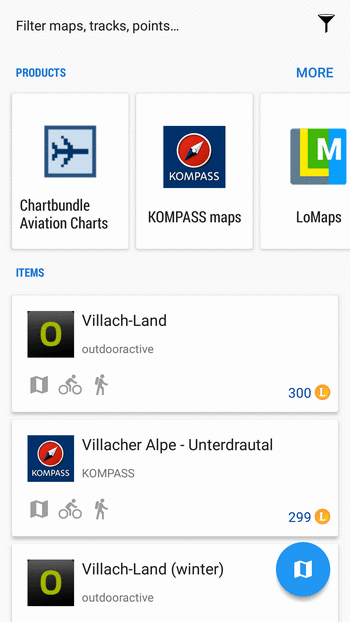 Looking for some tips for trips?
Locus Store doesn't contain just maps. You can find also routes of interesting trips and journeys or points of interest there. You can try bike pilgrimage along the Via Francigena or a few nice trips in the Czech republic. Or display the whole database of UNESCO protected sites.
To be honest, so far, the Routes and Points categories are not overloaded yet but we're working on adding more content into them. If you know about some interesting route source you would like to see in Locus Store, let us know!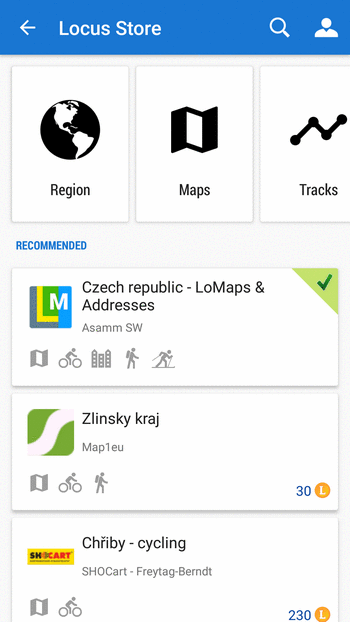 Need additional features or graphics?
Premium Live tracking for sharing your real time position with groups of your friends or family, custom app graphics like navigation and map cursors, map themes, packages of point icons… all these can be found in Locus Store too. Check categories Graphics and Features.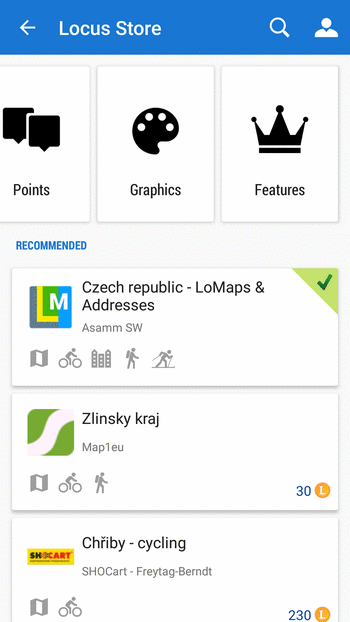 And remember, everywhere you have the same searching and browsing options as in the Maps section.
Cloud backup of your maps
When you download new maps from Locus Store, it's  time to back them up! From now on you can save them in your personal cloud storage at Dropbox or Google Drive. Similarly as you can do with your tracks, points and settings. We strongly recommend to do it especially with quality paid maps of our map partners, e.g. Swisstopo, Kompass or NeoTreks.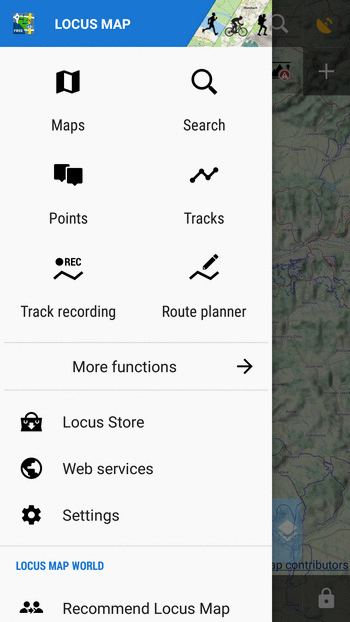 Enhancements for sportsmen
Record your indoor workouts!
More and more of you use Locus for your workouts and training. Especially now in winter a lot of runners visit indoor training centers and need to record their activity there. Therefore, we enabled to switch your Locus GPS into an "indoor mode":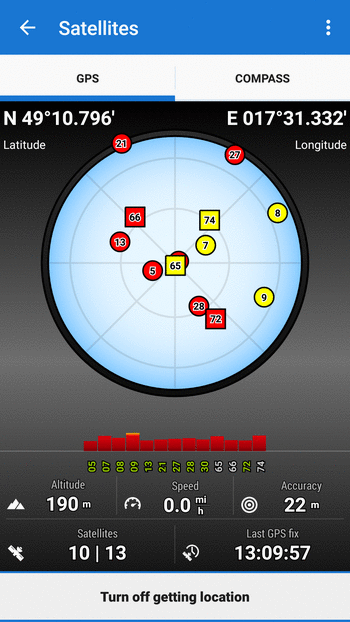 Wanna hear your current elevation on your mountain trek?
Audio coach has become a very useful companion for your running workouts but also for hikes in the mountains. A lot of you, hiking and mountaineering Locusers, wish to be informed regularly about your actual elevation or altitude without need to look on your phone display. So current altitude has been added among the Audio coach parameters: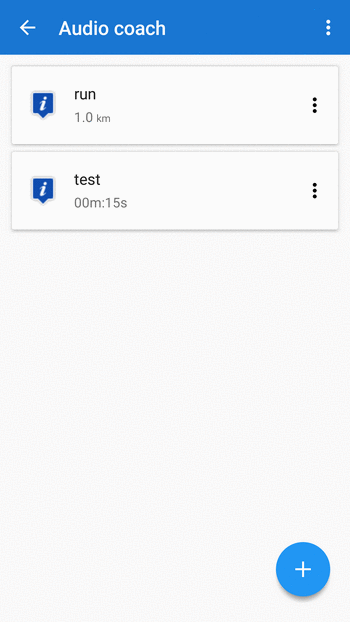 You see, Locus Map is again even better than before. Improving it according to your needs is our passion and pleasure. Enjoy it!
Audio coach
cloud backup
locus store
map filtering
map search