And here it is again. We've got hit by the new-release fever, we can't help it, we must get it out! The new Locus is so stuffed by news that we can't hold it in the drawer any longer. And we are starting right on the main screen:
New left action panel
You can display various things above the map in Locus. Points, tracks, other maps, various temporary files (Items). Who is familiar with Locus knows that you can switch individual categories or layers by buttons in the upper or right panels. Points and tracks buttons are in the upper one after installation, others must be added there over panel settings. Now we are bringing a new panel that makes work with additional layers much easier – one, two taps and your desired content is above the map at once. You can display it by a new tag on the left side of the screen: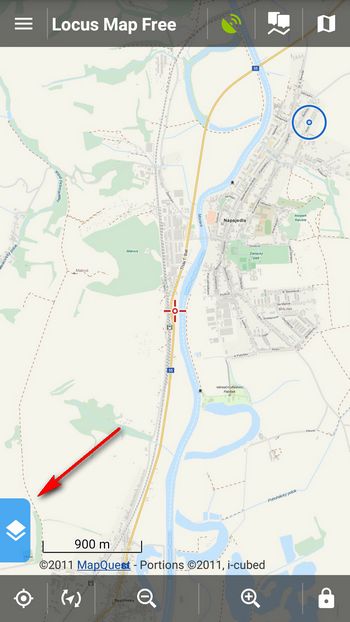 This panel named Map content includes several well known switches:
quick map switch
vector map (LoMaps) themes switch
list of active Items, particularly KML or KMZ files displayed above the map
additionally, you can find two new buttons there as well – Map layers and Nearest points. Let's have a closer look at the Layers: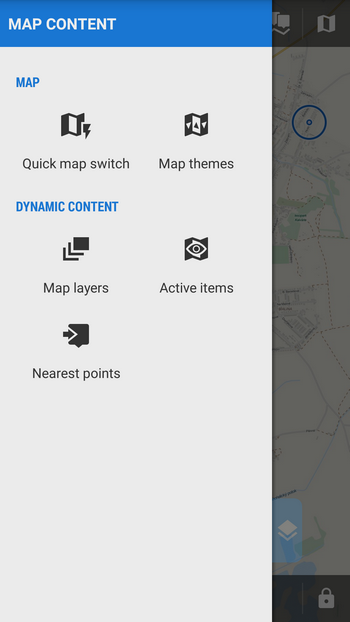 Map layers
Map layers enable quick turning on/off and entering settings of Map overlays, Map shading, Munzees and OpenStreetMap Notes. What's more, there are also two hot novelties: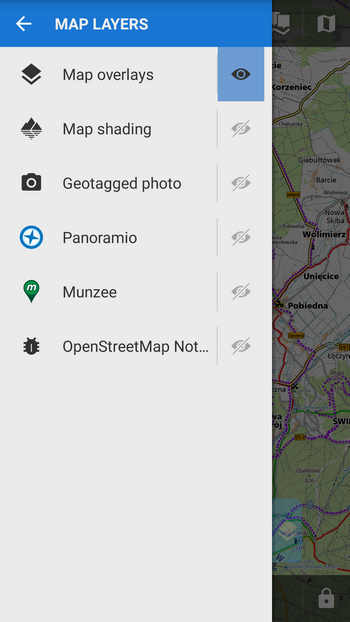 Own photos from your device on the map…
…fast & easy! Lots of us have been waiting for this for such a long time. Now you just tell Locus where to read photos in your device memory (mostly DCIM/Camera folder). Tap "Geotagged photo", then the blue "+", select the folder, confirm. The "eye" button displays or hides the photos and that's it. Of course Locus can display only pictures with included coordinates.
Another innovation brings world wide photos from well known mega database Panoramio to Locus Map screen. Places all over the World can inspire you and revive your imagination directly in your palm. Just tap "Panoramio" in the Layers (and be online).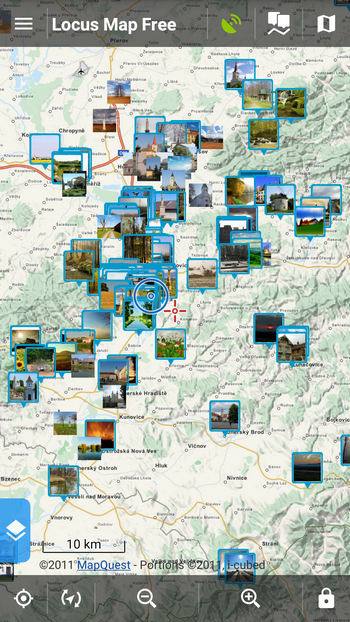 Hmm, but I don't want any panel on the left!
You're a long-time Locus insider and the current settings of Locus is perfectly OK for you? No problem! You can just switch the "Map content" panel off in settings and all is as it used to be: go to Settings >Maps > Panels & Buttons > Left actions panel > uncheck "Map content".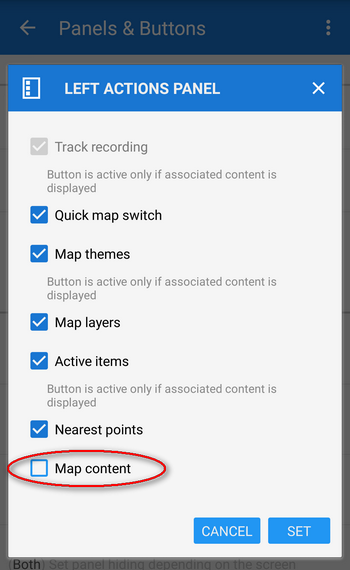 Don't worry, you won't be left without geotagged photos nor Panoramio. You can set the Map layers as individual tags to the left screen edge or add it as a button to the upper or right panels (Settings >Maps >Panels & Buttons > Set functions panels > Add function to panel). Similarly you can set also other items from the Map content panel: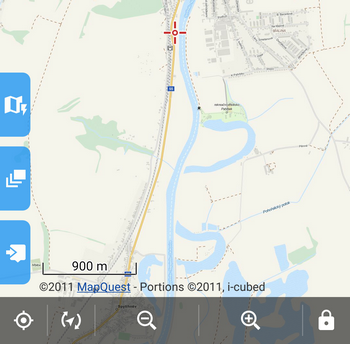 New Maps settings
As you probably understood from the previous text some significant changes occurred also in the maps settings. The original division into three categories was abandoned, you can find only "Maps" there,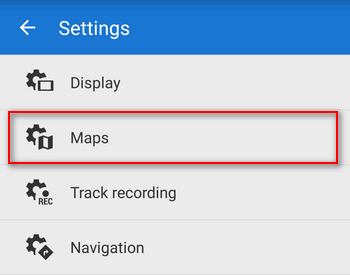 including all settings regarding maps. It's structured further into Map screen, Map content and Maps general subcategories.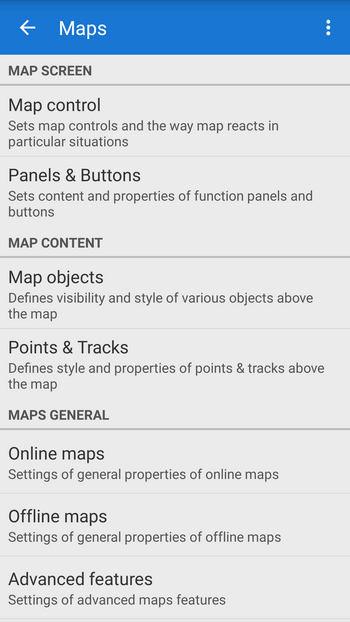 The Maps settings are now much more intuitive and make things easier not only for new users.
And now something for athletes
We are proceeding slowly towards the world of sporttesters again. There are obviously many tasks before us, however, today we can offer features athletes have been demanding for quite a long time:
Energy expenditure calculation
The energy expenditure can be approximately calculated from a few parameters like heart rate, age, sex, weight or height together with time and length of the track. Of course the algorithm includes other factors – these we summarized under a general term Activities. Just tell Locus what activity (run, bike, hike, swim and cca 20 others) you do on track,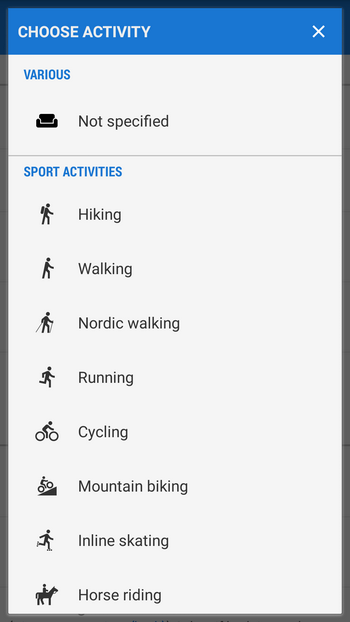 insert your body proportions in the settings and after the track recording you find out how much calories you burned. The activity can be set either before the recording or later in the track detail window. The energy expenditure is displayed in the track recording statistics or can be displayed in real time in the dashboard.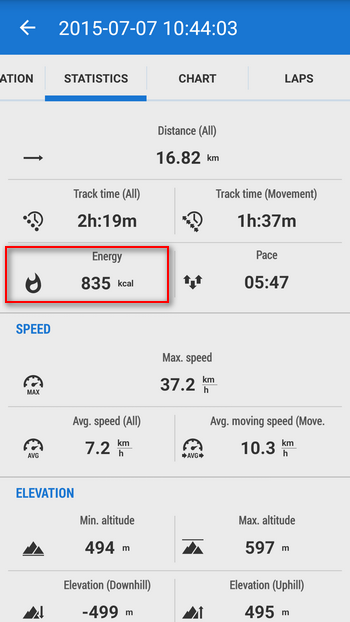 Average and maximum heart rate and pedalling cadence
These new parameters of your workout can be monitored either in the track record statistics or on the dashboard during the activity. Obviously, they require connecting of external sensors via bluetooth or ANT+ interface.
And now icing on the cake…
…made by the long promised extension of Live tracking Premium!
Until now you could share your real time location only with all other Locus users. This setting served more or less as general live tracking testing, and not only for Locus users, but also for us, developers and providers. We learned a lot and we are proceeding – Live tracking Premium enables sharing location with particular selected people – friends, family, colleagues… Just create your own "room", similar to a "chat" room, and invite anybody you like via e-mail or any other means of communication you have installed in your device. Unlike in the chat you don't "chat" with anybody – you monitor each other's position with your buddies. As a care taking parent you can monitor your kids getting home from school, you can navigate your friend to a meeting or the other way round, you can be navigated by Locus to the friend's position.
Live tracking can be found in the main menu > more functions. When you launch it for the first time a new profile is created automatically and you're prompted to insert your nickname. That's the name others will identify you by. If you are happy with the public Live tracking, just push the green Start button.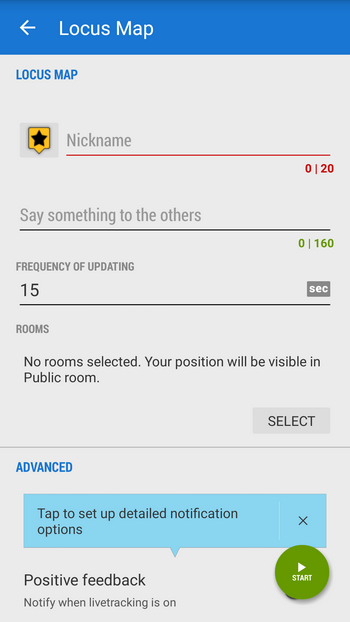 If you haven't logged in My Locus yet (necessary for entering Locus Store, for recommendation of Locus to your friends and of course for the Live tracking start), you are prompted to do so. All the same happens when you choose to select rooms.
There is only the Public room in the selection which is actually the original Live tracking you already know – all connected Locus users see all other connected Locus users. Next, there is the well known blue "+", offering two buttons:
Add own
Add by key

"Add own" creates your own Live tracking "room" – the feature is available on subscription of Live tracking Premium so you are redirected to Locus Store. You've got 14 days trial for testing the feature for FREE but, honestly, the price is symbolic (50 LoCoins monthly is some 0,6€).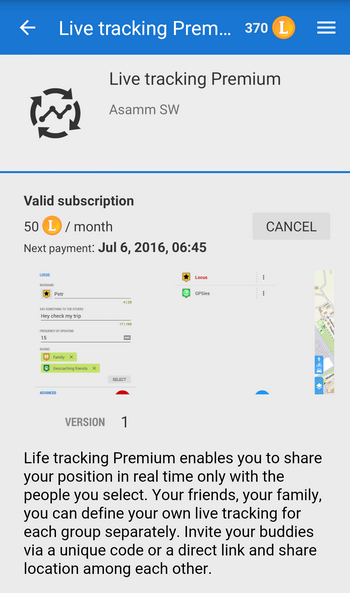 With your subscription ready, there are no more obstacles to create your own Live tracking room:
tap Add own
fill in the name and room description
confirm
in the Room manager, tap your room menu and choose Share


Locus generates a unique key, that can be sent by e-mail, SMS or any other communication app you have in your device to those with whom you want to share your position.The message contains the key and a link that launches Locus if you click it in a mobile device and starts the Live tracking automatically.
We hope you'll like the new Live tracking Premium and finally the feature as a whole makes sense for you. We'll continue working on it so that it'll bring even more fun to you like e.g. monitoring your friends on a PC. There are many single-purpose tracking apps on the market but why to install them if you have Locus Live tracking?
---
Perhaps we don't have to point out that this is not all yet. Locus again got lots of minor improvements, changes, fixes and their complete list can be found in the Menu > About application. And now there's really nothing more we can do for you but wish you all
Great vacations!
action panel
cadence
energy expenditure
geotagged photo
heart rate
live tracking
maps settings
Panoramio
private tracking
subscription