Here it is again, we are proudly launching a New Locus Map 3.31! It is full of improvements in its controlling – we are doing our best to make it easier to use. Now we'd like to pin point three features that has been reworked or expanded majorly. Especially geocachers will appreciate two of them:
Better structured geocache logging
Logging geocaches directly from the app is possible in Locus for years – both online and offline. We've rethought our approach to this process and decided to make logging even smoother and comfortable.  Screens of logging method selection and logging itself have been redesigned so that all aspects are pretty handy and clear to use.
There are three methods of geocache logging available – online logging, uploading field notes (drafts) and storing logs offline for later online logging: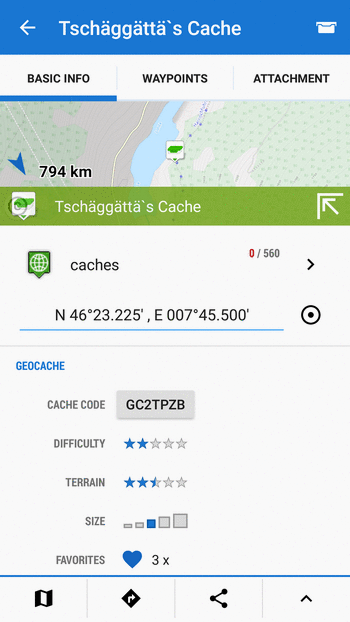 Logging online
The screen is clearly divided in three sections – basic info, images and trackables: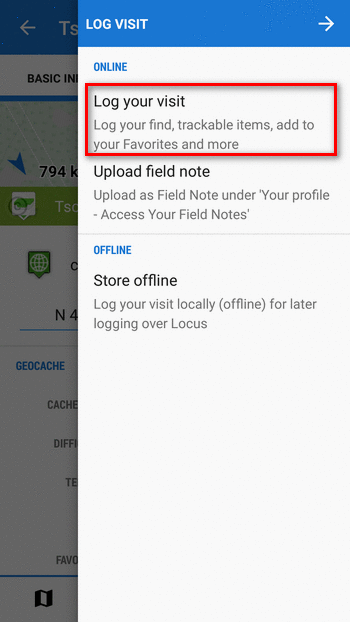 Select type of your log, add comment, date and time. If you particularly liked the cache, add it to your favorites: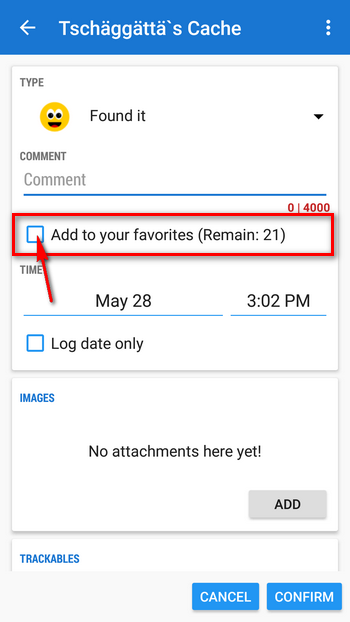 You can add images from your phone or take them right on the spot: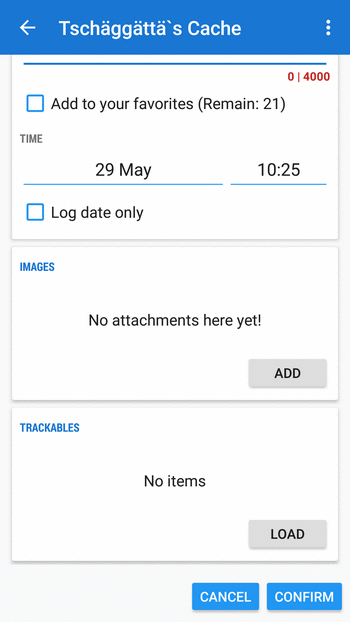 Trackables can be loaded directly from the loggin dialog: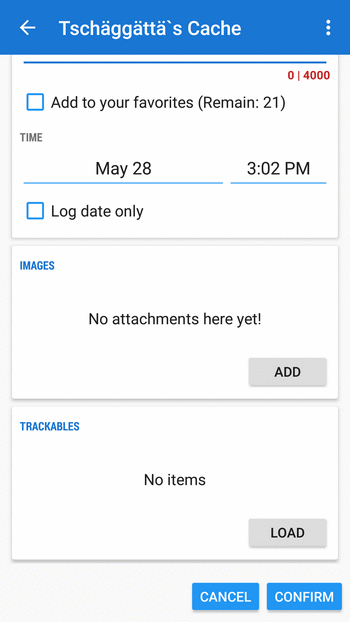 Uploading field notes (drafts)
The dialog has been unified with online logging, nevertheless, it's simpler as you would expect with drafts: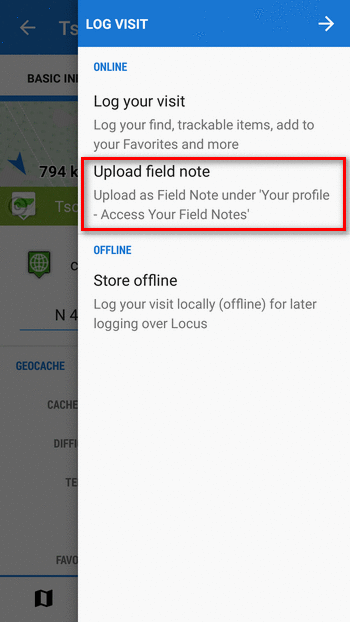 Storing offline
A very useful feature for outdoor geocachers who often don't catch mobile signal in the mountains. Again, the dialog is almost identical with the online logging.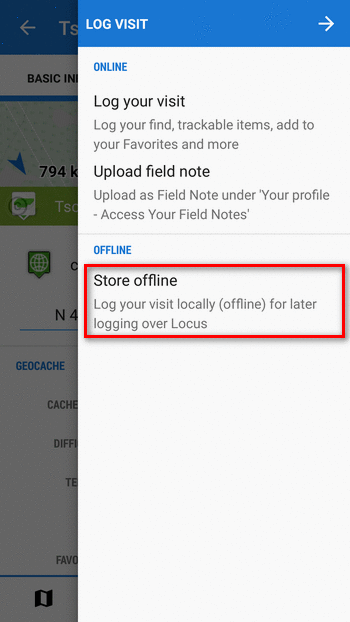 All online and offline logs are stored in Logs manager where you can edit them, upload them at Geocaching.com or export to a file: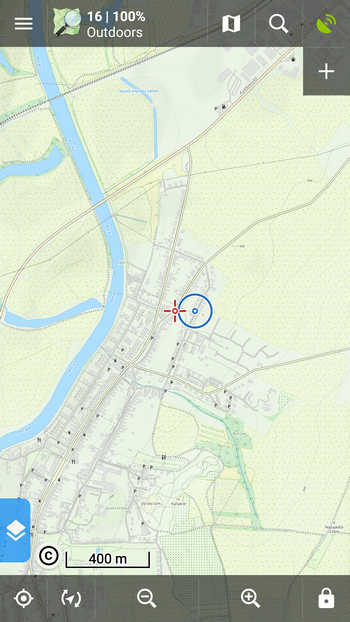 Enhanced options of filtering
Thanks to your feedback at our helpdesk we know exactly what you need for your best geocaching experience. Therefore, we added possibility to filter geocaches by minimum number of favorites: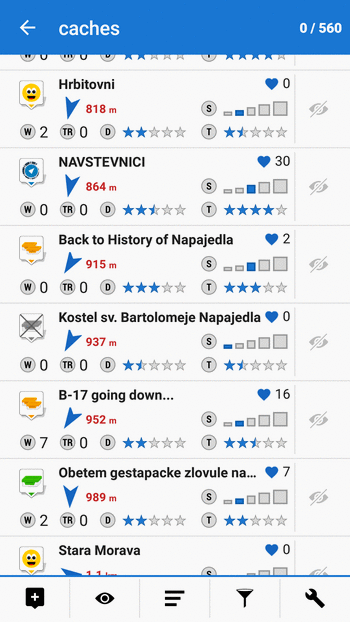 by size: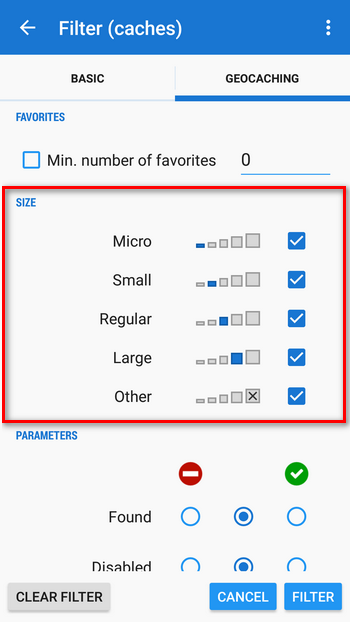 by attributes: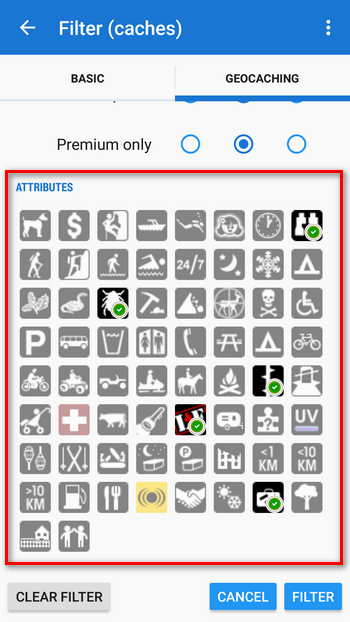 Now you can save your filter definitions for later usage so you don't have to set it up again. All is done comfortably in the filter manager: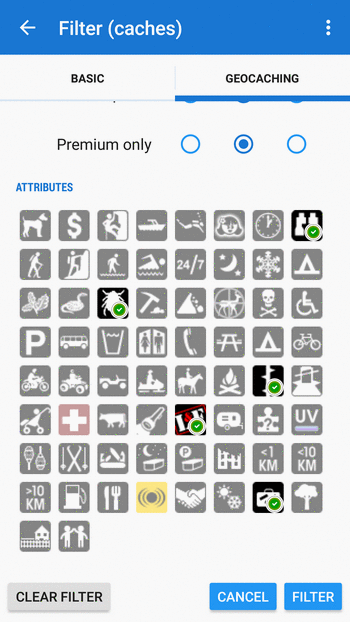 That's pretty cool, isn't it? It is also possible to apply filter by one click when you display a whole folder of caches: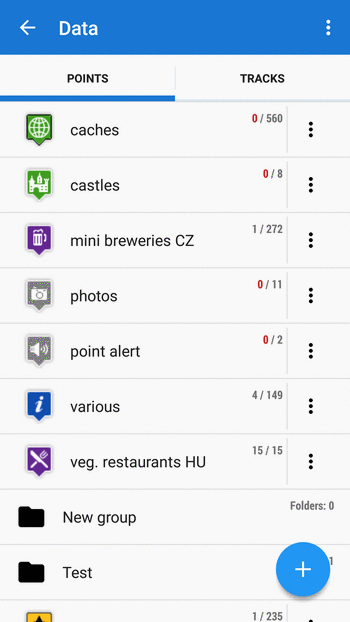 Clear and intuitive settings structure
You know, Locus Map is a pretty complex app with loads of settings. We ourselves sometimes got lost in its labyrinth. So we decided to change it – we made a wide user survey, experimented, tested several variants, all thoroughly evaluated. Finally as a result of all these efforts, we simplified the structure and hierarchy of settings and clarified all titles and descriptions for your better user experience. Some categories and sections were joined, some divided according to their inner logic and results of users testing. Following sections were re-structured the most:
Controlling
A new category, grouping display, the main map screen, panels and buttons settings – all in their individual sections: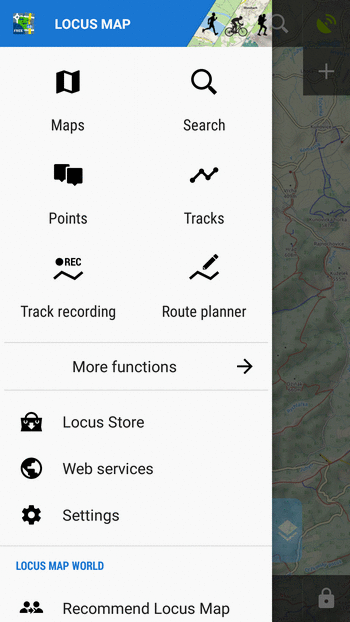 Maps
This section needed cleaning the most. Finally all settings in it really regard just maps and related auxiliary graphics: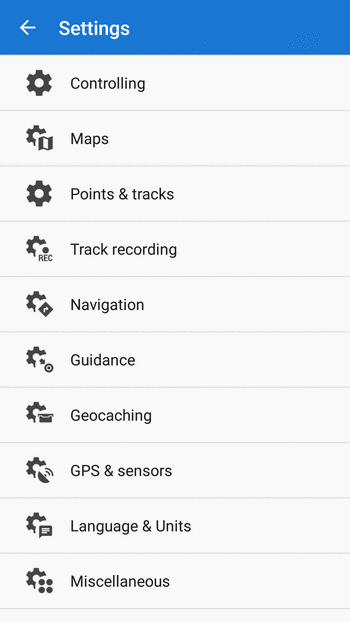 Points & tracks
A new section created by extracting point/track related settings from the original Maps section: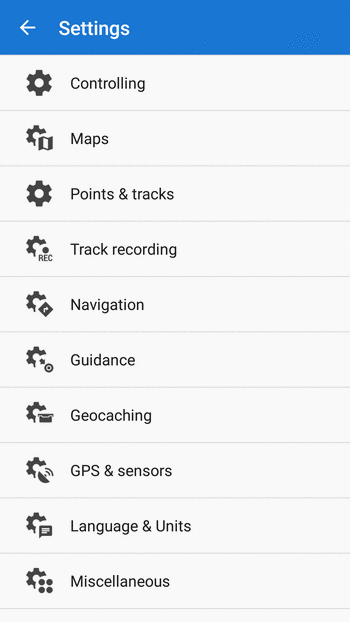 GPS & sensors
Originally two individual categories are joined in one common. All hardware settings are concentrated here now: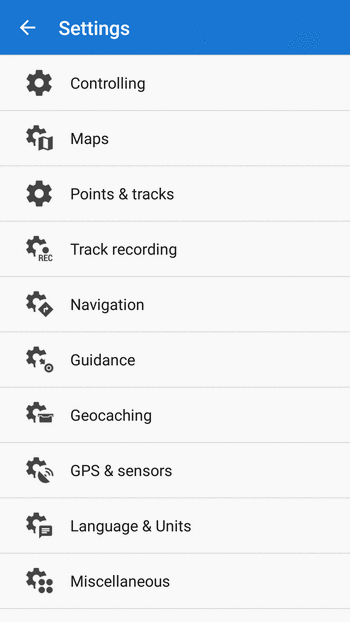 We sincerely hope you'll like this Locus version, the same as we like it! Enjoy coming summer with it.
filter
filtering
geocache logging
geocaching
new settings
offline logging
online logging