Nová verze vaší oblíbené navigační aplikace přináší opět několik zásadních vylepšení. Nejvíce změn doznal náš online LoRouter, "generátor" pro plánování tras a přímou navigaci do cíle. Konečně jsme znovuoživili projekt Locus Map pro zařízení Garmin a ačkoliv už je podzim a vlaštovky dávno odletěly, máme tady jednu první v oblasti podpory e-biků.
Varování!
Ne, tohle opravdu nebylo míněno jako clickbait (hahaha). Berte to spíš jako radostné zvolání – ano, náš online LoRouter umí nově generovat varování před různými nástrahami na trase – před náročným terénem, hustým provozem, závorami, tunely, nechráněným železničním přejezdem apod. A to jak v plánovači tras, tak při rychlém výpočtu trasy pro přímou navigaci do cíle.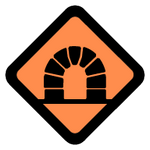 Některá varování mají tři barevně odlišené úrovně – od nejméně po nejvíce závažné varování.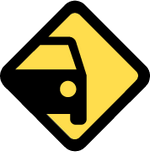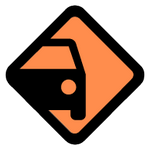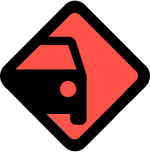 Pokud se varování týká celých úseků trasy, např. před náročným povrchem nebo hustým silničním provozem, má i pásmovou variantu, takže přesně víte, ve které části trasy si dávat pozor.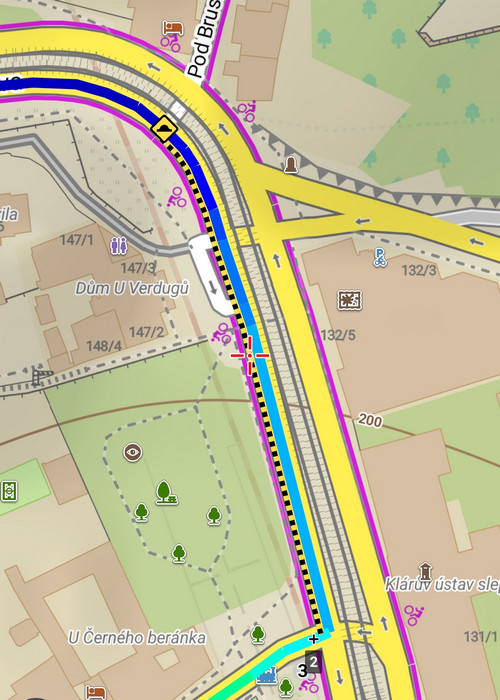 Stupně a typy varování jsou závislé na zvolené aktivitě nebo dopravním prostředku, který hodláte na trase použít. Pokud trasa vede po kočičích hlavách, není to problém, jestliže jdete pěšky nebo jedete na biku. Horší to je na silničce, a v takovém případě už Locus Map varování zobrazí.
Například trasa centrem Prahy se takovými varováními jen hemží: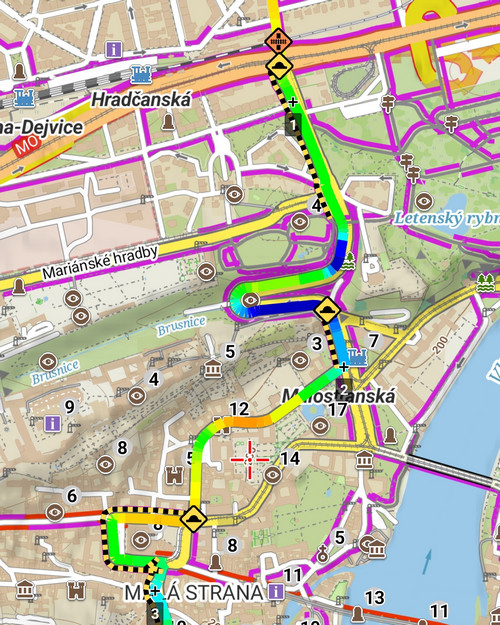 Varování se standardně zobrazuje na trase na mapě. Při navigaci po trase se symboly objeví také pod hlavním navigačním oknem: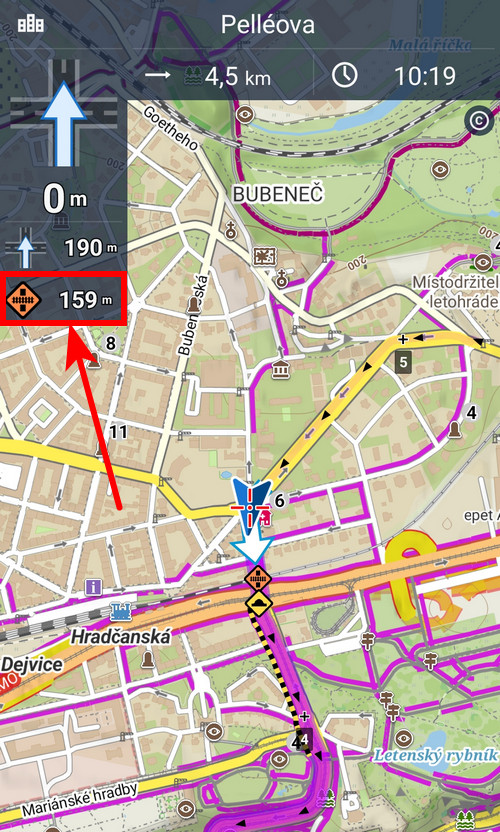 Pokud klepnete na kterýkoliv symbol varování na mapě, otevře se seznam všech varování na trase, seřazený podle vzdálenosti. U pásmových úseků se zobrazuje také jejich délka. Klepnutím vystředíte vybrané místo nebo úsek na mapě.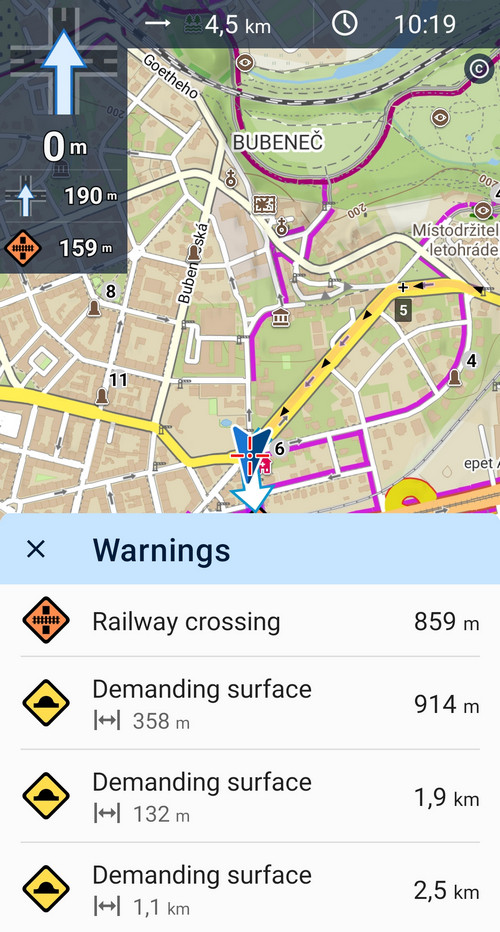 Systém varování je k dispozici zatím jen v aplikaci – časem jej samozřejmě doplníme i do webového plánovače. Věříme, že nový systém varování na trase značně přispěje jednak k většímu komfortu při plánování vašich outdoorových aktivit, ale také k větší bezpečnosti při jejich provozování. Například, díky Locus Map už víte, že na tento úsek budete potřebovat gumáky… 🙂 :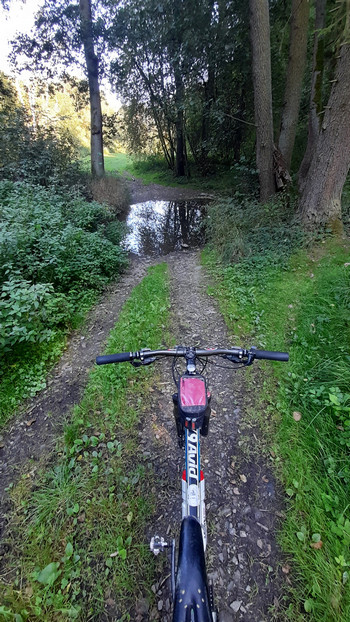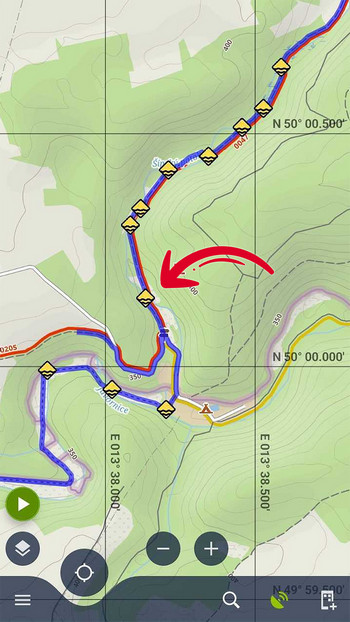 Máte nějaký tip, na co byste dále chtěli být při plánování upozorněni na trase? Napište nám ho do komentářů!
Já chci vlastní routovací profil!
Ano, víme, že po této možnosti mnozí z vás tajně (někteří i hodně hlasitě) touží, nicméně zatím vám takovou variantu nemůžeme nabídnout. Nicméně s novými možnostmi přizpůsobení stávajících profilů jsme zase o velký kus dále.
V prvé řadě jsme Online LoRouter obohatili o přepínače, na které jste zvyklí již z jeho offlinové varianty. U auto profilů jsou to standardní možnosti vynechání placených úseků, dálnic nebo nezpevněných cest. U chodeckých profilů a trekkingového kola přibyl parametr "za mokra", který přizpůsobuje výběr trasy spíše ke zpevněným povrchům s menším rizikem vzniku bláta.
Nejvíce změn však doznal profil pro MTB. Zde se náš routing guru Radim konečně vyřádil a zkompiloval sofistikovaný algoritmus pro výpočet trasy na základě volby úrovně obtížnosti terénu.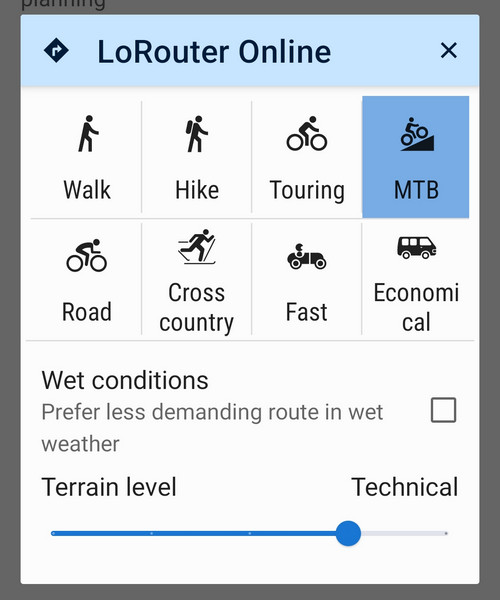 Úrovní je hned pět a reflektují jak povrchy cest, trailů a pěšinek, tak jejich sklon, převýšení a další vlastnosti. Takže pokud zvolíte nejnižší stupeň, Locus Map vám naservíruje nejhladší postup s tím nejmírnějším dostupným stoupáním.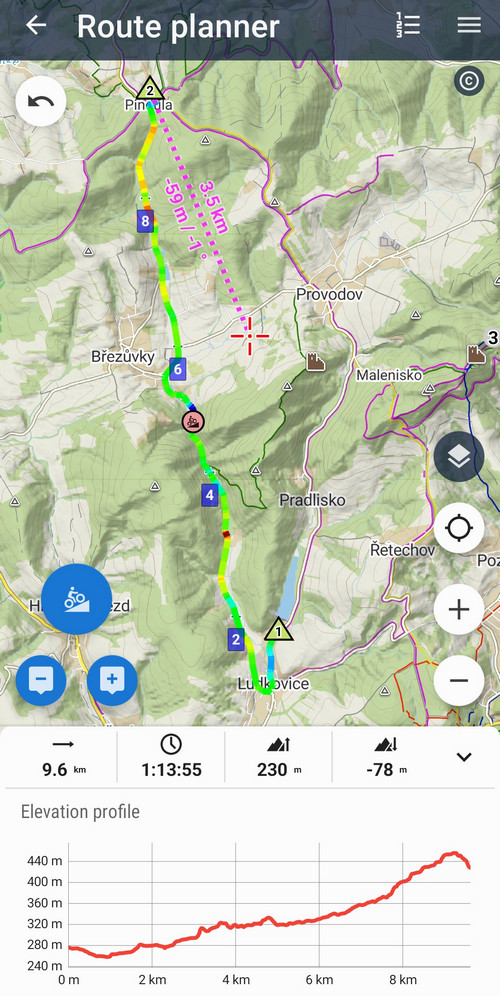 Nejobtížnější level naopak vysolí lajnu s pořádnou dávkou adrenalinu, na které si patřičně dáte do těla: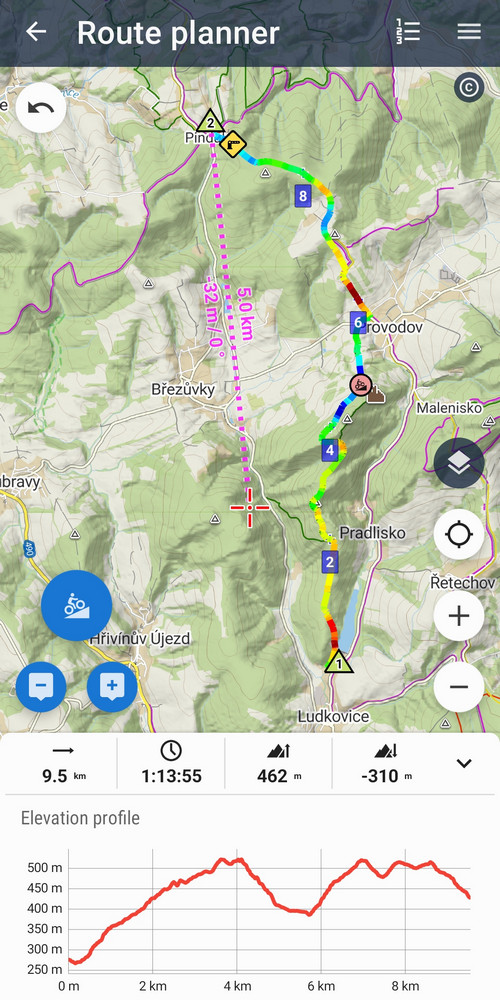 Ačkoliv se zmíněné změny týkají onlinové varianty LoRouteru, už tvrdě makáme na jejich zavedení do offlinu – je před námi opravdu ještě spousta práce a stále jsme se nevymanili te "experimentálního módu" při vývoji routeru. Každopádně nám dejte vědět, pokud budete mít nějaký speciální nápad ohledně vlastního routingu.
Garmin add-on for Locus Map žije!
A teď jedna skvělá zpráva pro všechny držitele oblíbených robustních hodinek. Přes všechna příkoří, která Garmin neustále uvaluje na nezávislé vývojáře, se našemu kolegovi Honzovi podařil husarský kousek – zprovoznil add-on i pro nejnovější modely. Více detailů prozradí sám tvůrce:
"Stávající funkcionalita addonu je pro teď opět "zachráněna", můžeme tedy nadále rozšiřovat kompatibilitu se zařízeními, příp. ji dále rozvíjet. Bohužel platí, že funkce streamování map z telefonu na displej hodinek je již mimo hru a po neplánovaných omezeních ze strany Garminu ji z technických důvodů nelze dále nabídnout. Ostatní funkce jsou ale dále k dispozici, včetně "1 klikového" exportu trasy do podporovaných hodinek.
Tímto jsem dostal nový impuls k tomu přemýšlet nad integraci s Garmin produkty dále a doufám, že vás v minulosti budeme schopni mile překvapit. Jsme si např. dobře vědomi chybějící možnosti lehce exportovat trasy s Locus Map do cyklopočítačů Garmin Edge, o tom ale až někdy příště."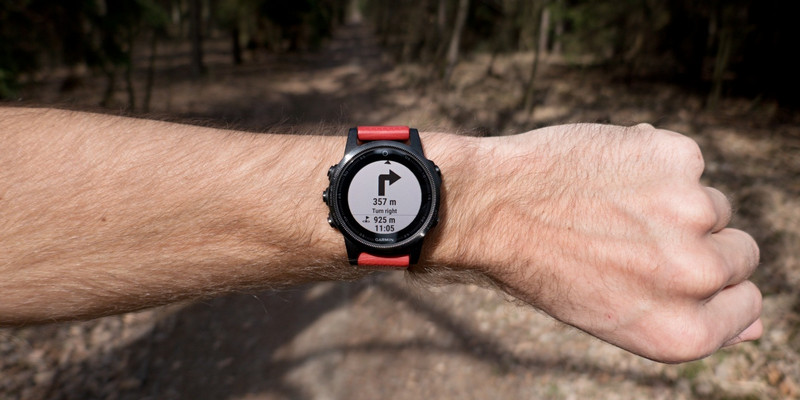 První podzimní vlaštovka – integrace s elektrokoly Specialized
Ne, nezbláznili jsme se, opravdu jsme právě nyní vypustili první vlaštovku na poli komunikace Locusu s elektrokoly.
V pokusném provozu spouštíme podporu pro e-bike vpravdě vymazlený – celoodpružený Specialized Turbo Levo, na kterém jsme si poprvé vyzkoušeli možnosti propojení softwaru kola s naší aplikací mimo již dříve podporované senzory rychlosti a kadence nebo výkonu. Nový senzor nejen že z kola souhrnně vyčítá již zmíněné informace, ale přidává i data o aktuálně zvoleném módu asistence elektrokola a stav jeho baterky. Toto vše si můžeme přidat na dashboard a mít je tak při jízdě s Locus Map na řidítkách neustále na očích!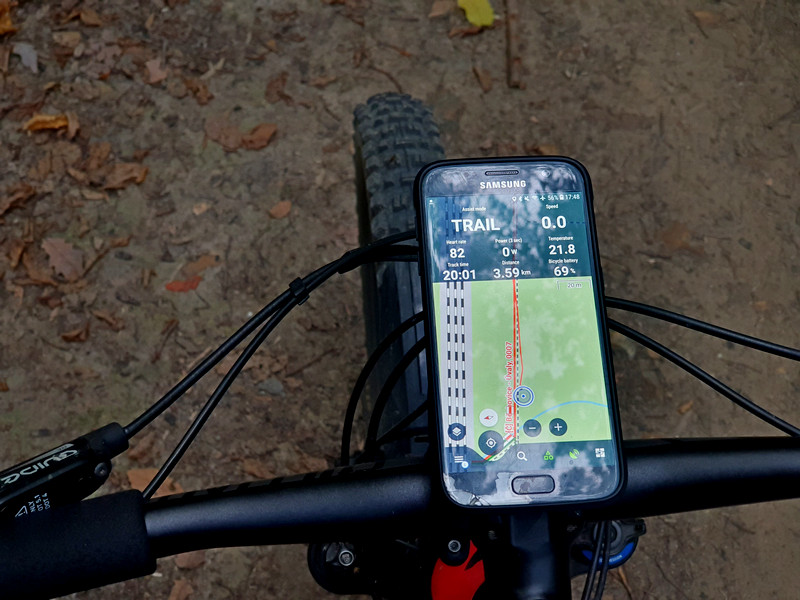 Senzor by měl pracovat s většinou Specialized elektrokol, včetně silničních, názvy asistencí se ale prozatím budou zobrazovat tak, jak jsou pojmenovány na jejich horských kolech. Dle zájmu pak toto dále přizpůsobíme.
Novinky v LoMapách
Cyklo-turistické téma našich offlinových LoMap získalo za poslední měsíce hodně vylepšení, z nichž si dovolujeme vypíchnout zejména:
návrat číslování silnic

– podařilo se nám vyřešit zapeklitou technickou záhadu a zejména dálkoví cyklisté opět ocení čísla silnic na mapě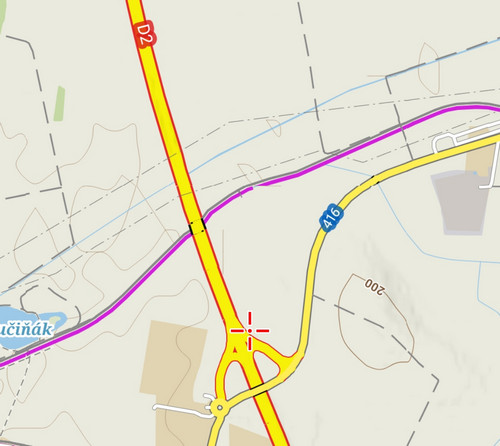 značení ferrat

– milovníci adrenalinu uvítají na mapě dobře viditelné náročné horské, železem zabezpečené stezky (proto ferraty). A brzy už i s označením obtížnosti!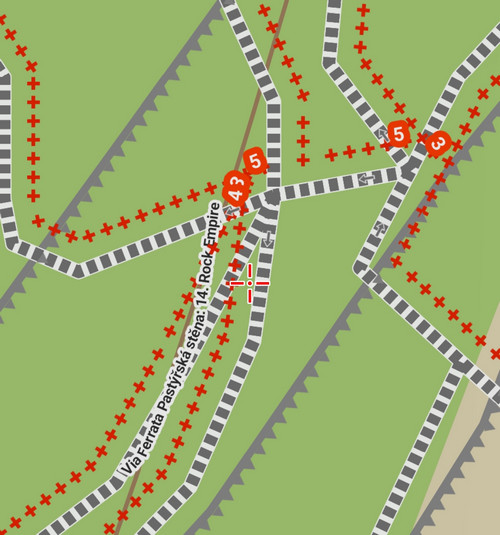 přesnější vrstevnice

– v nových LoMapách generujeme podrobněji kreslené vrstevnice z 1'' výškových dat, a to při zachování objemu mapových souborů. Zatím máme hotovou Evropu, ale stroje jedou na plné obrátky, takže se brzy můžete těšit na další přírůstky.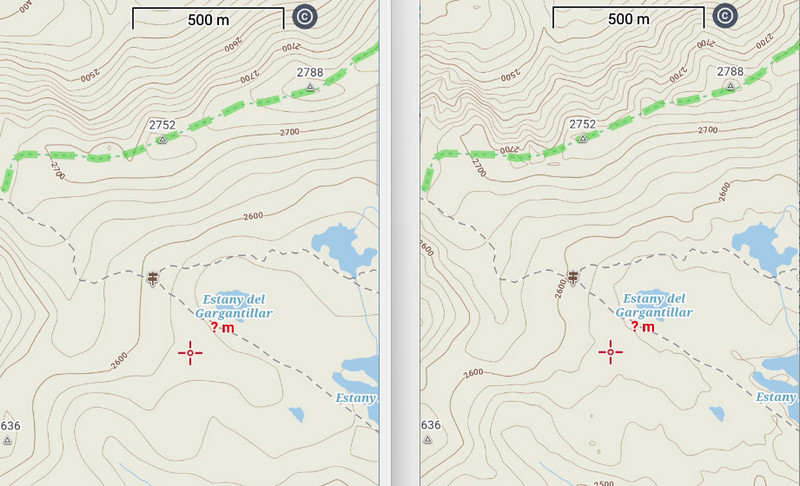 A nakonec, sbohem, Munzee…
Po osmi letech se bohužel musíme rozloučit s touto zajímavou outdoorovou hrou. Její tvůrci ukončili provoz API a tudíž zařízli možnost pro hru vyvíjet nezávislé aplikace. Ukončili jsme tedy i podporu add-onu Munzee for Locus Map a odstranili jej z Google Play.
android
e-kolo
Garmin
LoRouter
new release
přizpůsobení
routing
Specialized
varování