Operační systém Android od společnosti Google vždy přitahoval nezávislé vývojáře. Již od svého počátku lákal širokým rámcem svobod, rychlostí schvalovacího procesu aplikací, minimem restrikcí a jistou velkorysostí. Z těchto důvodů jsme se také my rozhodli pro vývoj Locusu na této platformě.
Časem však Google začal zjišťovat, že přílišná svoboda může přinášet problémy – nestabilitu systému, bezpečnostní rizika, zvýšenou spotřebu energie, a tak dále. A tak začal postupně "utahovat šrouby" – přibývalo restrikcí, systém začal vyžadovat stále více povolení. A s každým opatřením se Android po malých krůčcích přibližuje svému konkurentovi iOS.
Prvního listopadu 2021 Android učinil další takový krok a'la iOS, a to dost zásadní pro naše aplikace:
Locus Map již nemá plný přístup do úložiště telefonu
Může využívat pouze svoji privátní složku v adresáři Android/data. Toto řešení slibuje rychlejší odezvu aplikace a větší stabilitu. Ale co to ve skutečnosti pro tak komplexní aplikaci znamená?
Všechna data aplikace jsou smazána při odinstalaci – většina zařízení naštěstí zobrazuje varování s možností uchování dat v úložišti. Nicméně obzvláště čínské přístroje odstraňují data bez možnosti obnovy.
Konec využívání dat jiných aplikací – již není možné sdílet jeden společný adresář mezi Locusem Map 4 a Locusem Map Pro.
Omezené možnosti pro vlastní podadresáře – aplikace smí číst a zapisovat data pouze ve své privátní složce (jak v interním, tak externím úložišti). Pouze zálohové soubory je povoleno ukládat jinam. Ani vlastní adresáře s geotagovanými fotkami již nelze použít – Locus může fotky načítat pouze z oficiální systémové složky s médii.
Znemožněno propojení aplikace s mapami v externích adresářích – všechny rastrové mapy lze skladovat pouze v adresáři /Locus/Maps, všechny vektorové pouze v adresáři /Locus/mapsVector.
Předběžně doporučujeme:
Nastavit automatické zálohování vašich tras a bodů do Dropboxu, Google Drive nebo OneDrive. Předplatitelé Premium Gold by měli zkontrolovat, zda mají aktivovanou automatickou synchronizaci dat.
Pravidelně zálohovat stažené mapy, zejména od komerčních vydavatelů. Zakoupené LoMapy lze opakovaně stahovat z Locus Obchodu zdarma.
EDIT 12/29 2021:
"Přístup ke všem souborům" pro Locus Map 4
Na základě masivní zpětné vazby od našich uživatelů jsme znovu podali u Google žádost o povolení "přístupu ke všem souborům". A překvapivě, Locus Map 4 jej získal. Aplikace tak může nadále využívat kořen vnitřního úložiště pro svůj hlavní adresář a uživatelské podadresáře. Bohužel Locus Map Pro takové štěstí neměl a má i nadále povolen přístup pouze do vlastní privátní složky.
Nicméně není co slavit. Validátoři Googlu mohou kdykoli svě rozhodnutí o povolení vzít zpět.
Bohužel, Locus Map Pro neměl to štěstí. Povolení mu nebylo uděleno a tak má nadále přístup pouze do své privátní složky.
Přidávání externích map
Jelikož kopírování externích mapových souborů do privátního adresáře aplikace pomocí systémových správců souborů přináší neustále problémy, přidali jsme dvě další možnosti, jak do aplikace přidat vlastní mapy bez potíží:
Import – vyberte tuto možnost v nabídce funkcí Locusu a najděte mapu pomocí správce souborů. Locus Map mapový soubor importuje do své výchozí složky "Maps".
Android/media – tento adresář je nově dostupný i pro ukládání map používaných v Locusu. Nakopírujte do něj své mapy, aplikace je po restartu detekuje a přidá je automaticky do svého správce map.
Nejnovější aktualizace nabízí hladký přesun dat
Jelikož Google aktivně vynucuje rychlou adaptaci aplikací na nové podmínky, připravili jsme novou verzi Locusu, která vzniklou situaci řeší co nejjednodušeji.
Aktualizace jednoho Locusu Map
Naprostá většina uživatelů Locusu má nainstalovanou jednu aplikaci – Locus Map 4 nebo Locus Map Pro. Přesun dat samostatné aplikace je tudíž nejsnazší:
aktualizujte na verzi Locus Map 4.5 nebo Locus Map Pro 3.56
během spuštění aplikace budete upozorněni na nutnost přesunu dat z adresáře /Locus/ v již nepodporované části úložiště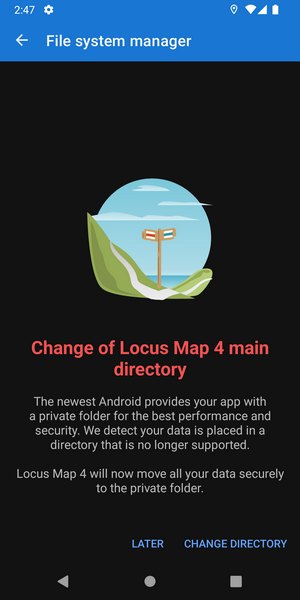 po potvrzení vyberte privátní složku, do které budou data přesunuta – buď v interním úložišti nebo na externí SD kartě (zde může být aplikace o dost pomalejší)
můžete také zahrnout data z vašich vlastních podadresářů: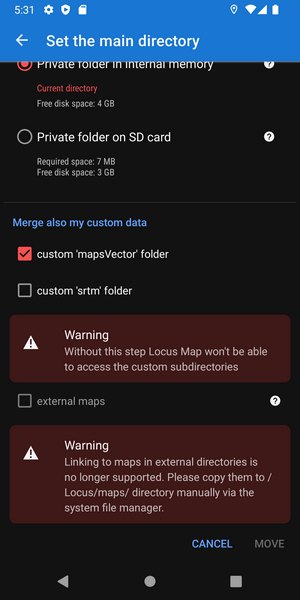 Locus hladce přesune všechna původní data do své privátní složky
po restartu aplikace je vše funkční jako před tím
Pokud potřebujete více informací o aktualizaci samostatného Locusu Map a nutném přesunu dat, navštivte příslušnou stránku manuálu Locus Map >>
EDIT 12/29 2021:
Jelikož již Locus Map 4 není nucen operačním systémem změnit úložiště svého hlavního adresáře, ke spuštění přesunu dat po startu aplikace nedojde. Pokud máte stále hlavní adresář aplikace umístěný v rootu vnitřní paměti, budete požádáni o udělení povolení "přístupu ke všem souborům".
Nabídka přesunu dat se bude ovšem nadále objevovat v Locusu Map Pro. Aplikace bohužel nezískala od ověřovatelů Googlu povolení pro "přístup ke všem souborům".
Přenos dat v případě instalace obou aplikací
Pokročilí uživatelé mají často nainstalovány obě aplikace, mají data rozmístěna ve vlastních podadresářích, mapy uloženy v externích složkách. Přesun dat je v takovém případě možný v několika scénářích. Udělali jsme maximum pro to, abychom pokryli všechny.
Podrobné informace ke všem konkrétním případům najdete v manuálu Locusu Map >>
Pokud budete mít během přesunu dat jakékoli potíže, neváhejte a obraťte se na nás na našem helpdesku. Uděláme vše, abychom vám pomohli.
Externí SD karta
Přesun dat aplikace
Systém souborů na Androidu 11
Vnitřní úložiště