Shading, vector world map and bunch of improvements
It's been more then month since previous Locus version. I'm anyway very very glad to introduce a new version that brings many interesting features. I'm sure you'll like it. And what are the most interesting features?
Map shading (feature of

Locus PRO

)
The most interesting news are ability to enable shading for all Online (since Android 3.0+) and Vector maps. Shading is completely without the need of an internet and it's based on downloaded elevation files.
Currently you have to download them (HGT files) manually (or thanks to Fill altitude feature at specific place). Later, these files will be available for download in Locus Store.
Support for Personal maps is also planned, don't worry.
Speed of vector maps & world map
We're also aware of speed of vector maps. In a new version will be another improvements in vector maps speed mainly between levels 10 – 14. Hope these critical levels will be now much more usable.
Also, because levels 1 – 8 are usually very empty and mainly very slow, we prepared a small surprise. In Locus Store > Maps is now for Free download, overview map of whole world. The map has around 15 MB, so we really suggest to download it. This map will cover really whole World and will be automatically used without the need to do anything from you. Everytime you zoom out to level 8 and below, the World map will appear to give you a nice and fast overview of mother Earth.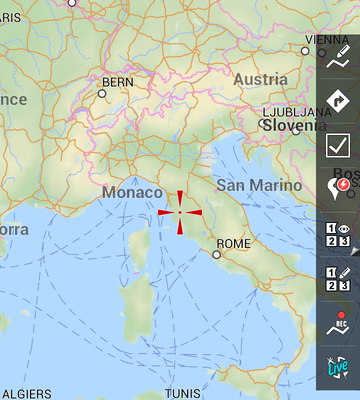 Satellite and Compass screen
How often you search with compass and need to check what the he** is wrong with GPS? Or just need to enable GPS in Locus and also check an orientation etc? It will be very easy now.
We took both screens, and placed them into the screen with two tabs. Simple right? There is of course more improvements on both screens, but point is simple. You may work with Compass screen and also with Satellite screen at once, without need to crazy tapping …
Automatic turn On of the screen (feature of

Locus PRO

)
Saving battery is our highest priority. Battery is crucial when hiking in the wild. For this purpose we prepared a new feature that allows automatically turn On screen, when you're near waypoint you guide on or during navigation when some turn come closer. This is especially useful on bike during a ride.
As a small bonus, we created ability to turn On/Off screen by two swipes gesture before top proximity sensor of your device.
Improved Text-to-speech system
Using Text-to-speech for navigation is very useful. It gives freedom to say whatever is needed and usually exists TTS Engines for every language. Problem is that they usually do not speak correctly.
Because of this, we prepared a new system that will be automatically used when you'll use TTS for navigation. The system is actually available only for English, German, Czech and Japan TTS. If you want to know more, follow this link . Same if you want to contribute another language.
Is that all?
Sure not, there is much more …
points that change at zoom level 12 and below to small dots are now much better visible
switching of vector maps is now more simple (mainly for external themes)
login over OAuth is now directly in Locus (to prevent problems on various web browsers)
you may enable low or high contrast style on maps
added support to choose what value will be visible above and below of guiding line
fixed many problems like incorrect sorting of vector maps in Quick map switch, export of whole track folder, incorrect hiding points from folder after import, thanks to hard work of a few users, improved translation in whole application and much more
and yes, one small sad news on the end. Since this version, Locus do not support Android version 2.1
map
news
shading
version