The plan was very simple since the very beginning. To begin the climb of the highest Czech mountain Snezka from Velka Upa and then go ahead along the main ridge across Polish border land to Jizerske mountains. We agreed with my friend David to live just from our own supplies, drink water from the mountain springs and to avoid any encounters with civilization. Together with the tent, photo equipment, Locus and other life-saving devices each of us carried around 20 kg in backpack and we set out towards our adventure.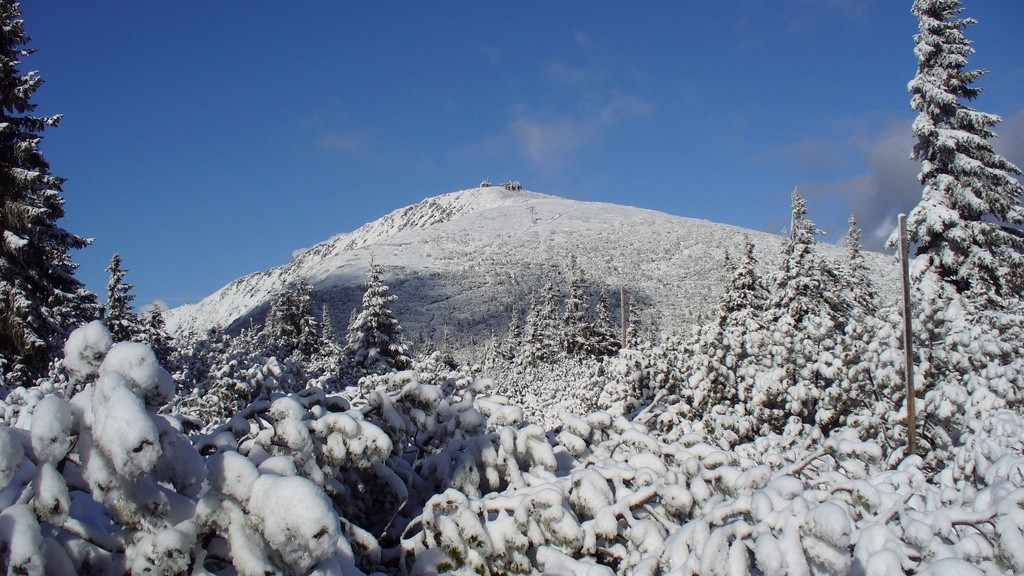 Snezka is a favourite touristic attraction and, obviously, is densely visited even in winter. Fortunately, most people use the more comfortable way up by cableway leading from the Czech side and, therefore, we were almost alone on the trail. With all the equipment the ascend went quite slowly and to avoid hypothermia we were trying to sweat as little as possible – we made frequent short breaks which we used for making pictures of the freshly snowed landscape bathed in the rays of winter sun. The weather was on our side. From the very summit we could enjoy views far away into Poland, the breathtaking panorama of hilly forests on the Czech side and the magnificent Studnicni mountain.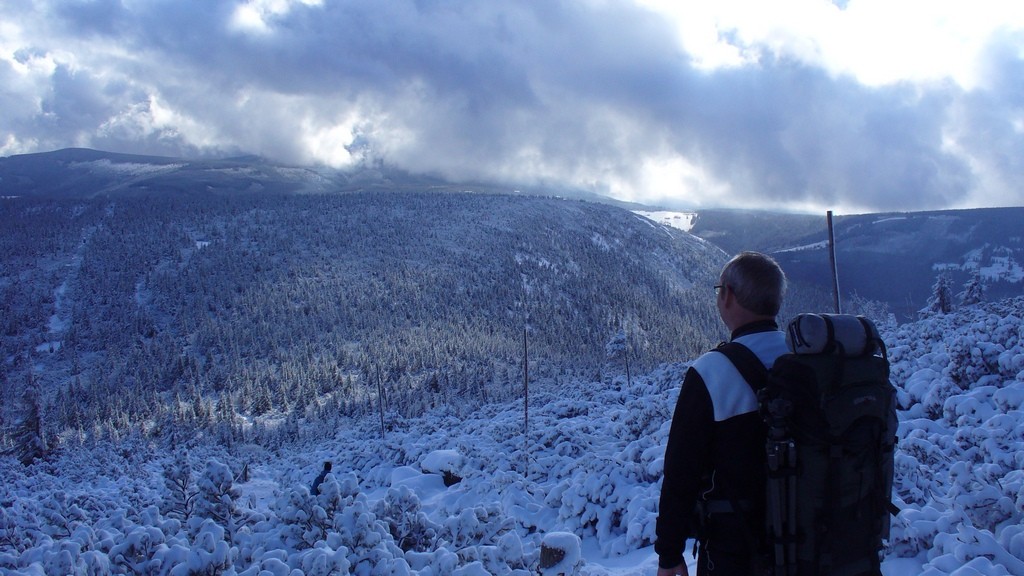 We made a toast to our summit conquest with a few gulps of whisky and after taking pictures of the views we went on westward along the Polish border. We admired views of the ridge and below us, the lakes with pitch black surface. It started to snow mildly and the sunset slowly crept on us. In order to reach our intended daily average of 20 km we had to catch the delay from the ascend and after having savoured the purple sunset we went on in darkness, lighted with our torches. After a few hours we set up an ordinary two-layer tent, warmed our supper and chatted about our new experiences. Outside temperature was -4°C, inner +3°C. At the ground level laying on the snow we measured something around zero.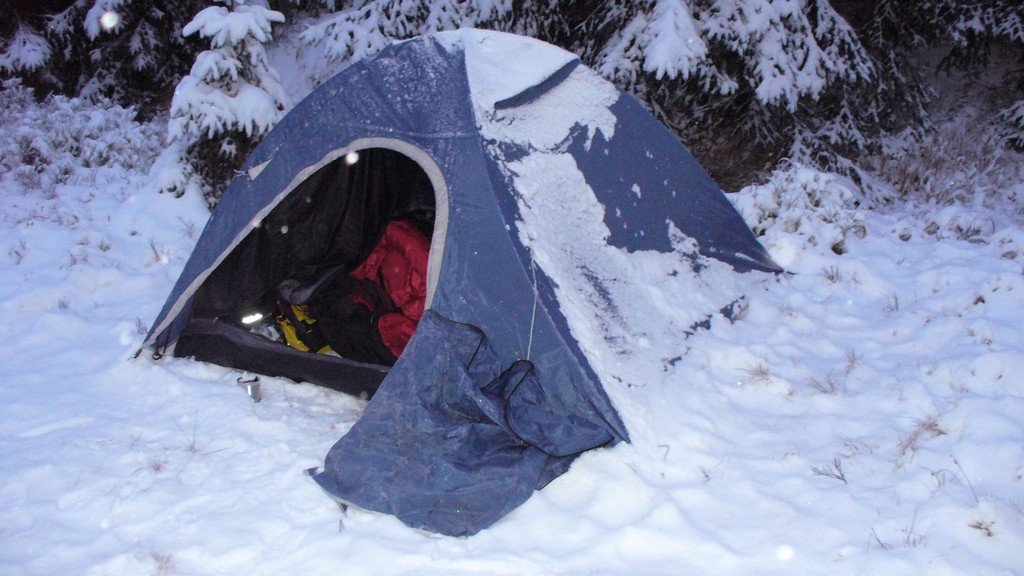 A few years ago it would have seemed to me purely insane and risky to sleep in a tent some other time than in summer. The truth is, if you are well prepared and equipped, the human body doesn't have the slightest problem with staying a few overnights in snow. Anyway, you must count with obstacles like frozen tent zipper or water supply that is vital for surviving in wilderness.
The next day we made other two ascends. First to Divci  and then to Muzske kameny in a mild snowfall that consequently changed into a heavy one, accompanied with freezing wind making icing on everything including our eyelashes and beards. Anyway, these were common expedition conditions and with decent exercise and several layers of clothes a man gets feelings of pleasure from his own toughness and improvement to another endurance level.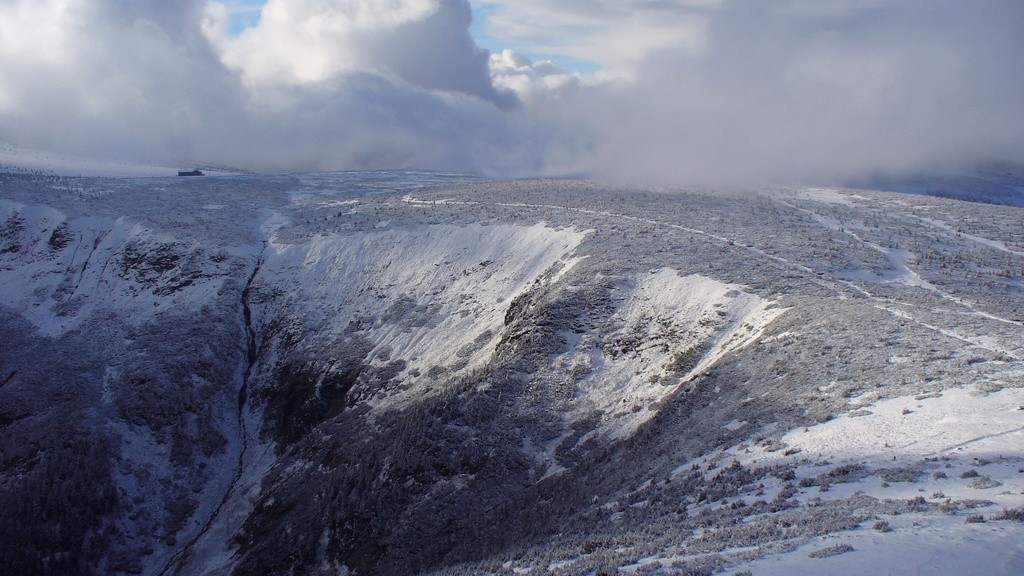 In the same conditions we climbed up Vysoke kolo, whose rocks and boulders were covered with 40 cm of fresh snow drifts. Visibility of just a few meters, we tried our best to stick together not to get lost. Later we proceeded further into the Polish land and the weather started to change quickly. Once the clouds spread away and we were overwhelmed by vast views faraway, then again we entered the impenetrable veil of fog just to step out of it after a few minutes. Finally, we spent the night by the river Jizera and on the third day we enjoyed comfort of wider trails suitable also for cross-country skiing. At last we arrived at the Broken Dam that killed 62 people and destroyed 100 houses in the villages down the stream exactly 100 years ago. It was the finish place of our winter wandering and we, full of nice feelings from overcoming the freezing nights without troubles, shared memories of beautiful views of our marvelous country.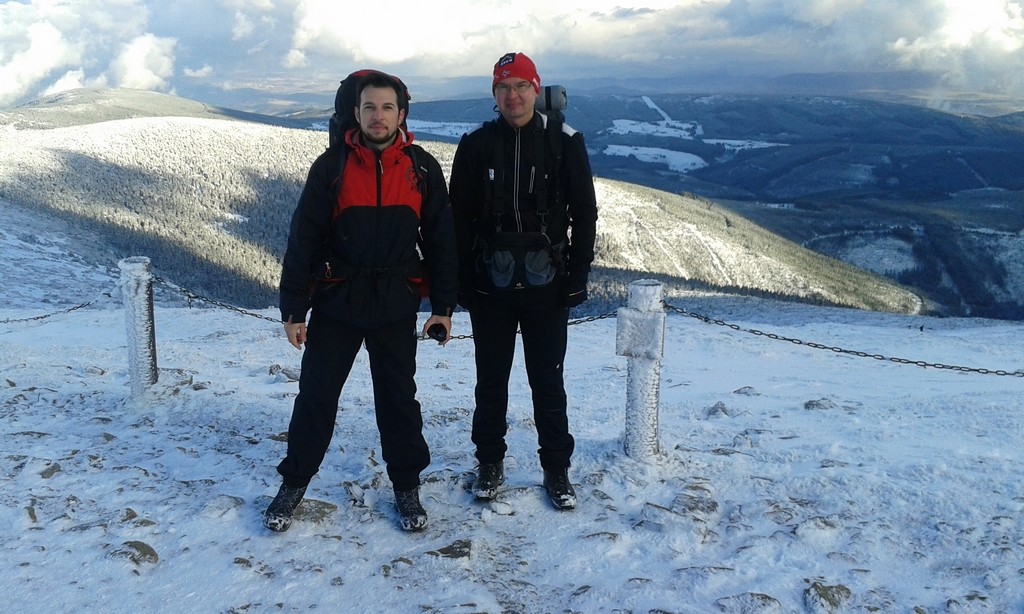 Michal Tábořík
Facebook
Youtube
hiking
Locus adventure
winter